Senior has just two words for college career: 'Exquisite. Delightful.'
Mar 12, 2019
by Ryan Clark
Paul Fritschner knows the exact moment when he realized he'd gotten fairly popular with the basketball fans in the area. He was walking into a bar in Mount Adams, and as he approached the bouncer, the large man took one look at him and smiled.
"Hey," he said. "You're the guy. Exquisite. Delightful."
"I had to laugh," says the senior Public Relations and Sport Management major. "I never knew it would catch on like that."
Fritschner is enjoying every minute of his last year at Xavier. As a participant in The BarrackX, the Xavier Newswire, the University television station and club baseball, he's been telling the stories of Musketeer athletes since he was a freshman.
No matter the team's record, I never take this for granted. Best job at the best place.

Wild it's senior year there's only four games left... pic.twitter.com/WTMC7ncGPc

— Paul Fritschner (@PaulFritschner) February 10, 2019
But it was one segment he produced for the athletics department—a joke, really—that made him, as they say, go viral.
"Before this season, they were offering a lot of new food and drink options at the Cintas Center," he explained. "So athletics asked me to work on a video where I would taste the food and the beer. I was like, 'Yeah, I can do that.'"
And, as Fritschner is apt to do, he had fun with it. Interning for the social media team of athletics, also known as The BarrackX, Fristchner was able to put a comedic spin on taste-testing beer, like something you'd do in wine country. At the end, he called the ale "exquisite" and "delightful."
Now it seems everyone has taken notice. Posted four months ago, the video has more than 3,000 views on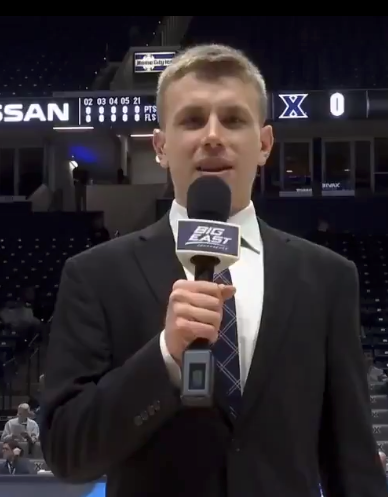 Facebook, while a tweet wishing him happy birthday garnered nearly as much. The department, the University, its fans and those of rival schools have all taken to social media to comment, re-post and share the video—as well as the ensuing GIF that was made of the "Exquisite. Delightful" comment.
"I never saw it becoming as big as it was," he said. "I think when some UC fans found it and started poking fun at it, it got even bigger."
Now he'll even post the GIF after each Musketeer victory on Twitter, along with his own breakdown of the game called Paul's Points. Thousands have retweeted and reposted what he and the athletics crew have shared.
It's all part of wild senior year for Fritschner, who is enjoying this last ride for as long as he can.
"I always knew Xavier was the right place for me to go," he said. "I never would've gotten these opportunities anywhere else."
And he never would've been able to celebrate Xavier's success with his family, either. Fritschner grew up in the Washington, D.C., area, with family also located in Cincinnati. Many in his family were Xavier fans, so Fritschner always bled blue. He would travel to the Queen City and take in a Xavier game on occasion, as his grandpa (a Xavier grad) and uncle were die-hard X hoops fans.
It made sense then that he would want to be a sports broadcaster. And when he started to tour colleges, he first looked at some of the best journalism schools across the country.
"But I learned that a lot of those students weren't really doing a lot—covering teams or getting experience—until their junior or senior years," he said. "I thought that if I went to Xavier, I'd be able to do some real work right away."
That, and a three-hour session with Linda J. Schoenstedt, professor in the Department of Sport Studies and director of faculty programming for Mission and Identity, clinched it for him. "She sat down and explained to me and my mom exactly what I was going to do," he said. He later took her classes in Sport Law and Sport Ethics.
"Paul is one of those very special students who goes after what he wants and not only makes it, he crushes it!" Schoenstedt said.
As a freshman, he was hired as an intern with the athletics department's BarrackX team and immediately started to earn experience as a reporter, social media manager and broadcaster. It would lead to his broadcasting play-by-play for the baseball team, something he hopes to do for a career. 
"I was getting all this great experience, and combined with my classes, I feel like I was getting the best education I could get," he said.
He has gone on to cover games as a play-by-play announcer for the Florence Freedom baseball team, Covington Catholic High School, the Alexandria Aces and Hamilton Joe's summer baseball teams, Xavier women's basketball, volleyball, and men's and women's soccer. He also keeps statistics and monitors social media when needed.
All his work led to networking opportunities, at which Fritschner excels. He has a spreadsheet of television, radio and print reporters he's met, both local and national, with their contacts, and he tries to keep in touch with all of them.
"Paul is a great example of a student who is taking full advantage of what the Xavier experience can be," said Tom DeCorte, a 1998 Xavier alum coordinating producer for ESPN's SportsCenter. "I am impressed by his hunger to improve his skills and his enthusiasm for his chosen field. He understands what is required to be successful in the sports broadcasting industry."
Joe Danneman, sports anchor and reporter for FOX 19, says Fritschner is ready for the big-time.
"What impresses me most about Paul is his professional maturity," he said. "He carries himself and calls a game like a pro. Ability is paramount in Paul's business, but so is likability. He's likable behind the mic and face-to-face."
It's clear that even after Fritschner goes pro, he will always call Xavier home. But before that, he's got one last trip with these Xavier men in the Big East Tournament, where he will be this week. He's used his skills and contacts to land a gig producing and doing some on-air work for the Big East Conference. Wouldn't it be amazing to chronicle another great Xavier appearance?
"Here's hoping we can make one last run," he said. "It would be pretty sweet."
It would be even better than that.
It would be exquisite. And delightful.