Digital Collection of Commencement Programs Take Alumni Back in Time
Mar 31, 2019
By Ryan Clark
While the Class of 2019 just graduated from Xavier, alumni, as well as friends and family, have a new site to look up past ceremonies.
Anne Ryckbost, Xavier's University Archivist & Special Collections Librarian, has developed a digital collection containing digitized copies of all commencement programs from 1920-2018.
The contents of the commencement programs vary by year, but often include information such as the names of graduates, lists of members of the stage party, and the order of ceremonies. It is located at https://www.exhibit.xavier.edu/commencement/
"Working on the collection reminded me of just how many amazing students have come through Xavier, and that the 2019 graduates will carry on this tradition passing from student to alumni," Ryckbost said. "Alumni can revisit their graduation from anywhere at any time with the digital collection. This digital collection allows viewers to browse by year or search by name using the search tool."
Xavier University Commencement is an annual ceremony that publicly recognizes candidates for graduation and confers degrees upon them. Programs for commencements prior to 1920 were often published in the University's Course Catalogs.
Commencement programs cannot be considered proof of graduation. The names and honors of graduates listed are for purposes of the commencement program and do not represent a final certification of graduation. Contact the Xavier University Registrar's Office for definitive information on graduation status.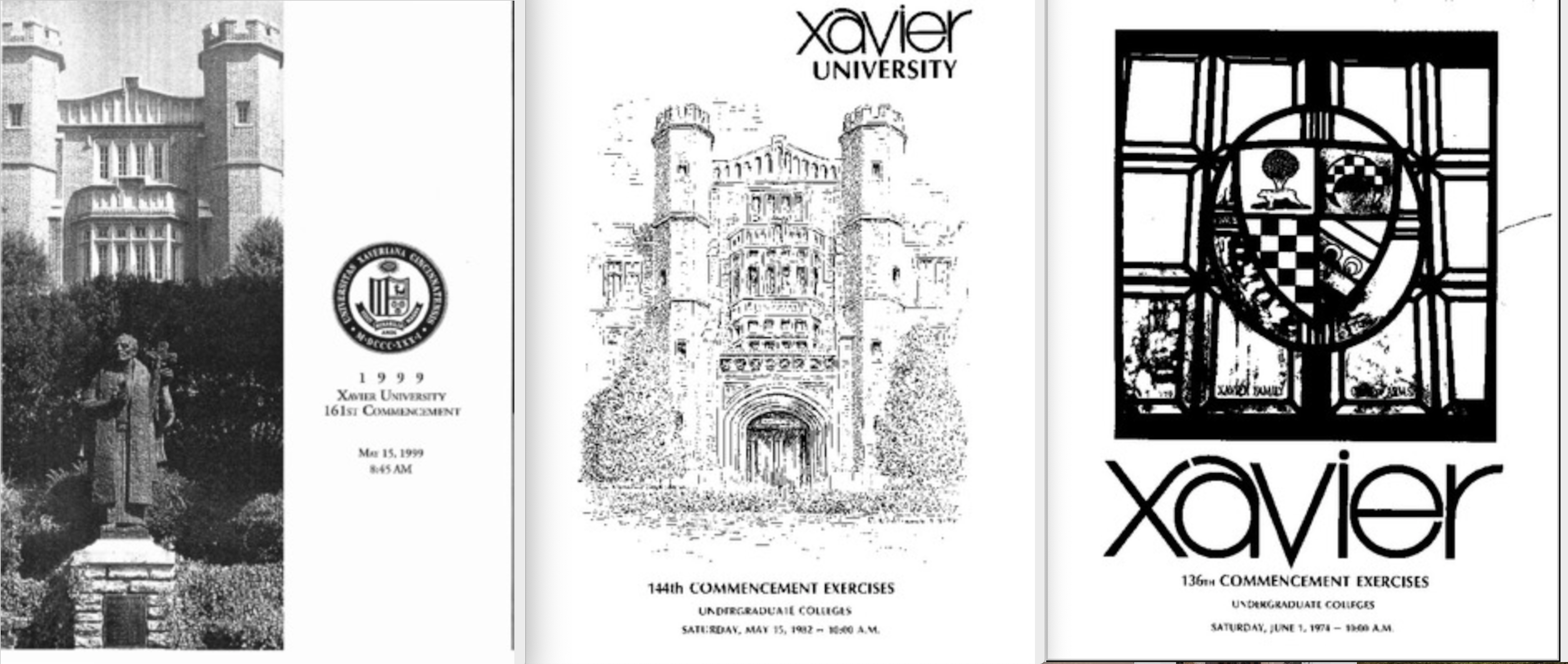 Some covers incorporate pictures of campus, while others feature text only. As graphical elements improve, one can definitely see the evolution of fonts and styles. Special covers celebrate milestones, like the 150th commencement.
For many years in the early 80s, the cover featured a smart sketch of the front of Hinkle Hall. Those in the 70s were more avant-garde, while the 60s and 50s were very plain.
"I do find these sample covers interesting and certainly reflective of cultural moments at Xavier; the bold graphic quality of the 1974 cover reflects trends in that era's art and activism; the 1982 cover rendering of Hinkle has a nostalgic quality that reflects a more traditional, conservative era, and the 1999 cover captures the quality of endurance required of our institution at the turn of the 21st century," said Art Professor Suzanne Chouteau.
Did you miss out on this year's graduation ceremony? Find links, video, photos and more at 
#XUGrad