Honor Band 2023
We are thrilled to announce the return of the Xavier University High School Honor Band Festival, to be held on Xavier's campus from Friday, February 24 – Sunday, February 26, 2023! This year's special guests include conductor Eric Melley and internationallyrenowned jazz artist Joe Lovano. Students from Ohio, Indiana, and Kentucky are invited to participate in this wonderful music-making opportunity.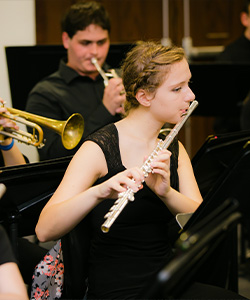 Music and Personnel
View personnel and download music in the links below.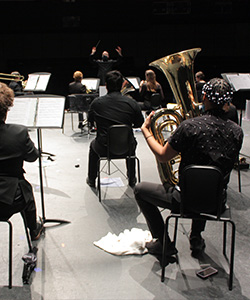 More details
A $45.00 participation fee will be charged for each participating student. In addition to world-class instruction, all participants will receive a ticket to attend a performance by the Joe Lovano Jazz Quartet on the evening of Saturday, February 25. Select students will also have the opportunity to participate in a masterclass with Joe Lovano.
Under 18 Assumption of Risk Form

About the conductor
Dr. Eric Melley is the Director of Instrumental Activities at Providence College, where he directs the Symphonic Winds and Jazz Ensemble, teaches courses in music education and jazz history, and oversees all administrative aspects of the instrumental music program. Dr. Melley holds music degrees from the University of Massachusetts and Louisiana State University, and received his Doctor of Musical Arts degree in Conducting from Arizona State University. Melley's career has included experiences conducting and teaching wind bands at every level, from beginning bands through secondary, and post-secondary ensembles, as well as adult professional, community, and military bands. He has directed performances throughout the United States as well as concerts in the United Kingdom, Canada, Austria, Hungary, Italy, the Czech Republic, and Hong Kong.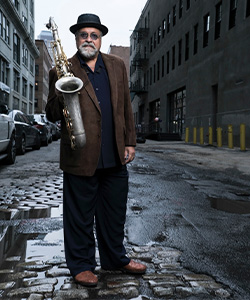 About our guest clinician
Grammy-winning saxophonist, composer and producer Joe Lovano is fearless in finding new modes of artistic expression. With a Grammy Win for his 52nd Street Themes and 14 other nominations, he has won DownBeat Magazine 's Critics and Readers Polls countless times as Tenor Saxophonist, Musician of the Year, Jazz Album of the Year and Triple Crowns from DownBeat. He has also received numerous awards from Jazz Times and the Jazz Journalists Association for Tenor Saxophone, Album of the Year and Musician of the Year. Born in Cleveland, Ohio on December 29, 1952 he attended the famed Berklee College of Music in Boston where years later he was awarded an Honorary Doctorate. Since 2001 he has held the Gary Burton Chair in Jazz Performance and is a founding faculty member since 2009 of the Global Jazz Institute at Berklee directed by Danilo Pérez. He is a guest lecturer at New York University's Jazz Program, Juilliard and Manhattan School of Music as well as Clinician at Universities around the globe.
Tentative Schedule