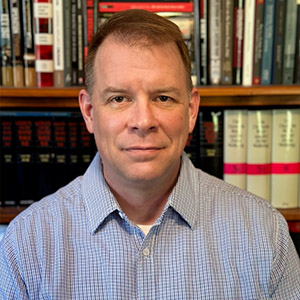 Dr. Jeff Rutherford
Teaching Professor, History Department
I specialize in modern German history, with a special focus on the Third Reich and the Second World War. I am more broadly interested in the intersection between state and popular violence in modern Europe. Classes I have taught at Xavier include:
HP: The Ordeal of Total War: The Second World War in Europe and Asia
HP: State Violence and the Formation of Modern Europe
Twentieth Century Germany
The Holocaust
Research Seminar: The First World War
Research Seminar: Nazi Germany in Historical Perspective
My research has focused on the German Army in the Second World War, particularly in its operations and occupation in the Soviet Union. I wrote Combat and Genocide on the Eastern Front: The German Infantry's War, 1941-1944 and co-wrote The German Army on the Eastern Front: An Inner History of the Ostheer's Experiences of War. I also served as co-editor of the volume Nazi Policy on the Eastern Front, 1941. I have additionally published articles in both The Journal of Military History and Central European History on German occupation policy in the Soviet Union. I am currently working on a book on the experiences of the German army during the entirety of the war for the Cambridge University Press series "Armies of the Second World War," as well as editing a volume on the German-Soviet War.
In my free time, I like to travel with my family, attend live music and sporting events, and smoke brisket.