Urban and Regional Sustainability and Resilience (MA)
Graduate Program (MA)
Xavier's MA in Urban and Regional Sustainability recruits students with varied backgrounds in business, social science, the humanities, policy and planning and challenges them to develop a deeper understanding of urban and regional systems and sustainable best practices. Our graduates pursue careers as leaders and advocates committed to making changes to public and private organizations that contribute to a more sustainable future.
Admission
To be considered for admission as a degree-seeking graduate student, students must first submit the following to the Office of Graduate Admission:
Completed application. Apply online at Xavier.edu/grad where you can register for an account and start your application by selecting "Graduate Studies."
One official transcript of all undergraduate and graduate work from accredited colleges or universities.
A résumé.
A 500-word minimum statement of purpose for graduate study.
Two letters of reference from individuals commenting on the applicant's academic/professional potential.
Applicants must also complete an interview with the program directors or the Associate Dean of the College of Arts & Sciences.
Curriculum
The program has a trans-disciplinary curriculum that provides a rigorous theoretical framework in sustainability from a business, environmental science and planning/public policy perspective along with the technical skills in using quantitative methods, GIS, economic modeling, cost-benefit analysis and in promoting community engagement. The program is designed to be completed as a full-time program with a cohort of students from different disciplines involved in joint team research, seminars and projects.
Year One - Fall Semester
| Course Number | Course Name |
| --- | --- |
| HIST 536 | Urban Ecologies and Economies |
| SOCI 554 | Intro to Urban Systems |
| POLI 554 | The Politics of Urban Sustainability |
Year One - Spring Semester
| Course Number | Course Name |
| --- | --- |
| SOCI 555 | Urban Development and Space |
| UNST 554 | Urban Geography and GIS |
| SOCI 552 | Quantitative Analysis |
| | Field Placement |
Summer Internship
Each student is expected to complete a summer internship between the two academic years. The internship is planned as a full-time position in a related placement for pay. The program coordinator assists students with placements. Through our network of corporate, government and community partners, students have access to several opportunities that can be tailored to complement each student's career path.
Year Two - Fall Semester
| Course Number | Course Name |
| --- | --- |
| MGMT 621 | Corporate Sustainability |
| ECON 520 | Urban and Regional Economies |
| COMM 560 | Strategic Organizational Communication |
Year Two - Spring Semester
Course Number
Course Name
PHIL 554
Eco-systems Thinking
PHIL 506
social-impact Justice in the City
HIST 556
City as Vocation (four tracks)
Select One:
SOCI 556
Urban Planning and Community Organizing
POLI 555
Politics and Urban Administration
WCB 555
Sustainability Initiatives in the Corporate and Non-profit Sectors
UNST 555
Scientific Research in Sustainability
Sample Courses
Urban Ecologies and Economies (HIST 536): - This course taught by Dr John Fairfield explores the deep history of cities and the relationship of the movement towards environmental protection and naturalism and increased urbanization. This framework provides much of the structure for the rest of the program. See Dr Fairfield's web site theecologicalcity.com for more background.
Urban Development and Space (SOCI 555): - his course, taught by program director Liz Blume is designed to give students an understanding of the dynamics of land use, transportation and infrastructure planning and design issues and to talk about how aspects of design, architecture and density impact upon the sustainable outcomes of a place. Ms Blume is also the Director of the Community Building Institute at Xavier; see the CBI website for more background Xavier.edu/community building.
Quantitative Methods (SOCI 552): - This course, team taught by Liz Blume and Jim Snodgrass (Associate Dean of the College of Arts and Sciences) is designed to give students a solid grounding in the social-impact, economic and environmental data sets that are available and an understanding of quantitative data so that they can be critical consumers of the volumes of data available in the field of sustainability and resilience.
Corporate Sustainability (MGMT 621): - This course is designed to provide students with an understanding of the processes that drive corporate decision-making around sustainability topics and how to successfully propose and manage positive changes a business environment.
social-impact Justice in the City (PHIL 506): - This course, taught by Dr Gabe Gottlieb provides a comprehensive review of issues of race, class and equity as they play out in urban environments. It uses local community engaged examples of both positive and negative outcomes and explores the ethical underpinnings of connecting sustainability and social-impact justice.
Tuition & Fees
| Tuition, per credit hour | Cost |
| --- | --- |
| College of Arts & Sciences - MA | $665 |
| Student Fee, per semester | |
| --- | --- |
| Graduate Student Association Fee, degree seeking full-time | $8 |
| Graduate Student Association Fee, degree seeking part-time | $4 |
The amounts listed are for the 2020-2021 academic year, and include classes from Summer 2020 though Spring 2021. For the full, official listing, please visit xavier.edu/costs. Xavier University reserves the right to correct any computational or clerical errors.
780% Projected increase in new green jobs by 2038.
780%
Projected increase in new green jobs by 2038.
Urban and Regional Sustainability and Resilience
LEARN AS A TEAM
This program is built to attract students with diverse backgrounds who will work and learn from each other as well as faculty. Students will work independently and in teams on practical, real-world applications that sharpen their skills and prepare them for careers in many different settings.
PRACTICAL FIELD WORK
Students are required to participate in field work between their first and second years. Field work gives students the professional experience, skills, and connections they need to refine their career goals and expand their understanding of the real-world challenges facing professionals in the field of sustainability. Past partners include the Green Umbrella, the City of Cincinnati, Hamilton County, the Port Authority, Procter and Gamble, Duke Energy, Melink Corporation, local CDCs and others.
CINCINNATI-A GREAT GREEN LABORATORY
Compared to its peer group of cities, Cincinnati can boast an extensive network of active, innovative agencies including an Office of Environment and Sustainability, membership in the National League of Cities Sustainable Cities Institute, and the Green Umbrella Group—a collaboration of more than 250 businesses, nonprofits, governments and universities. It is also a city with where you can connect to decision-makers and change agents directly.
Student Projects
Student projects are designed with a focus on applying coursework to real-world problems.  Below are examples of student Geographic Information Systems (GIS) projects:"
Charles Gonzalez
Farms and Farmers Markets in the Cincinnati Region.
Additional Resources:
Related Stories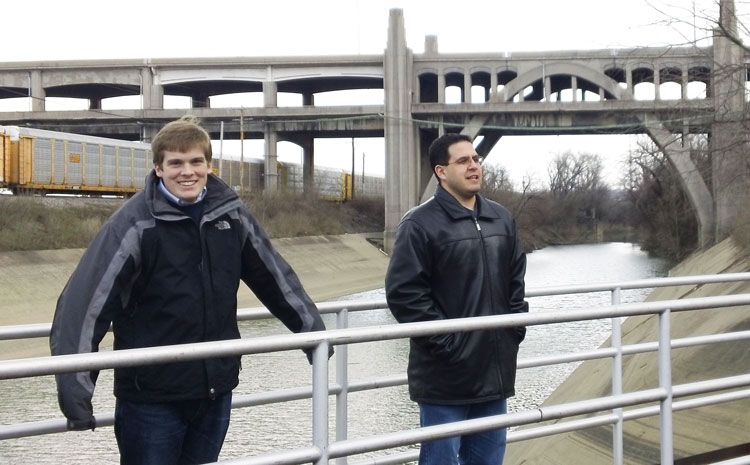 Transforming Careers (and Cities!) through Urban Sustainability
Dream jobs are hard to come by, but Xavier University is helping to make them a reality for graduates of its master's program in Urban and Regional Sustainability and Resilience
PREPARING STUDENTS FOR CAREERS THAT MATTER
The Urban and Regional  Sustainability and Resilience program is designed to bring students from different backgrounds and experiences together to address environmental challenges facing our city, our region, and our world. Students gain the theoretical frameworks, experience, and hard skills that will help prepare them for careers in the growing field of sustainability and resilience. 
AN INTERDISCIPLINARY APPROACH
Our interdisciplinary approach enables students to engage in the study of environmental and sustainability issues from a variety of different perspectives.  Program coursework incorporates research from multiple disciplines, including economics, communications, philosophy, political science, geographic information systems and statistics so that students have the theoretical frameworks and skills needed to become effective sustainability leaders and advocates for positive change.
Xavier by the numbers
3,100,000+
AMERICANS ARE EMPLOYED IN GREEN JOBS
$70,000
MEDIAN ANNUAL INCOME FOR U.S.-BASED INDEPENDENT SUSTAINABILITY CONSULTANTS IN 2011*
78%
THE U.S. BUREAU OF LABOR STATISTICS PROJECTS THE TECHNICAL CONSULTING (INCLUDING SUSTAINABILITY) FIELD TO GROW BY 78 PERCENT BETWEEN 2006 AND 2016.