Travel Planning
We hope you will be visiting Xavier soon! We want to provide you with the resources you need to find us, so we have included below information on hotels in the area as well as directions to campus.
Skip to: Driving Directions |  Airport Information |  Rail Information |  Hotel Accommodations |  Mileage To Xavier University
By Car: Driving Directions
Traveling from Columbus? Indianapolis? Louisville? Follow our step by step directions to arrive at our front door.
By Air: Airport Information
Traveling from Dallas? Denver? Boston? Orlando? Check out our airport information before booking your flight to Cincinnati's Cincinnati-Northern Kentucky International Airport (CVG).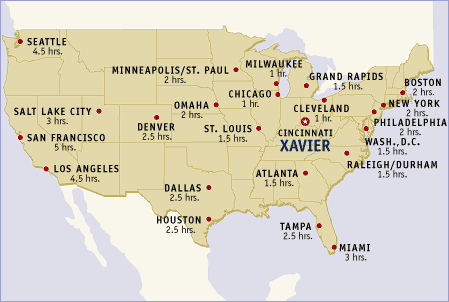 By Rail: Amtrak Information
Cincinnati is served by Amtrak's Cardinal/Hoosier State, which has a stop at historic Union Station (CIN). The Cardinal/Hoosier State serves the major cities of Chicago, Indianapolis, Cincinnati, Charleston, West Virginia, Washington D.C., Baltimore, Philadelphia and New York City.
Hotel Accommodations
If you will be staying in town overnight, be sure to review our list of area hotels. Many give discounts to Xavier visitors!
Mileage to Xavier University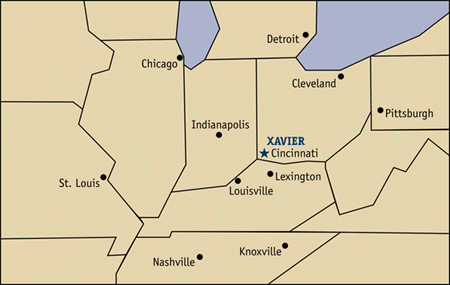 | City | Distance |
| --- | --- |
| Atlanta | 466 |
| Baltimore | 516 |
| Boston | 875 |
| Buffalo | 446 |
| Charleston | 205 |
| Charlotte | 508 |
| Chicago | 290 |
| Cleveland | 255 |
| Detroit | 268 |
| Indianapolis | 109 |
| Knoxville | 254 |
| Lexington | 76 |
| Louisville | 100 |
| Milwaukee | 391 |
| Nashville | 277 |
| New York | 675 |
| Philadelphia | 581 |
| Pittsburgh | 293 |
| Raleigh | 509 |
| Richmond | 535 |
| St. Louis | 364 |
| Toledo | 204 |
| Washington D.C. | 515 |