Alumni Spotlight: Cindi Bedinghaus
Oct 21, 2018
Cindi Bedinghaus has dedicated her life to helping people.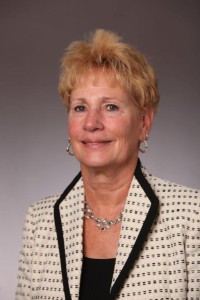 From serving as the Assistant Vice President of Patient Services for Cincinnati Children's Hospital Medical Center, to being elected to the Saint Bernard City Council, Bedinghaus has set a new standard for giving back to her community. She participates in at least six other area organizations, including the Women's Initiative Next Generation and the United Way of America.
But no one should be surprised. She holds a Master of Science in Nursing from Xavier, where giving back is taught and expected. She has said that earning a master's in Nursing Administration from Xavier was a "highlight" of her career.
For more than 30 years, Bedinghaus has worked in nursing administration, "utilizing her expertise in both pre- and post-surgical care of pediatric patients in order to oversee same-day surgery, the Post Anesthesia Care Unit (PACU), and a post-surgical inpatient department," according to a description on her website.
In 2012 she was included in the Cambridge Who's Who for Excellence in Nursing Administration. Bedinghaus attributes her success to "self-motivation, passion for the profession and (a) caring nature."
She also cites her mentor, Janet Pipes, a fellow graduate of Xavier's MSN program, for offering support.
"Xavier provided me with the educational opportunities to exceed my professional goals," Bedinghaus says.
Pipes, Human Resources Manager for Talent Acquisition at Cincinnati Children's, remembers when Bedinghaus was hired.
"She became my clinical coordinator," Pipes says. "She flourished in that position, taking every advantage to expand her knowledge and advance her skills. She quickly developed the strength and confidence to reach her career dreams."
Xavier helped them both along the way.
"As a fellow Xavier MSN graduate, I can say the program also profoundly impacted my professional career," Pipes says. "It has really been a pleasure watching Cindi grow."