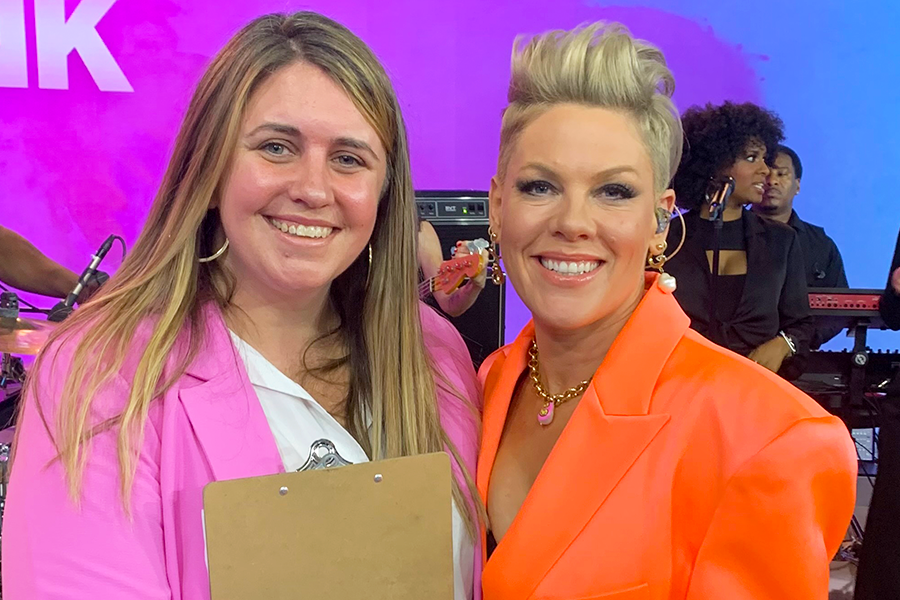 Get to know TODAY Show producer and Xavier alum Katie Ryan
Mar 31, 2023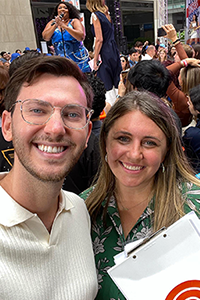 Before she was producing America's longest-running morning talk show, winning Emmys and working with celebrities like Lizzo and Pink, Katie Ryan was just trying to figure out where to go to college.
Having grown up in Long Island, New York, she decided to switch things up and head to the Midwest, ultimately landing at Xavier — in hindsight, she said it was "the best thing she could have done."
Ryan, a 2011 graduate in electronic media, now lives in New York City as a producer for the TODAY Show.
Following a year-and-a-half stint working in Cincinnati at WLWT-TV (NBC), she joined TODAY as a graphics coordinator in 2013 and worked her way up to her current position, ingraining herself as a key behind-the-scenes member of the show. She even (unknowingly) influenced TODAY Show co-host Hoda Kotb's March Madness bracket.
Read about some of Ryan's most memorable celebrity experiences, what brought her to Xavier from the Northeast, and what she enjoyed most about her time on campus in this Q&A.
---
Tell us a bit about your job.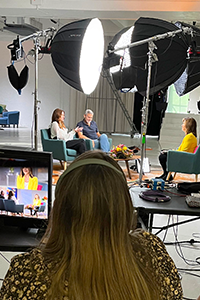 I'm a producer at the TODAY Show. I've been here for 10 years, which is so crazy.
I started in August 2013. I produce mostly live segments for the 8:00 a.m. hour, really anything from entertainment to lifestyle to cooking. Last summer, I produced a lot of our concerts. I worked with Harry Styles, Lizzo, Brandi Carlile, to name a few.
I mainly work in the live TV aspect, and I write notes and questions for our anchors. They go over our research packets and conduct their interviews with everything that I send to them. If it's a celebrity for a movie or a musician for a song, I make sure to have all their up-to-date album covers, movie trailers, everything that you'd want to see in a live segment that will be on air.
Is there a particular celebrity interaction that was a "wow" moment for you?
I mentioned that I worked with Brandi Carlile this past summer. She's one of my favorites, and she was so lovely to work with.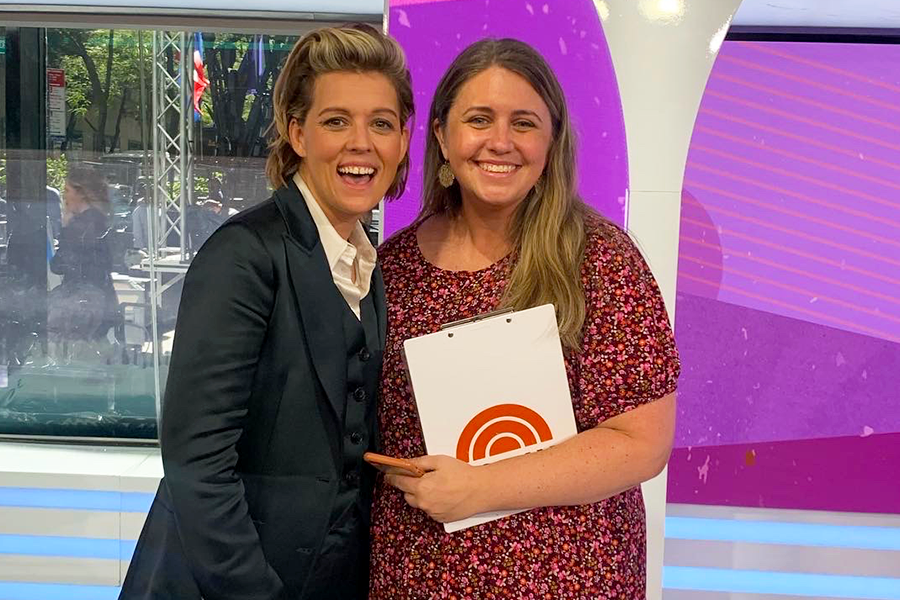 A few weeks ago, I actually produced (a segment with) Pink. She had her new album drop on Feb. 17 and appeared on the TODAY Show a few days later. She came on to interview and performed three songs from the new album.
We also had Shania Twain on recently as well. She did a whole hourlong special where she took over and was in a lot of our other segments throughout the show.
That was a lot of fun to be able to work with all of them and their teams.
Could you describe your time at Xavier for us?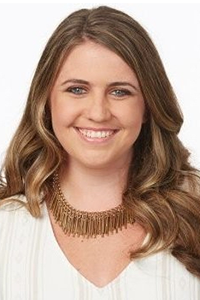 I graduated from high school in 2006 — I'm from Long Island, New York, and went to Xavier in Cincinnati. I didn't know really anybody other than my cousin, Homana Nebel ('11), who fortunately was also at Xavier with me. I had a few family members who were alumni, so that was how I knew about Xavier.
I went out there in 2006. I was undecided for a really long time, I really didn't know what I wanted to do until my junior year of college. Because of that, I was lucky enough to spend five years at Xavier. I ended up declaring electronic media as my major in my junior year. That's when I really got involved with what is now the DIFT (Digital Innovation, Film and Television) program.
I got involved the Xavier TV Association, I started taking script writing classes and editing classes, all under Blis DeVault, who is still there and is a wonderful professor. I'm so lucky to have had her because when I declared my major, she had just started at the school. I really learned a lot from being there.
I lived in Brockman (Hall) my freshman year, so it was so funny that my last three years at school, I was still in Brockman every single day (in the TV studio located in the building). I spent a lot of a lot of time in that studio and I'm very lucky to have been there.
What about Xavier and the area in general caught your attention when you were looking at schools?
People from the Midwest are really, really, really good people. I never realized that growing up on Long Island and really being in the city, most of my younger life. I was looking at schools, and the big Catholic schools over my way where a lot of alumni from my high school went are Loyola Maryland, University of Scranton, Fairfield. I remember looking at those and my dad kind of pulled me aside and was like, "Why don't you do something a little bit different and kind of get out of the East Coast bubble?" He said, "You know, you should look in the Midwest. People there are pretty great."
He was 100% right.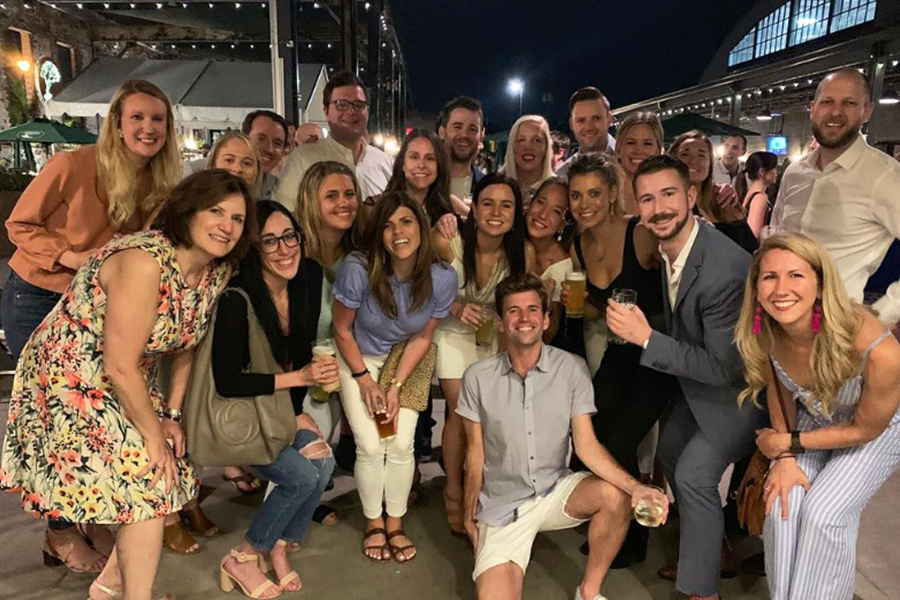 I actually was really set on Dayton at the time. We were there looking at their campus my senior year, and my dad said, "Xavier is just a few miles away. Why don't we just take a drive down there, see what it's about? Your uncle went there."
I'll always remember, I drove down Victory Parkway with my dad, and you have that view where you see all those beautiful buildings there, and I just had this weird feeling come across me. It felt right. Then I did a tour that same weekend, and I looked at my dad and I said, "I think I'm going to switch my decision and I'm going to go to Xavier."
God must have been looking out for me at that moment because it really was the best thing I could have done.
What about your experience at Xavier set you up for success after graduation?
I was a decent student in high school, but once I got to college, I learned a lot of the tools I needed to be successful, to get organized within my classes. I was a part of a lot of study groups. My friends and I would be in Gallagher Student Center gathering together and studying.
Also, treating people how you want to be treated. Like I said, there's that Midwest mentality where people look out for each other. I always think about Xavier's value of being men and women for others and the Jesuit mindset. That is totally what I felt when I was there.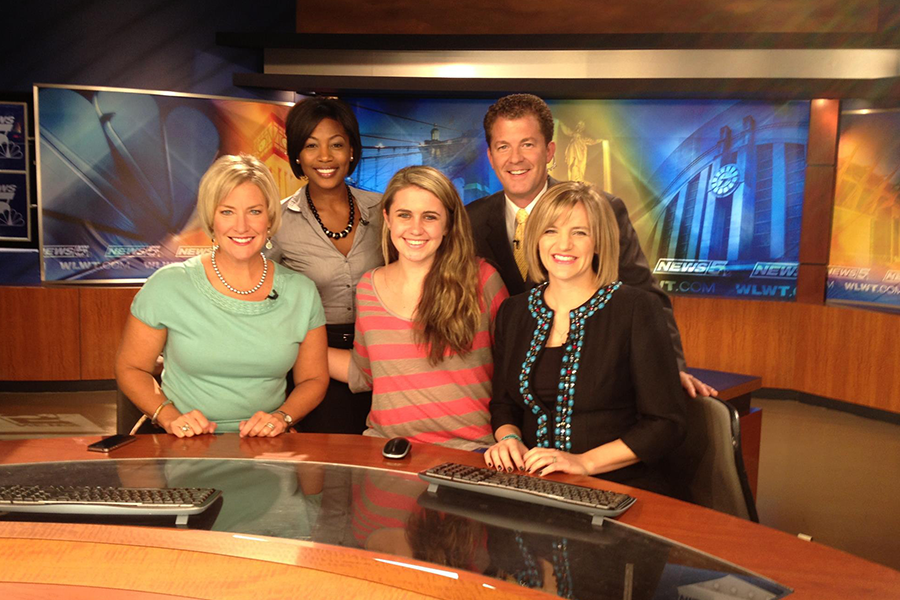 What are some of your proudest professional accomplishments so far?
First of all, I can't believe I've been here for a decade, which is so crazy to me. It feels like yesterday I graduated.
Since I've been on the team (at NBC) I've been a part of three Emmy Awards and my team has been nominated for a number of them. I won one for our coverage of the Supreme Court's 2015 decision on same-sex marriage. We were in a control room in a breaking news situation, had to get all the information on air as it was happening at the Supreme Court, and we were the first ones on the scene with our reports and with the most up-to-date information.
I also won one for our coverage of Malaysian Airlines flight MH370. Obviously, because the situation was so tragic, it's not something you necessarily want to celebrate, but for the work that we've done and being accurate and being up to date and giving our viewers what they needed to see, it was an honor to have won with my colleagues for that.
Have you been able to keep up with all the exciting things happening at Xavier?
Oh yeah, I have been keeping up. I follow Xavier on social media, on Twitter especially. That's where I get all my basketball news from Xavier. I'm also in all these groups on Facebook that I think I probably joined years ago but forgot I did. So I feel like I always see what's happening and I'm keeping up with it, for sure.
I saw (Xavier President Colleen Hanycz's) announcement (about her appointment in 2021), and it's been very exciting to see. (Former President Fr. Michael Graham) did such a wonderful job during his time at the university, but it was so exciting to see the first woman president in the university's history was instated.
Also, I've come back to Cincinnati a few times, and the campus is not the campus that I had when I went there. All these buildings have gone up, and when I was there you always heard the rumors and you always heard the rumblings about (potential developments). I think when I was in my fifth year, the CLC (Conaton Learning Commons) started, which was so cool to have been able to use the facilities there my last year. Ever since then, I've just seen things popping up.
The other day, I saw a Tweet of how campus looked the last time Sean Miller coached Xavier in the NCAA Tournament. My friends and I were sending it to each other. It had the empty lot on Ledgewood Drive — I've had friends who had houses all along Ledgewood — when they had that, and then they showed what it looks like today. I mean, it's amazing. I feel like the campus has doubled, nearly tripled in size since I've been there. It's so great to have seen the number of students go up over the years. It's really cool.


Xavier's changed a lot since the last time

— Xavier University (@XavierU) March 19, 2023
You mentioned you're a big fan of Xavier basketball. How exciting was it to watch the men's team have such a great season and make a run in the NCAA Tournament?
Oh, it's been so great. Like I said, I'm always keeping up with everything on Twitter, if I'm not watching highlights on TV. I'm also so lucky that Xavier is now in the BIG EAST, so I at least get to go to one or two games a year, and I was able to go to the NIT finals last year and watch them win there.
It's really exciting, especially as an alumna who was there during Sean Miller's first time around. I remember how devastating it was the day that he left for the students, so to have him back and just to see Xavier sparkle again on the court is so great. I'm so happy for the current students who are there that they were able to experience the magic of March Madness. I was blessed to have been there during a great run when they went to the Sweet 16 twice and Elite Eight once when I was there, so I'm really happy that the students are able to experience this.
And no matter how well the team is doing, Xavier fans and students are always there to support them. That's also the amazing thing. It's not just right now because they're doing great. They are always showing up for their team. It's pretty awesome.
---
Featured image: TODAY Show producer Katie Ryan and hit pop artist Pink pose together on the show's set.
Photos courtesy of Katie Ryan