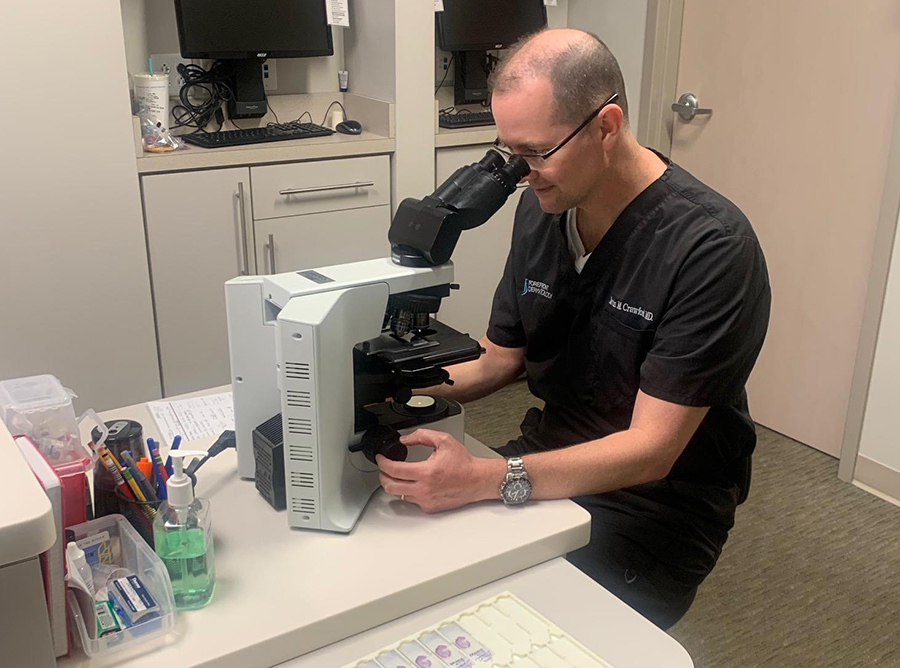 Crawford receives 2023 Distinguished Alumni Award
May 26, 2023
Kevin Crawford ('98) always knew he wanted to become a doctor.
He never really considered anything else.
Crawford's dream began at the age of 4 and stayed with him through high school. When it came time to make his college decision, Crawford chose Xavier knowing the University would prepare him well for a career in medicine.
"Even back then, Xavier had some of the highest acceptance rates in the country for medical school," Crawford said. "I felt very comfortable with Xavier and the integration of faith and Jesuit Catholic principles in education." 
At Xavier, Crawford learned the fundamentals of medical science through the university's pre-professional health program. While those health and science classes gave him a strong academic foundation and prepared him for medical school, Crawford said the liberal arts classes he took as an undergraduate student were just as important to his development as a professional.
Through classes such as philosophy and theology, Crawford learned how to approach problems, communicate with others and treat people with respect – all essential skills to becoming a doctor.
"A lot of places can teach you facts and knowledge, but Xavier taught me how to be a leader, discernment, and a steward of the blessings in my life," Crawford said. "I attribute Xavier, far more than any other institution I've been a part of, for the success I've been fortunate to have in my career."
After graduating summa cum laude from Xavier in 1998, Crawford earned his medical doctorate from Indiana University. He completed a family practice internship at Eglin Air Force Base, served as a General Medical Officer at Andrews Air Force Base, and then completed his dermatology residency at the Emory University School of Medicine.
Following a 12-year stint with the Air Force, Crawford would go on to establish himself among the most successful and well-respected dermatologists in the country. He contributed to numerous research publications and scholarly articles in the field of dermatology, specifically in the areas of skin cancer detection, treatment, and Mohs micrographic surgery. He is the immediate past President of the American Society for Mohs Surgery, a member of the American Academy of Dermatology, the American Society of Dermatologic Surgery, and the Indiana Academy of Dermatology.
Crawford found ways to remain connected to Xavier over the years. As a former college swimmer with a passion for Xavier athletics, Crawford has sponsored several major athletics-related initiatives, including the creation of the Kevin and Georgette Crawford Student-Athlete Academic Center at Cintas Center and The Crawford Family Student Athlete Lounge. He also endowed the Crawford Family Associate Head Coach for the Men's Basketball Team.
"I've always been of the mindset that everything we have in life is on loan from God," Crawford said. "We are trustees of our wealth and the possessions we have. It is important to look for opportunities to give back and help others."
Xavier Athletic Director & Vice President for Administration Greg Christopher oversaw several of the initiatives made possible through Crawford's donations to the university. Christopher said Crawford's willingness to support Xavier has been 'a blessing' for the University and the student athletes impacted by his gifts.
"Kevin and Getta played a vital leadership role as we improved the Cintas Center," Christopher said. "Their desire to help a new generation of student-athletes made the academic center and the student-athlete lounge possible."
In addition to supporting numerous philanthropic initiatives, Crawford served as a member of Xavier President's Advisory Council from 2017-2020. He has been a member of the Xavier University Board of Trustees since 2020 and he currently sits on the Brand and Marketing and Jesuit Mission and Identity board committees.
"Kevin uses his gifts and the education he received at Xavier to make a profound difference in the lives of others," Xavier President Colleen Hanycz said. "His contributions to the University – both through charitable giving and board leadership – have been nothing short of remarkable."
In May, Xavier announced plans to establish a new College of Osteopathic Medicine – the first such college run by a Jesuit Catholic university in the country.
For someone who had always dreamed of becoming a doctor, Crawford called the move 'fantastic' for Xavier, noting how the field of osteopathic medicine aligns perfectly with Xavier's Jesuit Catholic mission and identity.
"Osteopathic medicine is such a nice fit for Xavier," Crawford said. "The way (osteopathic physicians) think and approach analysis of the human body seems to be a natural fit for the Jesuit approach to education we use at Xavier."
For distinguishing himself within his professional field and his dedication to Xavier, Crawford was honored during Commencement Week as the 2023 Distinguished Alumni Award recipient.
Xavier holds a very dear place in my heart," Crawford said. "I love this institution. To be recognized like this is something that I will truly cherish."