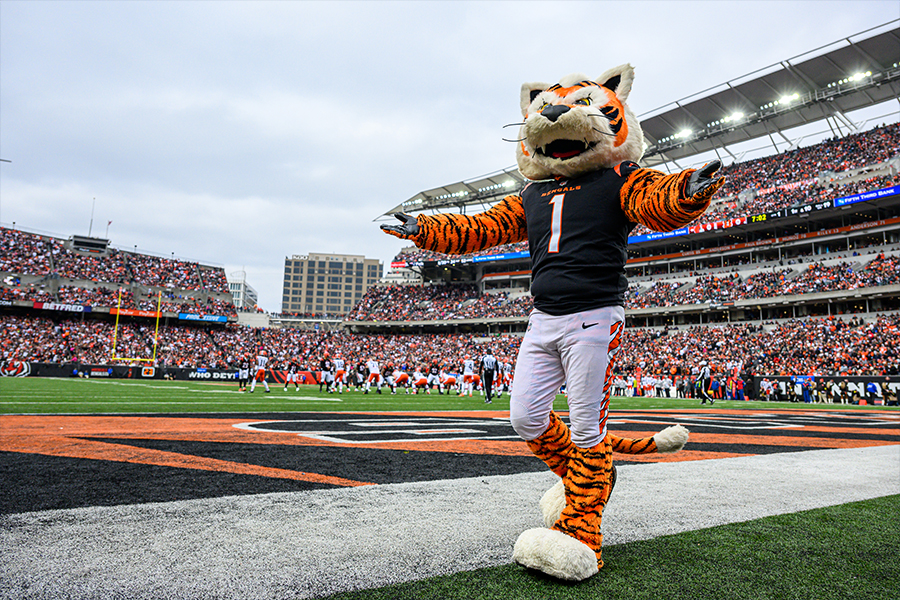 Rolling From Blob Life To The NFL: Xavier Alum Brian Kathmann ('05) Talks Xavier Experience, 'Who Dey' Gig
Jan 20, 2023
Coming off a Super Bowl appearance last year, the Cincinnati Bengals are back in the playoffs in 2023 after another successful regular season and Xavier University graduate Brian Kathmann ('05) is right in the thick of the action.
A double major in marketing and information systems, Kathmann came to Xavier from Grand Rapids, Michigan, and left Xavier to 'go pro' in both business and mascot performance — a gig he started in high school, continued at Xavier and, for the past 20 years, has enjoyed with his favorite childhood team, the Cincinnati Bengals.
Learn more about Kathmann's professional journey at local retail data science innovator 84.51°, how he got his start as a mascot and his Xavier experience in this Q&A with Xavier's Office of Marketing & Communications:
Tell us a bit about how you came to Xavier, your experience as a student and how you've stayed involved with the University
I grew up in Grand Rapids, Michigan. My folks are originally from Cincinnati, so I knew I liked Cincinnati and I knew of Xavier, just coming to town for Christmas and whatnot. I did my search, walked the campus, and really enjoyed the University. I knew it'd be good to have family in town, I knew I liked the city and so it worked out well in the end.
I met my wife [Sarah Kathmann, '05] freshman year in Brockman Hall and we've been married since 2008. We've got three kids now. She was on the third floor, I was on the second floor. She ran cross-country and track at Xavier, and I was the mascot.
She always likes to tell people that she was the athlete and I was the cheerleader. I always like to tell her, you were a collegiate athlete and I'm a professional mascot now. Everything's a competition in our house. 

I loved the small, connected community at Xavier and I still have the same group of college friends that I've had for 20 years. That connection you felt on campus with people still holds true. The simple answer is it's always been about the people you have on campus and the professors. Fr. Graham's inaugural year was my freshman year and he was actually the man who married us.
I've stayed connected through the executive mentorship program for the last 10-plus years and got a ton of value out of that when I was a student.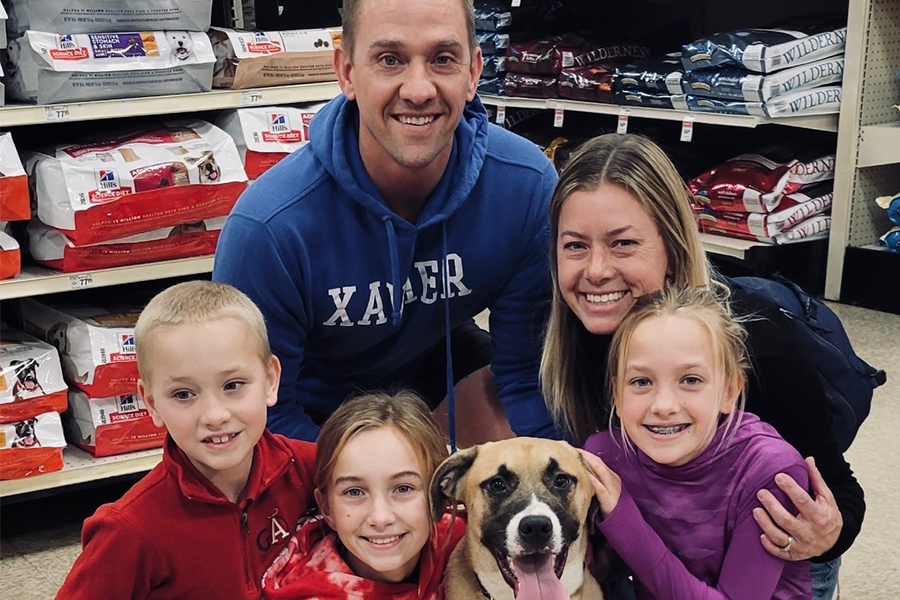 What has been your professional journey since Xavier and what is your current day job... not to be confused with your 'Who Dey' job?
My mentor when I was a student at Xavier, Greg Carmichael, helped me get my first job out of school at Fifth Third Bank. It was a great place to cut my teeth coming out of school, and I was involved in a rebrand process as Greg moved from CIO to CEO at the time.
I started a new job with what was then called Dunnhumby USA the same week I got engaged to Sarah in November of 2006. I've been with what's now called 84.51° for roughly the last 16 years.
It's a similar vibe to what we talked about with Xavier, just great people and a great culture and also small — but becoming bigger. That's led to a lot of different roles in my time at 84.51°, beginning with our communications and media team.
Since we're now wholly owned by Kroger, I've led a lot of efforts with our consumer packaged goods sales teams, I led our PepsiCo account for a while, took some roles within Kroger, and did some pricing work. We can't necessarily compete toe-to-toe with Walmart, so we use a lot of data science and analytics to understand the things that matter most to people across our stores so we can invest in price to make sure people who shop our stores get great deals and promotions.
For the last three years, I've been involved in a really cool endeavor around health care. We see a tremendous amount of upside to using what we do today in stores, but gearing that towards people so that they can eat healthier and help them be a little bit more educated on the medications they take. Some of those things may seem simple but we're looking at improving people's outcomes and doing it a lot more effectively to ideally lower costs to people versus being reactive... it's a long game, but we're in the early stages of building this out as a start-up within Kroger.
How did you get your start as a mascot?
My first gig was when I was a sophomore in high school back in Grand Rapids. I worked at a Blimpie's sub shop, kind of a more regional competitor to Subway, and the boss came in and said, 'Hey, tomorrow's the 4th of July parade. Does anyone want to be the Blimpie Bear for the parade?'
At that time it was probably 102 degrees outside, so it was, 'whatever.' But then he said the key aspect of the job was that anyone who does the mascot for the parade gets paid the same amount as if they had worked a full shift. As a high school kid, we're talking about an eight- or nine-hour shift, so I raised my hand and the next day he brings this cardboard box that looked like you'd expect moss to fly out of it. And it was the Blimpie Bear. 
I decided I better just suck it up and go do this because, you know, I sweat a little bit. It was my hometown and I figured I knew how to walk a mile in this bear costume. After I did it, it was one of those things that went off immediately in my head of like, 'you can do almost anything in a mascot suit and get away with it and you're still going to make people laugh, which to me was worth its price in gold.'
So that kind of initially triggered it in my head: 'this is something you can do and people are willing to pay you for it.'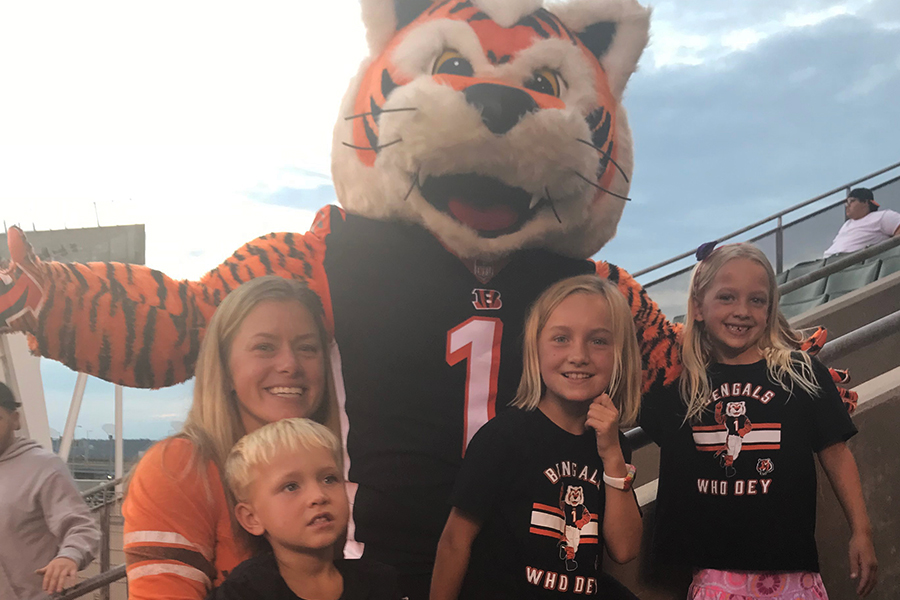 What was next after your big debut, then?
Fast forward after that, my best sport in high school was swimming and my coach at the time was one of the game day operations people for the West Michigan Whitecaps. They're the Minor League Baseball affiliate of the Detroit Tigers. I went and tried out for it, and kind of had to work my way through it. They had a couple of different characters and the main character was "Crash, the River Rascal."
I can't make this stuff up.
There was also a mascot sponsored by a shoe company. There was a "Pork Pig" for one of the pork sandwiches they sold at the stadium, and it's Minor League Baseball, so it's all-takers. The very first one I ever did they had a sponsor night, "Dole Fruit Night," and I showed up at the ballpark and they said, 'alright, this is your first one. We're going to test you out.'
They take me all the way out to centerfield behind the wall. There was this big giant trunk and in it was a peach costume. A girl peach costume. It had green tights, giant shoes and your head saw through the stem. It was all mesh. But if you put your arms all the way out, you couldn't get your arms out of it. It was just the peach and you had this little rod in-between, so there was no way to control yourself. You just had little dinky feet that you could walk with and you had to move this thing around.
Long story short, they wanted me to come down in the seventh inning and walk out from centerfield along the pathway around the baselines. At most ballparks, they're sloped. So basically, I was a walking target for all the kids that were on the lawn. For three straight innings, I walked along this walkway and the kids would run down the hill, and slam into me. I'd roll way down the hill and slam into the fence. That happened for three innings. No one ever came and got me.
And finally, the last time I slam against the fence along the warning track someone from the team grabs me and I'm like, 'where the hell have you been?' They were all excited, telling me, 'you've been crushing it for the last three innings. We featured you on the Jumbotron so much! People love it.'
I walked back to home plate, did what I was supposed to do at the end of the game and left. And then they called me back and said, 'hey, we'd love to have you!'
And that was my summer job for the rest of high school.
So you came in as a very experienced Blob. What was it like getting started as the mascot at Xavier?
Coming into Xavier, I found out quickly where the cheer squad and mascots practiced, introduced myself, and said, 'hey, I've been doing this for four years and would love to get involved.' Luckily for me, it was the right time and the right place. There were three seniors that had been the Musketeer and the Blob before me. And they didn't have anybody else lined up.
So they said, 'sure, you can jump in. We'll let you do a basketball game or two.' But we also had to fill in for volleyball, baseball and other things. My freshman year, I just did whatever they pointed me to. And then my sophomore year, they all left and I became essentially the mascot director for appearances and games.
I had two good friends that were taller than me, Jim Clair and Chuck Gehring, who both were D'Artagnan. I hired them to be the Musketeer during games and the three of us managed that for most of our time on campus.
My favorite memories as Blob were probably crowdsurfing and, obviously, "Roll Blob, Roll." But the best was probably when we went on "The Run" in 2004 with Lionel Chalmers and that squad the year after David West left. Having seniority, I took the first two games because we didn't know how far we were going to go in the tournament.
When we won our first two games, I remember calling my buddies on the bus back and talking about the second weekend in Atlanta. I told my buddy Chuck, 'it's your turn' and I took it as an opportunity to enjoy going to the tournament with my friends. That was pretty sweet.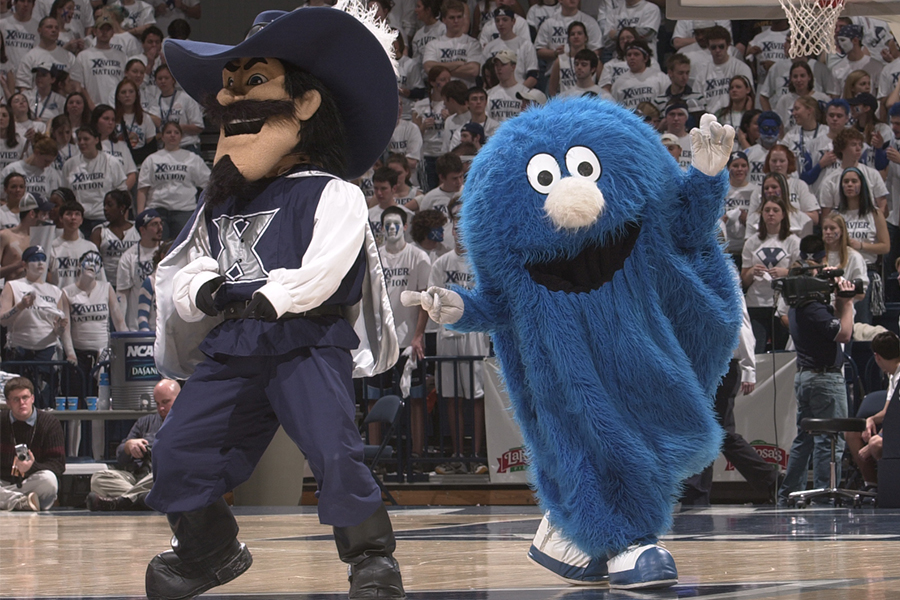 How did you end up getting connected to the Bengals?
During my college years, I ended up doing a lot of appearances in the city and I got to know this small network of the other mascots in town. The person who was my predecessor with the Bengals had been doing it for six or seven years and was moving out of town, so I knew the job was coming open and I reached out to apply for it. I knew the right people to talk to and I think there were something like 50 applicants for the role. 
I had two sitdown interviews, like suit and tie, made my pitch and both of those went really well. My actual mascot interview was at Newport on the Levee and they basically dropped me off and said, "have fun." They had a few people on site to watch me and told me they'd come to pick me up at the end.
So I just went hog wild at the Levee. I remember going into an Abercrombie & Fitch and knocking over about 18 racks of clothes. I went into the movie theatre and threw popcorn around. I went into the big game bar and played Dance Dance Revolution and did some other things. Eventually, somebody from the team grabbed me by the arm and said, 'Hey, great job. Let's go home.'
That was July of 2002 and they called me three weeks later and said, 'You got the job. Preseason starts in two weeks.'
And so here we are 20-odd years later with me still dressing up as a fake tiger on the weekends.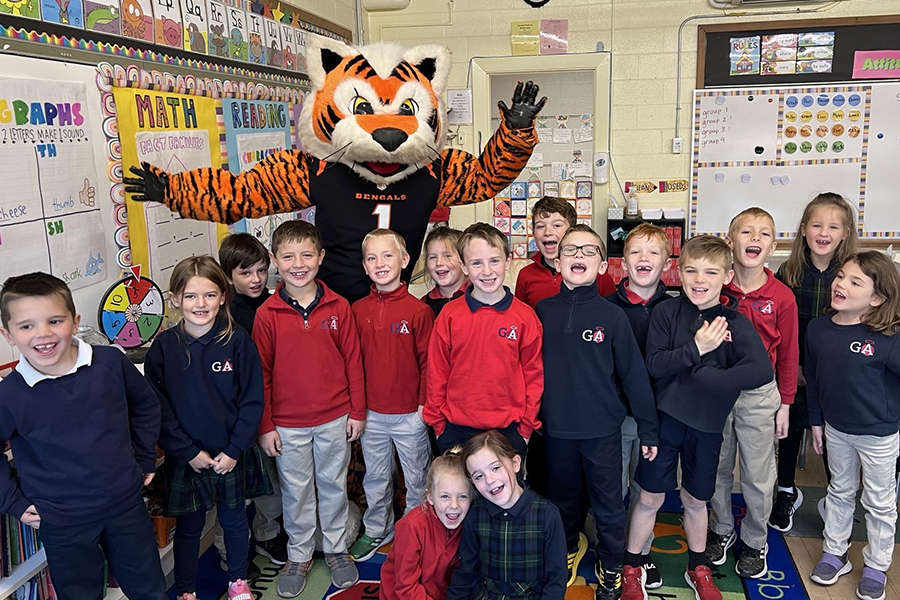 What are some of the highlights of your time as 'Who Dey' and what do you think of as your best feature, or what your primary job is as a mascot?
So many. I've gone to the Macy's Thanksgiving Parade, I've gotten to go to the Pro Bowl in Hawaii and Orlando, I got to go to Hong Kong for the Chinese New Year when the NFL sponsored a trip out there... I almost got a Super Bowl ring last year. 
As far as my best feature, I think of myself as a pretty decent dancer. I can pick up choreography pretty well, I can do the worm. Back in the day at Xavier, I used to use the gymnastics gym, but I haven't done as much of that in a while. I could do some flips and things like that.
In terms of being a mascot, though, my theory is if you can go in a room with thousands of people and just find the one person who wants nothing to do with you, that's the person who can help you entertain the rest of the room. And that's not easy. It's like being a comedian, you just have to figure out ways to interact with people to get a laugh or make a memorable, lasting experience for them.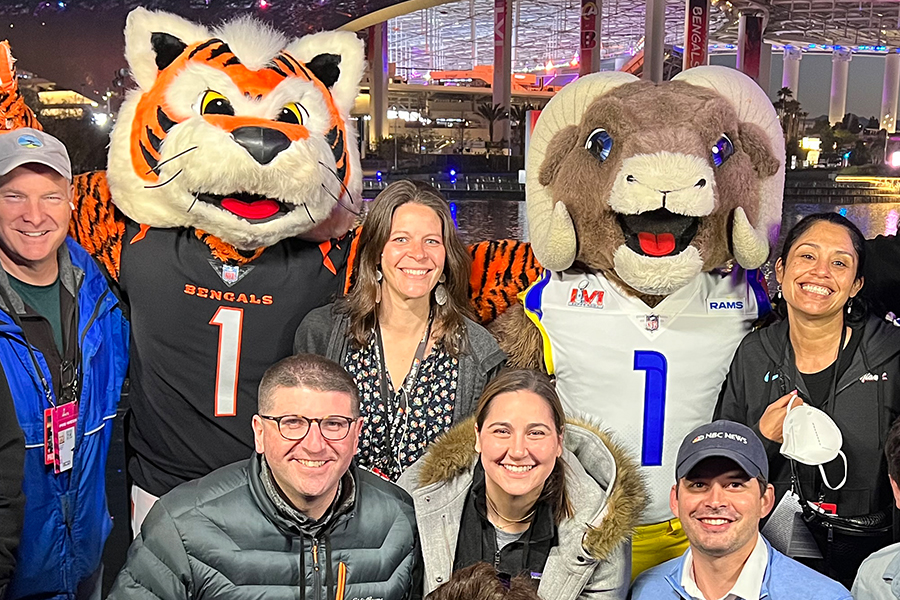 Any embarrassing moments you'd care to divulge?
I've got plenty of them. I've been a part of, I think, at least three or four failed proposals. And those were pretty rough. I was at a wedding one time and they introduced me with a belly dancer and wanted us to do a 'dance off,' but she had swords and it just didn't feel right. 
I went to Hong Kong for Chinese New Year and the event was at night, which is normally not good for people without peripheral vision. It was a long parade, a couple miles, and they wanted us to rollerblade. At that point, I'd never rollerbladed in my life and I still think it's the only time I've ever done it. The people were great, there was a language barrier, but they were just looking at the mascots and we were hilarious.
At one point, there was a dance team behind us and I thought it would be funny to rollerblade as fast as I could into their group and then flip over what I thought was a concrete wall. Again, at night, your vision is not that great in the suit. So I sprinted towards them as fast as I could and I ended up taking out their sign, which said what their group was all about, and probably about 20 dancers. I snapped their sign in half and almost created an international incident, but they were good sports about it. 
There are probably thousands of others that I can't even remember right now, but if you're in the right situation usually the comedy finds itself.
Last question. What would your advice be to a current Xavier student or what do you think you've maybe figured out about life that you wished you knew back in college?
I don't know that I've figured anything out, but what I tell my mentees is just: 'Go and do. Don't overthink it.'
If you need to get experience, just talk to people. Go try things and go do it. 
For me, jumping in the mask, it wasn't anything that was 'I want to be the Bengals mascot someday,' it was just a way to get out of working at Blimpie for the day. And then I found that I liked it. 
I feel that you learn more from doing things even if you don't like them. You learn about the experience and what works for you. I found out I just want to walk around in a fake tiger costume and entertain people.
It's just getting over the worrying about what it's going to end in, good or bad, and if you just go do it you'll learn a lot more than worrying about what might happen or what could be.
Interview conducted by Brendan Bergen, Office of Marketing & Communications
All photos courtesy of Brian Kathmann and the Cincinnati Bengals