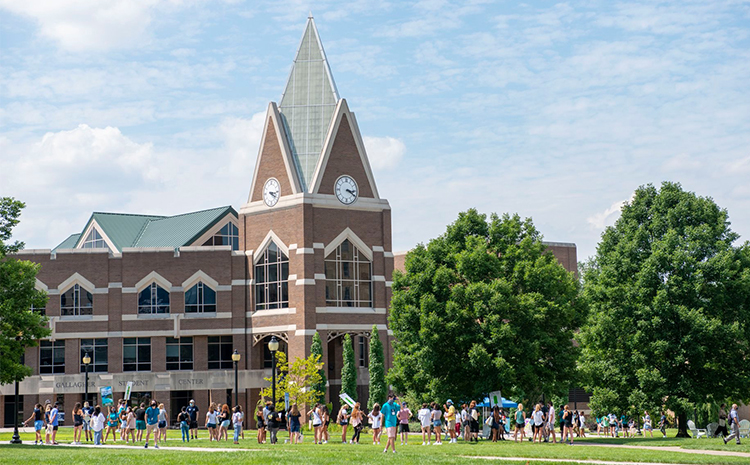 Xavier welcomes 1,200 new students to campus this week
Aug 17, 2022
Xavier University's campus will welcome hundreds of new students this week, with classes set to resume on Monday.
Xavier's Class of 2026 comprises more than 1,200 accepted students out of 14,800 applicants and represents a diverse array of backgrounds and perspectives, including 15 religious traditions. Nearly 60 percent of these first-year students come to Xavier from outside Ohio, while 25 percent are students of color.
About 1,100 of these students will live on campus, with a vast majority of the class moving into Xavier's residence halls on Wednesday and Thursday. Move-in will lead directly into Xavier's New Student Orientation, Manresa, scheduled for Thursday through Sunday. Manresa features a host of events to welcome first-year students and help them acclimate to their new campus community.
View the full Manresa 2022 schedule
.
Beginning Sunday, Xavier will host its
Week of Welcome
, which will feature dozens of opportunities for students to have fun, get involved and explore the community.
NEW TO XAVIER IN 2022-23:
College of Nursing appoints founding dean
In June, Xavier welcomed Nezam Al-Nsair as founding dean of the College of Nursing. Xavier recently held a Q&A with Dr. Al-Nsair, in which he details some of his plans and goals for the college.

Main dining hall sees several upgrades
Xavier's main campus dining hall, Hoff Dining Commons, received some significant updates during the summer. This major refresh at the dining hall, also known as The Caf, included new paneling, upholstery, lighting and wall tiles, as well as new cooking equipment in the hall's grill suite and a new cantina station, which will serve fresh tacos, quesadillas and more.

Jersey Mike's coming to Xavier's Gallagher Student Center
Another new dining options coming to campus this fall is Jersey Mike's, which will open in the lower level of Gallagher Student Center. Xavier will announce the restaurant's grand opening in the weeks to come.

Women's lacrosse to make debut in 2023
Xavier's new women's lacrosse team will have its inaugural season this academic year. Women's lacrosse is Xavier's 19th Division-I sport, as announced in 2021. The team is set to begin competing independently in spring 2023 and will become a BIG EAST Conference member beginning in 2024.

New Jesuits join Xavier community
Two new Jesuits joined the Xavier community this summer:
The Rev. Bill Murphy, S.J., will take on the new role of Chaplain in for Xavier Athletics. He previously served as the President of St. Ignatius High School in Cleveland.
Matt Zurcher, S.J., joined Xavier in the summer as the university's Jesuit regent. His role is to facilitate Catholic Community, help with retreats and provide spiritual direction. Zurcher comes to Xavier from the University of Loyola Chicago, at which he earned a master's degree in social philosophy.


Board of Trustees adds five members
Xavier added five new members to its Board of Trustees in July.

New scholarship available for Xavier alumni
New this fall, Xavier's Loyal Musketeer Scholarship is exclusively for alumni, covering 25% of the tuition rate for most graduate programs.