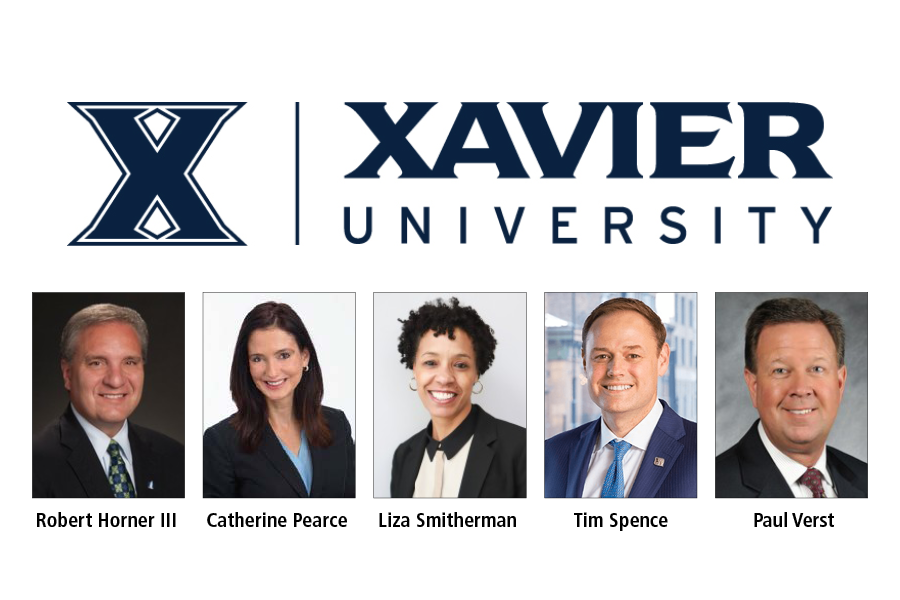 Xavier University Board of Trustees adds five members
Jun 15, 2022
Xavier University has named five new members to its Board of Trustees, Xavier President Colleen Hanycz, PhD, announced on Wednesday.
"I am so pleased to welcome Xavier's trustee class of 2022," Hanycz said. "Each new colleague brings a unique perspective that will strengthen our board's strategic mindset. I look forward to engaging with them in the days ahead and am grateful for the continuing contributions to Xavier that each will make."
Comprised of executive leaders with diverse professional backgrounds, the new trustees were elected at the May Board of Trustees meeting and will begin their three-year terms on July 1.
"At Xavier, the trustees and senior leadership are currently engaged in a strategic planning process that will help shape Xavier's direction for the future," said Vincent C. Caponi, chairman of Xavier's Board of Trustees. "New board members bring new perspectives that allow for richer engagement. We are confident that these members will support our Jesuit mission of transforming the lives of our students intellectually, morally, and spiritually."
The five newest members of the Xavier University Board of Trustees are:
Robert Horner III, Senior Vice President and Secretary (retired), Nationwide Insurance. Horner was responsible for the Columbus-based Fortune 100 insurance and financial services company's governance activities for over 300 legal entities in the Nationwide enterprise, plus the coordination of all board of director activities. He graduated with honors from Xavier University in 1983 with a degree in history. He also received his JD with honors in 1991 and his MBA in 2003, both from Ohio State University.


Catherine Pearce, Chief Operating Officer and co-Founder, CinCor Pharma. Pearce has more than 20 years of experience in pharmaceutical clinical development, business development and R&D. She is also a board member for Cincinnati-based clinical research organization Medpace and for pharmaceuticals manufacturer Teva Pharmaceuticals. Pearce received a bachelor's in biology in 1997 and an MBA in 2004, both from Xavier. She also earned a doctorate from Nova Southeastern University in health sciences.


Liza Smitherman, Chief People Officer, Jostin Construction. Smitherman began her career with Cincinnati-based Jostin Construction in 1998 in partnership with her husband in their first-generation, family-owned business. Initially providing basic accounting and financial support to the company, she shifted her attention to offering knowledgeable leadership in the planning and directing of programs for all of Jostin's human resource areas. She also sits on several other boards for organizations including Cincinnati USA Regional Chamber, YWCA Greater Cincinnati and Cincinnati Children's Hospital Medical Center. Smitherman graduated from Bowling Green State University with a bachelor's in secondary education and received a master's in counseling from Xavier in 1993.


Tim Spence, President, Fifth Third Bank. Spence was appointed president of the Cincinnati-based regional bank in 2020 and will become its CEO on July 5. He leads the bank's strategy and oversees all business lines and regional banking. Spence is also a board member with Cintrifuse, Miami University's Altman Institute for Entrepreneurship, the Cincinnati Chamber's RESTART Taskforce and the Consumer Bankers Association. He graduated from Colgate University in 2001 with a bachelor's in English and economics.


Paul Verst, President and Chief Executive Officer, Verst Logistics and Zenith Logistics. Verst assumed leadership of the third-party logistics provider from his father in 1993. Since then, he has overseen the expansion of the company's strategic plan and customer solutions. Verst sits on several boards, including for Cincinnati/Northern Kentucky International Airport (CVG) and the Horizon Community Funds of Northern Kentucky. He graduated from Xavier in 1977 with a bachelor's degree in accounting and in 1979 with an MBA in management.


The addition of these five trustees will increase the board's membership to 40.
View a list of current members.
---
Xavier University is a private university located in Cincinnati, Ohio, providing a liberal arts education in the Jesuit Catholic tradition. Founded in 1831, the University is the sixth-­­oldest Catholic university in the nation. It has been ranked among the top 10 master's-level universities in the Midwest by U.S. News & World Report for the past two decades. The Princeton Review names it one of the "Best 387 Colleges in America." Follow Xavier on 
Facebook
, 
Twitter
, 
Instagram
 and 
TikTok
.