Six Questions with Sr. Rose Ann Fleming for her 90th Birthday
Aug 23, 2022
In honor of Xavier legend Sr. Rose Ann Fleming's 90th birthday today, consider the indelible mark she has made with the University since she first stepped foot on campus in 1982.  

Fleming, whose jersey hangs in the Cintas Center rafters, took on the task of setting up a formal academic advising program for Xavier's student-athletes in 1985. Since then, she's helped thousands of athletes attain their degrees and position themselves for lifelong success after their playing days are done.  

As the Xavier community celebrates this Great Living Cincinnatian and member of the Xavier University Athletic Hall of Fame, see what she had to say about becoming a nonagenarian, her ambitions for the coming year, and more in this Q&A with Xavier's Office of Marketing and Communications.


How does it feel to be turning 90?  

I can't believe it! Well, 90 seems like a long time to live, and yet when I look back, it's gone very, very quickly. The only problem with it is I've lost so many of my friends, and family members, too. That's one drawback. 

I realize that I have been very fortunate to be able to function and to stay at Xavier and to be a sister of Notre Dame. I mean, I've had a really marvelous life. Close to 40 years at Xavier is a blessing I never expected, and particularly with (my role in) the beginning of academic advising for the athletes, in a formal way at least. I just came to teach, and I never really thought about anything else.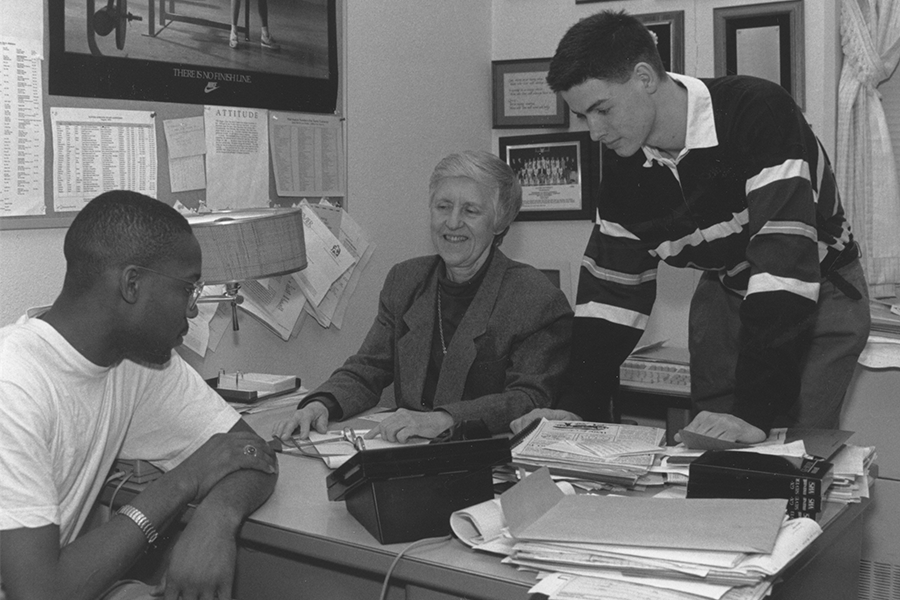 I learned a lot from the coaches and depended on the coaches a tremendous amount, because one of the things that I learned and had never thought about before was that the players are fascinated, I think, with the idea of coming to Xavier because it has such a great reputation, but they're really coming to fulfill the God-given talents they have, and that's a good thing – but they don't realize all that we can do to help them get ready for life through requiring them to take the core program, major in one of the offerings that we give, and graduate within four years.

That became something I was on fire with. I just didn't want any of them to leave without a degree. But they had to earn it. 

Among your many accomplishments, you obtained six degrees. What inspired your commitment to academics?
 
I try to use my time well. As far as getting degrees, I really just got them because I had jobs that, in my opinion, required them. My father was very, very strong in his emphasis in my life with, "You're not going anywhere out of my home until you have a college degree." So I boarded at Mount Saint Joseph, and he went up and inspected it and made sure I had room to study, et cetera, et cetera.

I spent a wonderful four years at Mount Saint Joseph, and after I graduated from there, my father said, "I want you to take a trip to Europe, and then you're going to be 22, then you can do what you want to do." I knew just from Dad's advising of me that education was important.

What would you say are some of the keys to living a long, happy, healthy life?  

I spent my first 13 years in school at Summit Country Day School, and at that time, Summit Country Day, I think, attracted people because every student was involved in athletics.

I enjoyed it. I don't know that I was all that good at it, but I enjoyed playing with others. The upper school was all girls at that time, and of course, we didn't have any competition back then – Team A and Team B. We had our pinnies, that was our only uniform. But the thing that I really liked about athletics is that it taught you how to compete, and how to compete fairly, and I think that's important in life.

You're not going to get anything that you don't work for, and youth sports particularly is a very good way of starting children with that concept that life isn't going to be just handed to you like your meals are by your parents when you're 5 and 6 years old. You're going to have to work for it. I don't know what better way we have of teaching that concept to young people than youth sports.

As far as living longer, part of that is certainly due to taking care of your body and valuing it, which sports also teach you to do.

As you mentioned, you've been at Xavier for nearly four decades now. Was there a particular moment when you realized Xavier is where you want to be for the long haul?  

There really was. I came to Xavier and they gave me a couple English courses to teach, and I did my MBA. When I was about finished with that, the academic vice president came to my classroom – I was teaching a summer course – and he asked me to come to his office.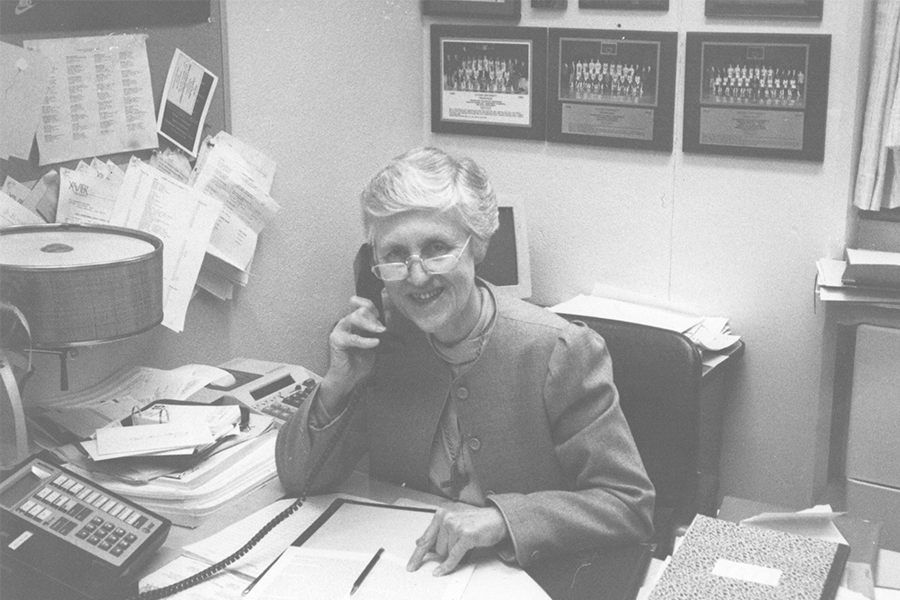 He said, "Jeff Fogelson (the athletic director at the time) wants you to set up an academic program for student athletes."

I told him I really like teaching, and he said I could continue to teach one or two classes, but asked if I would concentrate on advising full time. The next day, I told him I had talked with my supervisor and she said to do whatever I wanted to do.

I knew in my heart this was my opportunity to do something that I knew I could do. I could help people learn; I knew I could do that. So I thought, "OK, I'm going to give this a try," and it just … it worked out.

Even as you turn 90 and given all that you've accomplished so far, you don't seem like one to rest on laurels. Are there any projects you look forward to accomplishing in the years ahead?

In whatever time is left of me here, I would like to do what I can to help students, and I would like to work on giving the students here the opportunity to enjoy a semester abroad while they're also studying what would help them advance their degree. Not every student that comes here has the ways and means to do that, and I want to try to assist others in a program that would enable more students to have that opportunity.

So that's what I would really like to do, is concentrate on helping more students complete their degree at Xavier.

What advice would you give to our students looking to grow their faith at Xavier? 

I think it's important for everyone – including, certainly, our students here – to realize that each one of them is absolutely unique, and each one of them has a connection with God that only they know about. It's finding that connection with Him that enables one to eventually say, "I think that's what I can contribute today for His honor and glory. He gave me these talents," whatever they are.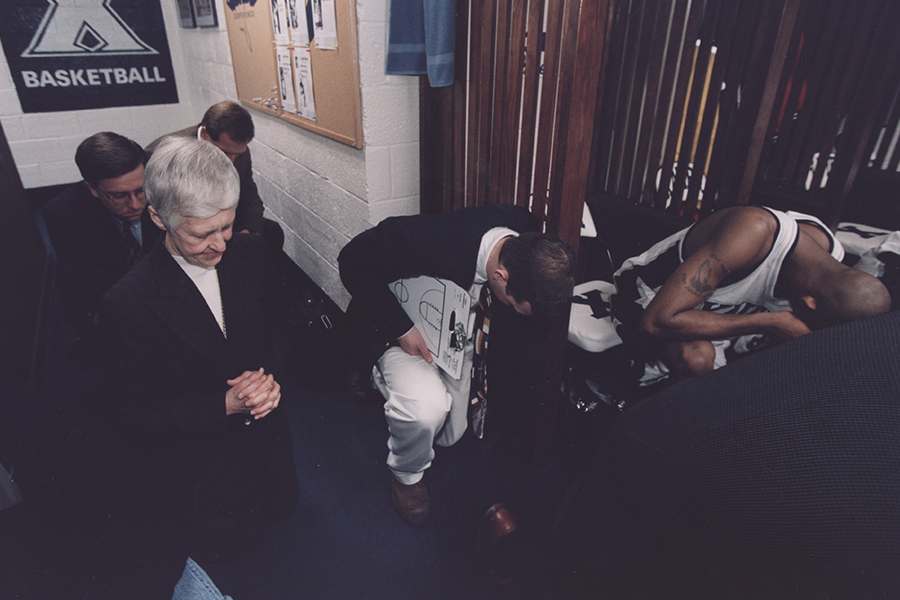 At least what I tell students in the class I'm teaching now – it's called, "Sport at the Service of Humanity" – is that there's a lot of stress on the greater good and on your vocation fitting into that greater good for humankind.

I tell them to think about what makes them happy. What do you enjoy when you go to bed, and you think back on your day, and you're happy? What is that something you did for somebody? You should analyze that and say, what more can I do? That's the way you can find your vocation, I think.