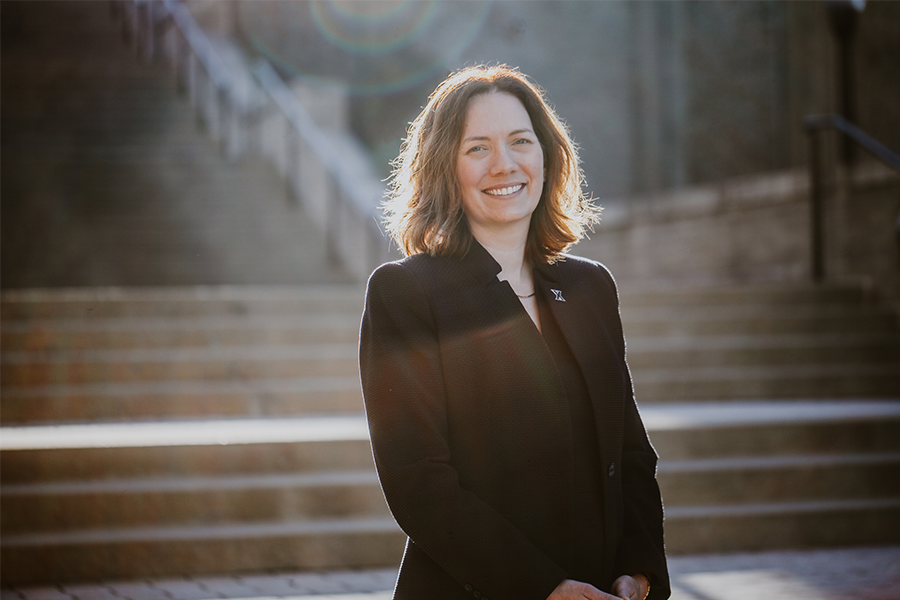 Six Questions with Rachel Chrastil, Xavier's New Provost and Chief Academic Officer
Jan 5, 2022
Xavier University is beginning the new year with a new provost and chief academic officer.  
Rachel Chrastil, PhD, assumed the position on Monday having 17 years at the University already under her belt. Chrastil has taught thousands of Musketeers over the past decade and a half, joining Xavier in 2005 as an assistant professor of history and earning the rank of professor in 2017. Her wide breadth of involvement at the University includes roles such as associate dean of the College of Arts and Sciences, and founding director of the First-Year Seminar, which launched in fall 2015 as part of the University's new Core Curriculum. 
Chrastil's two most recent positions – as head of the Academic Team on Xavier's COVID-19 Task Force, and as the leader of the University's 2021 affirmation of accreditation with the Higher Learning Commission – helped her achieve a comprehensive understanding of the University's operations. Chrastil said this broad perspective will help inform her decision-making as provost while remaining grounded in Xavier's academic mission and in teaching the Core Curriculum. 
With Xavier set to form its new strategic plan in the coming months, get to know the University's new provost and CAO and the role she will play in the institution's future growth. For more on Chrastil, read her full bio. 



Before we dive into the academic side of things, let's talk about recreation. What are some of your main hobbies, and could you share some of your favorite things about Cincinnati that you want prospective students to know about? 

Rachel Chrastil: I like to hike, and I like to garden. I also like to travel – as a researcher, I've researched and traveled extensively across France. That's a part of my background that people may or may not know. 
And what I love about Cincinnati is that its size and scale is amazing. It's got all the bells and whistles of a big city, and yet we have outstanding access. We, for example, have a world-class symphony that you can go to every week. And similarly, our students can have internships in City Hall. So that scale combined with that accessibility, that's an amazing thing about Cincinnati.
 
 
A lot of people reading this are probably wondering, "What exactly is a provost, anyway?" How would you describe your role in your own words? 
 
RC: It's important to remember the title is provost and chief academic officer. If you think about it that way, the provost oversees many pieces that make students academically successful. All four colleges are in the provost area, so I will be working with students and faculty and deans, and I will be the one tasked with giving final approval on things like curriculum, hiring, tenure, those kinds of questions. 
So, I assure academic quality across the entire institution, and I am watching for students' wellness in all dimensions. Student Affairs, Information Technology, the Library, these all fall under the provost area. If you work in the community in an internship, if you're an Eigel Center Community Engaged Fellow, these are also all part of the provost's responsibilities. 
My commitment to our students includes our professional education and graduate programs, and to our locations in Cleveland and Columbus. We will be constantly looking for ways to improve the academic experience across the board. 
Your overarching objectives will be more specifically defined once the University's Strategic Plan is released in the new year, but in the meantime, what would you say are some of your high-level priorities as you assume this new role?
RC: I care deeply about teaching. I've been teaching at Xavier for 17 years. I just marked 20 years of teaching in college classrooms. So, to me, the teaching that we do at Xavier is fundamental to who we are, to our excellence and to the success of our students. Supporting teaching is always going to be a top priority for me. 
Another top priority is helping students to get the degree that they came here for. I want students who walk in our doors to get their degree to graduate. I can't wait for commencement to shake their hands as they walk across the stage.


As you step into this position at the start of 2022, what excites you about Xavier in the year to come and beyond? 

RC: Well, there are a lot of things that excite me about Xavier's future, but I'm really excited about the strategic planning process, because there are so many areas of potential around Xavier. For us to identify our spires of excellence and to identify as a university where we're going to grow is an exciting prospect, and it's something I look forward to this year.
 
 
What are some trends in higher education or in the Xavier community that we should keep an eye on? 

RC: We're always looking for additional ways to build partnerships that will benefit the University. Our partnership with TriHealth is a great example of that. Take one look at the Health United Building, (a state-of-the-art health and wellness facility opened in 2019), and you will understand how having great partnerships like the one with TriHealth can transform the campus.
 
 
Do you have any key pieces of advice for students on how they can get the full Xavier experience? 

RC: Absolutely. I'd look for any way to connect with other students and engage holistically, whether it's reaching out to somebody in your class so that you have a study partner, whether it's joining a new club, getting involved with Rec Sports, getting involved with one of our offices, such as the Center for Faith and Justice to deepen your faith commitment and to have a tie with the community. Xavier has so much to offer to students – go to an athletic event; study abroad; take part in the University's many service opportunities. Enjoy being part of something bigger.