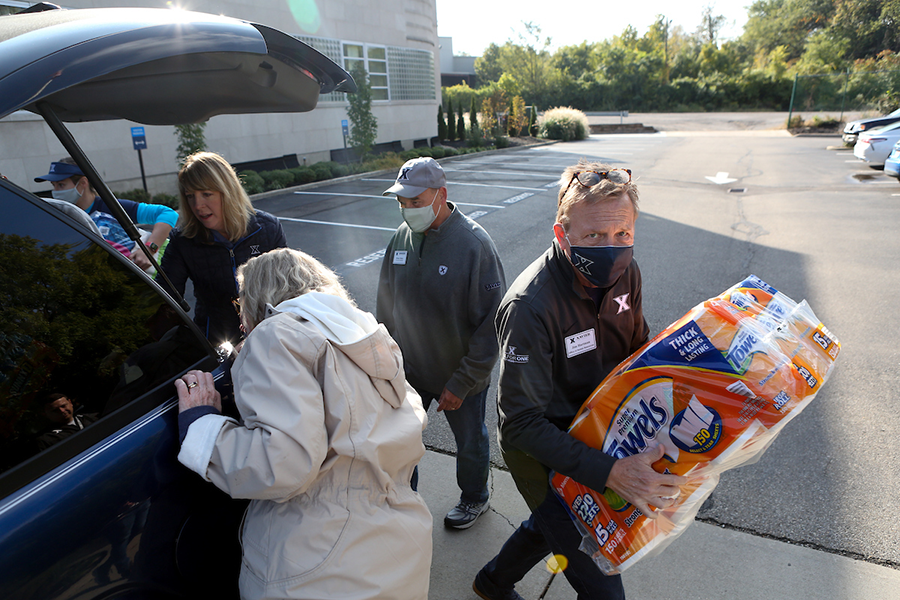 Great Turnout Leads to Successful Stock The Store Drive
Oct 25, 2021
Xavier University's second-ever Stock The Store drive-thru yielded several truckloads of donations to benefit the University's food pantry, which provides nonperishable food items and daily essentials to students in need.

Dozens of cars dropped by Alumni Center to drop off food, school supplies, personal hygiene items and other essentials, all of which will be available free of charge for Xavier students who need these items the most. Additionally, the community pitched in with more than $200 in cash donations as well as Amazon Wish List items.
 
"We have such a strong community here at Xavier, and the outstanding turnout for this year's Stock The Store drive proves just that," said Xavier Director of Alumni Engagement and Gift Officer Becky Jackson. "These donations are essential for many of our students, and having so many caring, selfless people show up for this event will make a big impact in those students' lives."

Food insecurity is an issue in cities and universities across the nation, and Xavier is no exception.

Nearly one-fourth of respondents in a 2016 survey of University undergraduates demonstrated some degree of food insecurity, spurring the creation of The Store at The Village apartments in May 2017. When researchers repeated the survey in fall 2018, the number leapt to 37 percent, reinforcing the food pantry's importance.

Donations are accepted year-round at the food pantry. Sign up to donate and directly help a Xavier student in need.
David Hamilton
Public Relations and Communications Specialist
Xavier University Office of Marketing and Communications