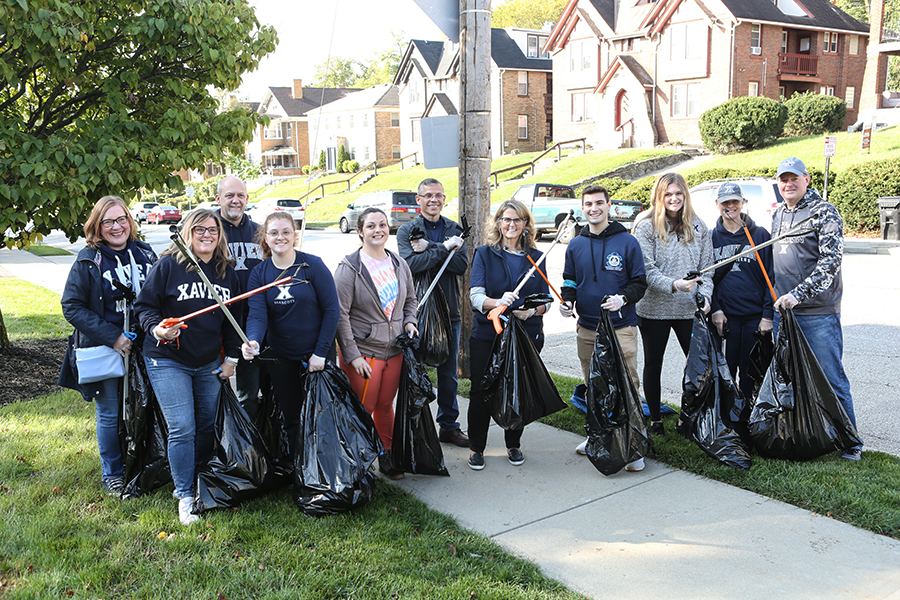 Day of Service and Solidarity Kicks Off Inauguration Week
Oct 23, 2021
The Xavier University community participated in a National Day of Service and Solidarity Saturday morning, as more than 200 people engaged with local agencies to provide help for those in the local community and around the country.

Volunteers, comprised of students, faculty, staff, alumni and family members, gathered on campus at 9 a.m. and then spread throughout the area performing acts of service including yardwork and gardening, litter removal, cleanup projects and participating in social programs.
Participants assisted several local agencies such as United Way of Greater Cincinnati, the Irish Heritage Center of Greater Cincinnati and the Queen City Kitchen, as well as area seniors, children with diabetes, a church, a Montessori school and an individual with mobility issues.
The day of service also involved Xavier contingents who provided assistance in Chicago, Cleveland, Columbus, Dayton, Indianapolis, Minneapolis, Tampa Bay, Washington, D.C., and Western Michigan. Volunteers in those locations served a variety of agencies and purposes, from packaging food for distribution to families in need to outdoor park invasive plant removal projects.
These small acts of kindness help to foster a sense of service across the University while showcasing the strength of the community at large, said Xavier junior Maggie Schroeder, a co-chair of the University's Community Action Day board.
"Basically, what we do is we show up and say, 'How can we help? What do you need us to do?'" Schroeder said. "Service and Solidarity is a big thing for us, but also, the Xavier community as a whole is so, so strong."
"Stock The Store," another component of the day's events, brought dozens of cars to campus filled with donations for The Store, Xavier's student-run food pantry that provides non-perishable food, personal and household items for students in need. One participant, Xavier freshman Alfredo Ferguson, said the University's emphasis on service is something that appealed to him.
"I really love the sense of community," Ferguson said. "When I came here to visit campus, I wasn't even on tour, and there were people that were just walking by that were readily available to help you. That kind of community, you can see it in the school … that community is always ready to help out."
The Day of Service and Solidarity kicked off Xavier's Presidential Inauguration Week, which comprises a week of events showcasing the University's Jesuit tradition of cultivating lives of reflection, compassion and informed action leading up to the installation of Colleen M. Hanycz, PhD, as Xavier's 35th president on Thursday. Today's event also commemorates the 530th anniversary of the birth of St. Ignatius Loyola, founder of the Jesuits.
For more on Inaugural Week, visit
www.xavier.edu/presidential-inauguration/
.
David Hamilton
Public Relations and Communications Specialist
Xavier University Office of Marketing and Communications