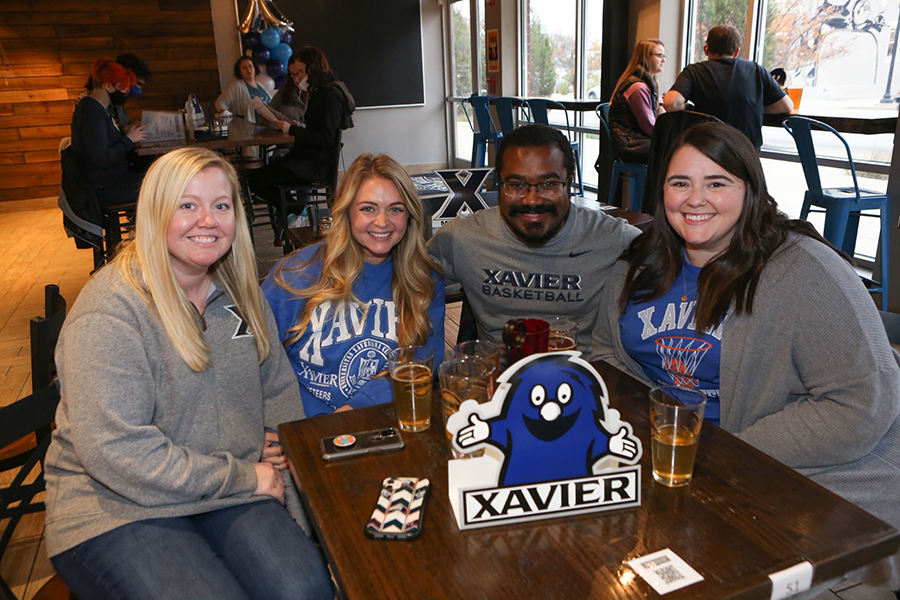 Alumni Celebrate Xavier, Each Other, During Alumni Weekend
Dec 2, 2021
Xavier's annual Alumni Weekend festivities afforded more than 800 alumni the opportunity to connect with one another and come together to celebrate all things Xavier.
The four-day-long Alumni Weekend saw alumni from 30 states and two countries participate in 28 events, both virtually and in person. The weekend included joint class anniversary celebrations -- a five-year anniversary for the Classes of 2015/2016; a ten-year anniversary for the Classes of 2010/2011; a 25-year anniversary for the Classes of 1995/1996; and a 50-year anniversary for the Classes of 1970/1971.
During Alumni Weekend, Xavier's ROTC Alumni Advisory Board inducted three new members into the ROTC Hall of Fame: 1LT (Former) Robert E. Bernens '43, LTC (Ret) Thomas A. Haase '65 and LTC (Ret.) John Lehrter '64. The weekened included concert performances by the Xavier Choir and a piano concert by distinguished pianist Steven Hough.
"Xavier is a special place because of the people who have come through this university and Alumni Weekend is a really a celebration of those individuals," said Meghan Fisher, Associate Director of Alumni Engagement. "It's a celebration of their stories, the relationships they've formed and the people they have gone on to become after graduating from Xavier. We're thrilled to have been able to host events that allow our alumni to re-connect with the university and each other in a safe and enjoyable way."
This year's Alumni Weekend was the first for new Xavier President, Colleen M. Hanycz, PhD. President Hanycz hosted a community discussion event during Alumni Weekend and participated in some of the Alumni Weekend festivities.
Alumni Weekend saw a return of Xavier's alumni affinity groups to campus. The Black Alumni Association, the LGBTQIA+ Alumni Community and Edgecliff College Alumni all held events throughout the weekend.
Of course, it would not have been an Alumni Weekend without the annual men's basketball game. Several groups of alumni attended the basketball game vs. Kent State in person while others gathered together for one of the many alumni pre-game parties held during the weekend.
Alumni Weekend featured four alumni-owned businesses prominently throughout the weekend. Fowling Warehouse (owned by Joe Frank, '03) and Dana Gardens (BJ Hayley '94) served as sites for alumni watch parties while Questionable Pursuits Trivia (Mark Arminio '03) and DJ Chuck D. Supreme (Charles Dickson '10) provided entertainment.