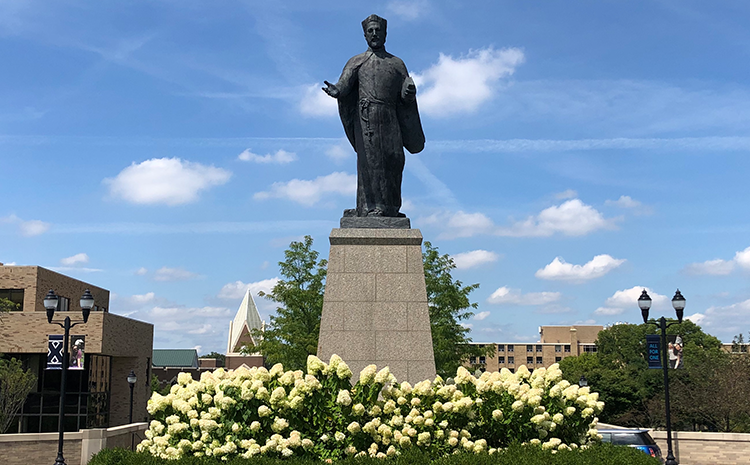 Two new members join Xavier Board of Trustees
Oct 5, 2020
CINCINNATI - Fr. Michael Graham, S.J., President of Xavier University, welcomed two new members to the XU Board of Trustees recently. Joining the group are Shakila T. Ahmad, Director of Business Management at the Allergy & Asthma Specialty Center and Kevin M. Crawford, founder of Advanced Dermatology.
"We are extremely excited to welcome Shakila and Kevin to Xavier's distinguished Board of Trustees," said Graham. "With leadership from our Board Chair, Vincent Caponi, the appointments of Ahmad and Crawford continue to add to a dynamic leadership team that will shape Xavier today and for years to come."
Ahmad has been the Director of Business Management at the Allergy & Asthma Specialty Center since 1992. Previously, Ahmad worked for IBM as a systems engineer, educator, and software consultant. Ahmad is Emeritus Board Chair of the Islamic Center of Greater Cincinnati (ICGC) and is the first woman to serve in this capacity for an American Islamic institution, having served on the Board of Trustees since 1995. She established ICGC's Tours and Talks program to teach members of the community at large about Islam and Muslims. Ahmad is the founding chair of ICGC's Muslim Mothers Against Violence initiative. The group brings people of all faiths together to explore peaceful and constructive means of conflict resolution and has led many sessions on bullying prevention. The FBI awarded Ahmad the Director's Community Leadership Award in 2010.
Crawford is the founder of Advanced Dermatology. He later merged his practice, becoming an owner and regional chairman for Forefront Dermatology. He is a principal owner/founder of US Mobile Dermatology, which is a newly developed mobilized dermatology corporation providing services in The Atlantic and Northeast United States. Crawford, a 1998 Xavier graduate and veteran of the United States Air Force, is the founder and president of ADCS Consulting which is a medical consulting group specializing in healthcare startups, electronic medical record implementation, and practice efficiency/improvement. He is the founder of ADCS Realty which owns and manages numerous commercial properties across the state of Indiana.