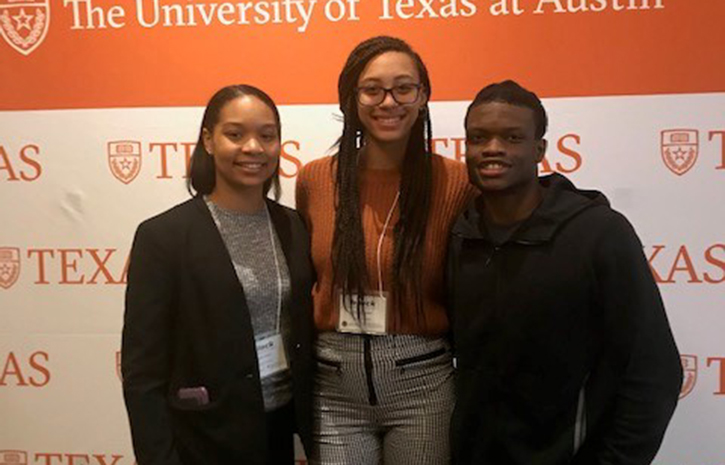 With WOX Help, Three Students Attend Black Student-Athlete Summit in Texas
Aug 3, 2020
In January 2020, the Student-Athlete Academic Support Services office, in conjunction with the Women of Excellence, sent three minority student-athletes (two female and one male) along with one staff member to the Black Student-Athlete Summit in Austin, Texas.
Eleven minority student-athletes applied to attend and three were chosen: Two volleyball players, Jayda Cartlon and Moriah Hopkins, one male track and field athlete, Will Roberts, and staffer Angela Wyss. The Summit takes place every year in Austin, Texas. With the help of the WOX grant Xavier secured a two-year grant that will allow the Musketeers to send between four or five more minority students and one staff member to the Summit in 2021 as well.
This would be a total of eight minority student-athletes and two staff members being able to attend over the course of the two years. The Summit typically lasts three full days in mid-January each year. 
Upon returning from the Summit, the student-athletes have continued to have important conversations and educational sessions and assessment around the topics from the event. While the intent is to provide meaningful and experiential opportunities to minority student-athletes, there may be an occasion where a non-minority student could be selected to attend in order to expand their breadth of knowledge through innovative best practices in the field.
More than 500 people from colleges and universities across the country go to the University of Texas at Austin to attend the annual Black Student-Athlete Summit at the AT&T Executive Education and Conference Center. Attendees include professional athletes, athletic directors, coaches, professors and mental health professionals — all of whom play an integral role in the success of Black student-athletes.
The recent 2020 summit, themed "The Mental Health of the Black Student-Athlete," explored a wide range of mental health challenges that are uniquely faced by students of color — from stereotypes perpetuated by the media and the lack of diversity in high-level administrative positions, to racial injustice.
The WOX grant was approved for two years in the amount of $15,000 ($7,500 each of the two years) to fund the student-athletes' ability to attend and engage in the Summit.
They reported that it was a life-changing and long lasting, impactful experience.
In early May 2020, Cartlon, Hopkins and Roberts presented to the leadership team of the Vice President of Enrollment Management and Student Success. They gave an impassioned presentation on the importance of diversity and inclusion and equal services and experiences being offered to underrepresented minority student-athletes at Xavier.
Students look forward to the opportunity to apply again in 2021 thanks to the WOX grant.