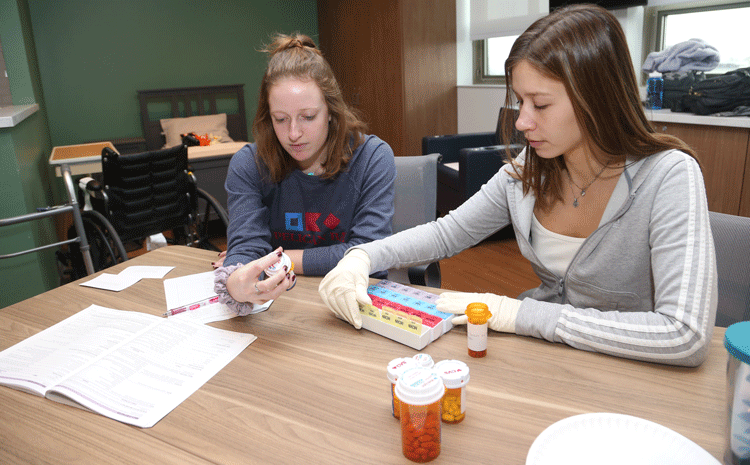 Xavier Announces New Doctoral Program in Occupational Therapy
Jan 2, 2020
The Accreditation Council for Occupational Therapy Education has granted Candidacy Status to Xavier University for a new doctoral program in occupational therapy (OTD) beginning in August 2020. Xavier can now begin offering admission to qualified students into the doctoral program, while its successful long-standing master's program in occupational therapy continues to accept students through spring 2021.
"We are thrilled to have gained Candidacy Status for an occupational therapy doctoral program here at Xavier," says Melissa Baumann, PhD, Provost of Xavier University. "The OTD adds another quality program to our exceptional lineup of degree offerings."
The occupational therapy program stands out as one of Xavier's best academic programs due in part to:
Opportunities in Cincinnati. From hospitals to outpatient clinics, the city provides a wealth of opportunities for our students to engage and practice.
Our new facilities. With ongoing support from TriHealth, our occupational therapy students will have classes and labs in the new state-of-the-art Health United Building.
An international experience. In the Jesuit tradition, Xavier students have the opportunity to travel to Guatemala for a once-in-a-lifetime experience to serve and practice in the field.
"As one of 200+ occupational therapy programs in the United States, we have the further distinction of being one of only five Jesuit-based institutions who offer a program of occupational therapy," says Carol Scheerer, EdD, Chair of the Department of Occupational Therapy. "We are uniquely positioned to offer a full OT setting within a values-based, Jesuit university and, because of the success of our graduates, we are blessed with much interest."


Students interested in the doctoral program can find out more at xavier.edu/ot
Get details about the admission process at the Department of Occupational Therapy
Candidacy Status Accreditation Details
Xavier University's entry-level occupational therapy doctoral degree program has been granted Candidacy Status by the Accreditation Council for Occupational Therapy Education (ACOTE) of the American Occupational Therapy Association (AOTA). Xavier must have a preaccreditation review, complete an on-site evaluation, and be granted Accreditation Status before its graduates will be eligible to sit for the national certification examination for the occupational therapist administered by the National Board for Certification in Occupational Therapy (NBCOT). After successful completion of this exam, the individual will be an Occupational Therapist, Registered (OTR).