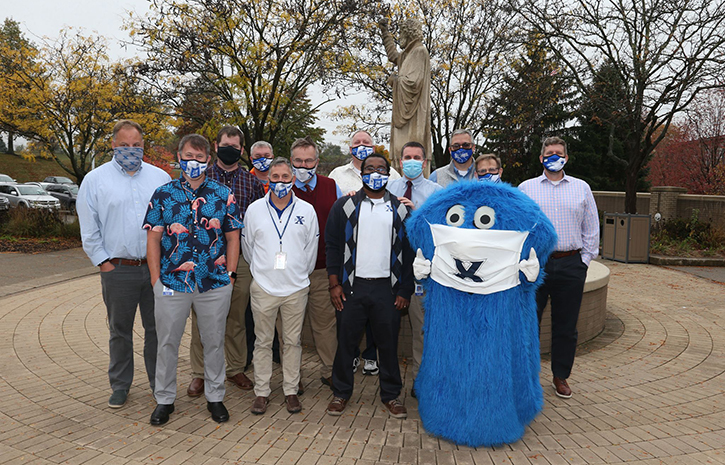 Teachers Honored by Xavier Alumni
Oct 22, 2020
Kris Holmes will tell you he normally doesn't like surprises.
But for one day in October, the social studies teacher felt differently. 
Recently, members of Xavier's alumni relations department (and the Blob) traveled to St. Xavier High School to honor Holmes, a 2012 graduate with a degree in History, as part of their Teacher Appreciation Campaign.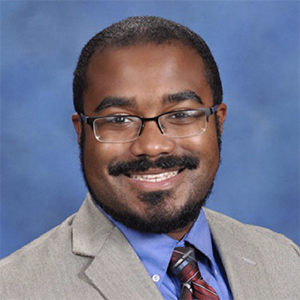 "It was an honor really," Holmes said. "It was a nice surprise — and it's fair to say I was speechless when it happened."
At St. X, Holmes serves as a teacher, as well as moderator of the juggling club and the Super Smash Bros. club. But he hasn't forgotten his alma mater, as he has also served on the Cincinnati Alumni Chapter volunteer committee and the Center for Faith and Justice Advisory Board.
Earlier this fall, Xavier's alumni relations department sponsored the Teacher Appreciation Campaign, where alumni nominated a Xavier alum who is a teacher to receive a small gift and handwritten thank-you card. Packages included Xavier tech tattoos, a pennant, a magnet and a handwritten note from a Cincinnati Chapter volunteer or a member of the Student Alumni Association.
The alumni team then randomly selected one teacher, Kris Holmes, to surprise at his school.
"Given the ongoing pandemic and the ways it has created extra challenges for teachers and educators, we wanted to do something to show support for all of our alumni teachers, and to allow the Xavier alumni community to show their support for each other," said Meghan Fischer, associate director for alumni relations. "To cap off the campaign we decided to choose one teacher to surprise at their school with an extra special gift and celebration. Kris was nominated by his wife Caylin, also a Xavier alum. We really appreciate all that Kris does to give back to Xavier as an alum, and felt like this was a great opportunity to recognize him for that, as well as show our support for everything he does as a teacher."  
Holmes admitted the current year has been a challenge, but said his Xavier education prepared him for it.
"I've been juggling teaching to both online and in-person students at the same time and making sure both get a quality education and experience," he said. "It's great being back in the classroom but you wishes all the (students) were in the classroom, too. Honestly the experiences I had at Xavier really showed me the power of relationships and connections."
After a social media campaign that ran from Sept. 9-18, the alumni team received 163 nominations, and graduates spanned the years from 1964 to 2020. They came from 26 different states, and as far away as Honolulu.   
Holmes was proud to represent all the honored teachers, and said that during this time, there is one thing that means more than anything else.
"It's cliché, but I guess I do try my best to get to know my students," he said. "That's what I got at Xavier — people who cared about me as a person. As a teacher now, I try to demonstrate the same thing."
By Ryan Clark, Office of Marketing and Communications