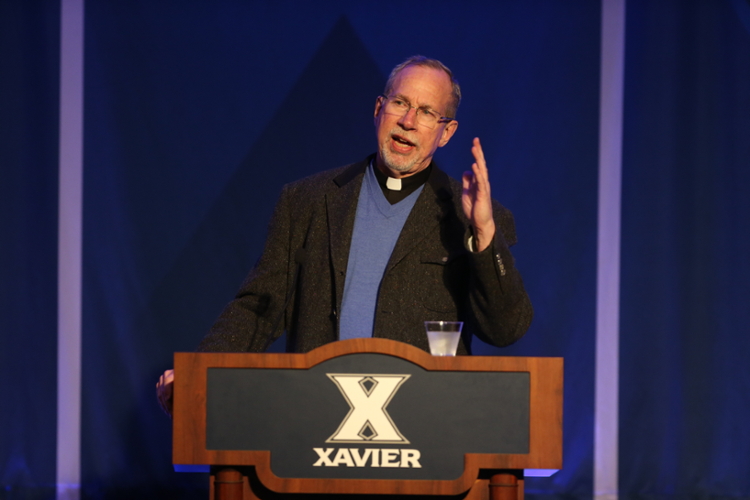 Father Graham By the Numbers
Oct 19, 2020
Michael J. Graham, S.J. is the longest-serving president in the history of Xavier University. Here are some highlights from his two decades leading Xavier, working to ensure that this Jesuit university founded in Cincinnati nearly 200 years ago continues well into the future. 

34 
Total Years at Xavier 
Father Graham first came to Xavier University in 1984 when he joined the Xavier faculty as an assistant history professor. He left Xavier to pursue his Master of Divinity from the Weston School of Theology. In 1989, Graham returned to Xavier as an associate history professor and in 1994, he was appointed Vice President for University Relations. In 1999, he became the Executive Assistant to President Jim Hoff, S.J. and began preparing for his role as President.

19 
Years as President
Father Graham was inaugurated as President of Xavier University on Saturday, Sept. 8, 2001 at St. Francis Xavier Church in downtown Cincinnati, where Xavier was founded as the Athenaeum in 1831. He is the longest serving president in the University's nearly 200-year history. 

34th
Jesuit President
Since 1840, every president of Xavier University has been a member of the Society of Jesus. Father Graham is the 34th Jesuit president of the University. 

33,272
Undergraduate and Graduate Diplomas Awarded
Father Graham has individually awarded more than 33,272 undergraduate and graduate diplomas to Xavier students during University commencement ceremonies. He hands out anywhere from 1,000 to 2,000 per year.  

30,599
Students Graduated
Xavier's mission is to educate students intellectually, morally and spiritually toward lives of solidarity and service. During Father Graham's time as President, more than 30,599 students have joined the Xavier alumni family and gone on to pursue careers that make a difference. 

20+
Academic Programs Developed 
Academic programs established under Father Graham's leadership include the Philosophy, Politics and the Public honors program, the University Scholars honors program, the Smith Scholars honors program, the Business Analytics undergraduate program, the ABSN program and master's programs in Coaching Education and Athlete Development, Health Economic and Clinical Outcomes Research and Customer Analytics.

$500 Million
In Fundraising
Father Graham has helped Xavier University raise more than $500 million, or 90% of the total amount of funds raised throughout Xavier's history. This money has been used to fund scholarships for students and sponsor academic experiences and service work within the Cincinnati community. 

300 + 
10:00 p.m. Sunday Masses
Father Graham began presiding over 10:00 p.m. Sunday mass in 1988. The tradition has remained one of the most popular gatherings for students on campus for over three decades. 

80+
Acres Added to Campus 
Since 2001, Xavier's campus has grown from approximately 125 acres to 205 acres. Campus' transformation over the last two decades includes the development of St. Francis Xavier Way, University Station, the Academic quad, the Ignatian Steps, the St. Francis Xavier statue and numerous gardens and statues. 

8 
Campus Buildings Constructed, Restored or Dedicated 
Buildings include University Commons Apartment Complex (2001), Gallagher Student Center (2002), Stephen and Dolores Smith Hall (2010), The Conaton Learning Commons (2010), Justice Hall (2011), Alter Hall (2015), Our Lady Queen of Peace Chapel (2018) and the Health United Building (2019).

26 
Years Ranked in U.S. News & World Report's Top 10 
Xavier has been listed among the nation's top 10 Midwest Universities by U.S. News & World Report for the entirety of Father Graham's presidency. 

16
NCAA Tournament Appearances 
Under Father Graham's presidency, the Xavier Musketeers men's basketball team has appeared in 16 NCAA Tournaments, including seven Sweet 16 runs and three Elite Eight appearances. XU had never been to the Elite Eight in school history prior to 2004.