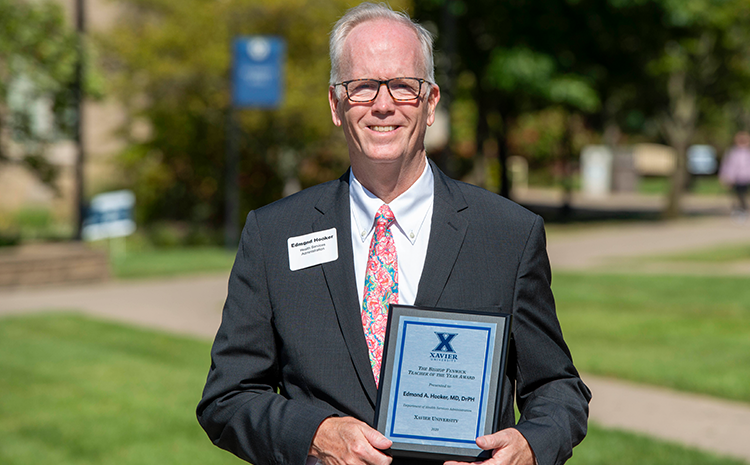 Xavier Honors Faculty Remotely for 2019-20 Academic Year
Oct 16, 2020
Xavier University recently honored the achievements and contributions of its esteemed faculty for the 2019-20 academic year. Xavier's provost Melissa Baumann hosted a virtual ceremony for this year's awards.
The 2019-20 Xavier Teacher of the Year is Dr. Edmond Hooker. A part of Xavier's faculty since 2003, Dr. Hooker teaches in the Department of Health Services Administration.
Each year, students nominate faculty members for this most prestigious award. It is presented annually by the Xavier chapter of Alpha Sigma Nu, the Jesuit honors society. 
In this year's nomination, one student wrote: "Dr. Hooker's class is so relevant and he brings in stories from his career as an E.R. physician to each lecture. He truly cares about each student, knows them by name and is willing to help in whatever capacity possible."
In addition to teaching, Dr. Hooker continues to be active in emergency medicine and public health research. Xavier.edu featured his work on the front lines combating COVID-19 in April.
Congratulations to all of our wonderful faculty, we appreciate all you do for our students!
Below is a list of faculty receiving tenure and promotions this year for their service to Xavier University.
Teacher of the Year
Dr. Edmond Hooker, Department of Health Services Administration
Promotion to Senior Teaching Professor
Holly Kaminsky, Department of Mathematics
Nancy Matre, Department of Biology
Lisa Niehaus, Department of Nursing
Kimberly Renners, Department of Finance
Received Tenure and Promotion to Associate Professor
Eileen Alexander, Department of Health Services Administration
Suparna Chatterjee, Department of Interdisciplinary Studies
Ahlam Lee, Department of Leadership Studies and HRD
James Loveland, Department of Business Analytics and Information Systems
Katherine Loveland, Department of Marketing
Marcus Mescher, Department of Theology
Stephen Mills, Department of Chemistry
Jonathan Morris, Department of Physics
Received Tenure
Gail Latta, Department of Leadership Studies and HRD
Promotion to Rank of Professor
Blis DeVault, Department of Communication
Dorothy Engle, Department of Biology
Jonathan Gibson, Department of Art
Justin Link, Department of Physics
Lisa Jutte, Department of Sports Studies
Thomas Knesstrict, School of Education
Esmeralda Nastase, Department of Mathematics
Nicholas Salsman, School of Psychology