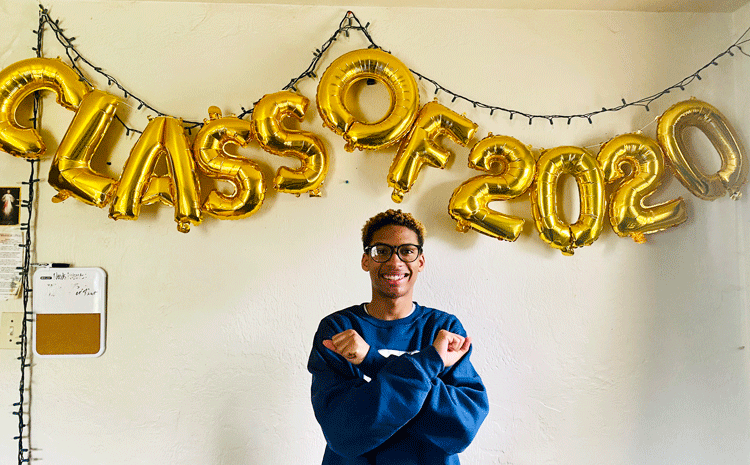 Xavier Freshman Plans Celebration Caravan for High School Class
May 11, 2020
Kevin Brown had a problem. The treasurer for his high school's Student Council wanted to celebrate the fact that all 85 seniors in his graduating class are going to college next fall with more than $9 million in scholarship offers.
That includes himself. Kevin will be at Xavier University, where a merit award and a scholarship from a local foundation will cover all of his expenses—tuition, room and board for all four years.
But the coronavirus quarantine meant there would be no parties, no large gatherings, no celebrations for him and his peers. So Kevin and other administrators at Cristo Rey Columbus High School decided if they couldn't bring people to the party, they would take the party to the people.
Together they organized a caravan of faculty and staff who decorated their cars with balloons and painted phrases congratulating them for 100 percent college acceptance. Then on Friday, May 1, they drove to each senior's home, honking their horns and cheering as the students' parents ushered them outside to witness the mobile commemoration of their accomplishments.
And it was all captured on a Columbus, Ohio, television station newscast.
"We were trying to figure out a way of honoring all the seniors and making sure they know they are loved by their school," Kevin said. "A lot of them were very happy and surprised when it happened because they didn't know it was going on. They just heard people honking and clapping and screaming outside. It made them feel still part of this community and that everyone really cares about us and the accomplishments they have had."
For Kevin, the day was topped off by news that the Columbus Foundation had selected him to receive a scholarship to cover all remaining expenses beyond his merit award from Xavier.
"You will have no out of pocket expenses for the next four years," they told him. He thinks it's because in addition to having good grades, he is also very involved in school and community programs.
"I'm pretty excited," he said. "The day before all this happened, me and my parents were trying to figure out how to pay for the rest of my bills, so it was just a huge relief off our shoulders that we can let this go."
Kevin plans to study education at Xavier and eventually return to be the principal at his high school. He said he chose Xavier because, during his campus visit, "I had that immediate feeling that, 'Oh, I am part of this community and I feel at home here'."
Xavier's emphasis on serving the greater good also fit his parents' long-term goals for him to get more than an education. "There was a whole thing in our family to go to college and become something bigger than yourself."
By France Sloat, Office of Marketing and Communications