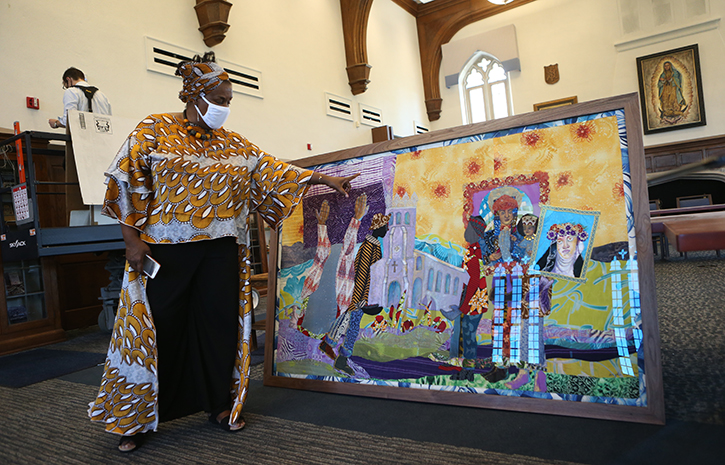 'A Dream Realized'
Sep 21, 2020
Artist-in-Residence's Slavery Project Installed in Conaton


Angela Franklin stepped back with wide eyes. She had to take a picture with her phone.
"Oh my," she said. "It just looks lovely."
She paused. "I didn't know how it would turn out, but it's lovely."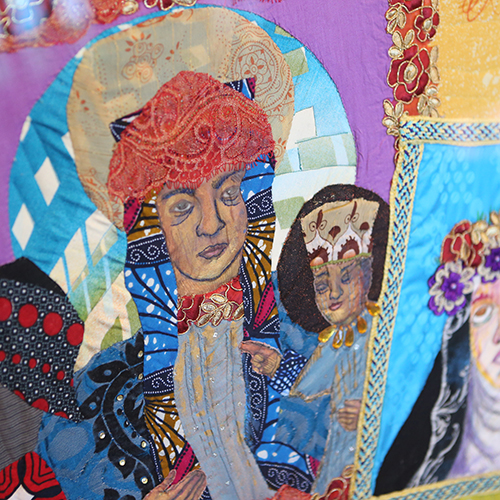 It was the culmination of a five-month project, which saw four separate works of art — each painstakingly produced by Franklin here on campus while serving as Xavier's first Artist in Residence — installed on the open wall of the Conaton Board Room in Schmidt Hall.
"It really is such an honor to be able to tell this story," said Franklin, a 1981 Xavier graduate who earned a degree in Fine Arts. She hails from Cincinnati, but her work has appeared in galleries and art shows around the world, from Ohio to Abu Dhabi.
A year ago, Franklin was named the 2019-2020 Stained Glass Initiative Artist in Residence, which meant she would teach, live and work on her projects here on campus. As a part of the recommendations put forth by the Working Group on Xavier's Historical Connections to Slavery, Franklin was commissioned by Xavier to complete four multimedia textile quilts that illustrate Xavier's historical connections to slavery.
One of those connections involved Bishop Edward Fenwick, Cincinnati's first bishop and the pioneer of Catholic expansion in Ohio and Kentucky. Fenwick launched a school for boys called the Athenaeum, which later became Xavier.
But Fenwick also owned slaves, something contemporary Xavier officials and students are still debating how to handle. For instance, Xavier is now accepting nominations for a new name for Fenwick Hall. Not only did Fenwick come from a prominent Catholic slaveholding family in Maryland, but he was also the legal owner of the slaves held by the Dominican mission in Kentucky. While his slaves had no direct impact on Xavier, years after Fenwick's death, the University recruited many children from Southern slaveholders who helped ensure Xavier's early economic survival.
It all adds to the complicated story of the University's relationship to slavery.
As long as 10 years ago, Xavier's President, Michael J. Graham, S.J., said he would love to have African-American quilts in the Board room, like those he saw at the Underground Railroad Freedom Center and elsewhere, because of their vibrant colors and the jazz-like rhythms of their composition.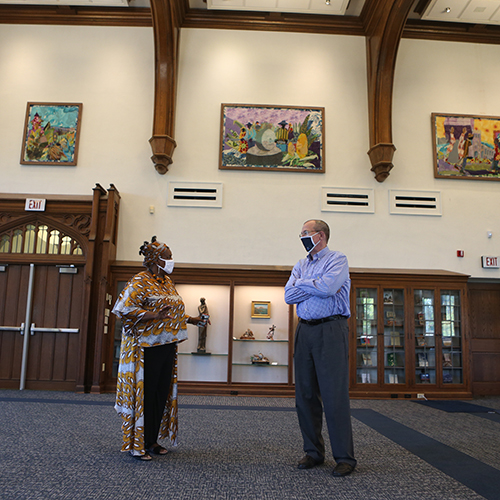 Then, when Franklin was profiled last year in the campus alumni newsletter ("Xavier was the first option in Cincinnati in terms of the quality of the art program," she said. "We had a wonderful interaction with the faculty and a beautiful, large, yet intimate gallery space") it drew the attention of Kyra Shahid, PhD, Xavier's director of the Center for Diversity and Inclusion.
Shahid made contact with Franklin, and told her about Xavier's Stained Glass Initiative, which was established in 2018 to institutionalize racial repair and reconciliation at Xavier. Sensing she could fill the University's need for artwork in Conaton, the University partnered with Franklin, and she set to work.
Her goal? To illustrate that relationship between Xavier and slavery.
Franklin is known for using textiles, found objects and mixed media to create bright colorful works that induce powerful messages, pieced together to form a mosaic of sorts. She said she did much of the work — the pieces are as long as six feet and as tall as four feet — in her apartment in The Commons, while going through quarantine. Portions of the pieces were made with the cloth from her own personal scarves and clothing because fabric was difficult to obtain during the time.
In July, it culminated in the installation and hanging of all four works, and Franklin, along with Fr. Graham and a handful of others, were there to witness it.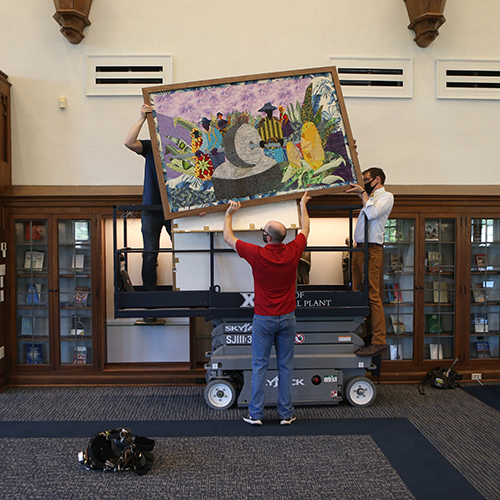 "That is wonderful," Graham said when he saw all four pieces hanging at once. "It is a dream realized. The pieces relate to the ways in which slavery impacted the University in a variety of ways, and it's remarkable how they can help tell our story. And to do so in this great room of the University — it was always a distinguished room, and now it is even more so."  
Franklin explained that each piece depicts different scenes of a running narrative, starting with slaves picking the fields of a tobacco farm. 
"The works I am creating are not focused solely on the trauma of slavery, but reflect on the long-term economical contribution made by slaves," she said. "Whether it was tobacco, sugar or cotton, all three products cultivated by slaves established an economic empire still in existence. In addition, slaves contributed greatly to the Catholic community and indirectly to the founding of Xavier University."
She described each piece as it was hung, and observers have said her work seems even more meaningful now in the wake of recent social protests and conversations about racial injustice. 
Piece One: If the Cultivation of Tobacco is an Art Form — Who is the Artist? 
"For this piece, I like to clarify that I realize the slaves in Maryland did not grow tobacco for Fenwick," Franklin said. "As I begin this series, I am focusing on the institution of slavery and not one individual family."


Piece Two: The Matter is Economics 
"Set in Kentucky, this work shows Fenwick's family and the economic impact of slavery, and how it trickles down to an institution like Xavier," she said. "Some of the leaves in the piece are dollar bills. Money is what it's all about."


Piece Three: All That They Carried, All That They Build and Those That They Prayed To
"Still in Kentucky, this is a church built by slaves," she said. "And we also have a depiction of the Black Madonna."


Piece Four: Everpresent 
"Now we see the river, and we're crossing. We see Kentucky in the background and then we see some symbols of Xavier's campus," she said. "There's even a D'Artagnan there. The past leads us to the present."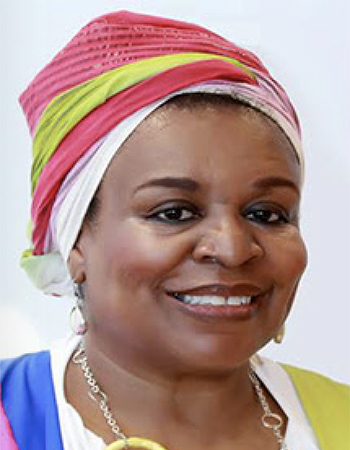 It was clear Franklin enjoyed seeing the art hanging in its designated place.
"You never really know how they will look until they're in the space," she said. "(The University) did a wonderful job. I'm very proud."
Janice Walker, Xavier's Vice President for Institutional Diversity and Inclusion, dropped by to take a look as well. 
"You're immortal now!" she told Franklin. "You're a part of the living history of Xavier University!"
All of those who watched the installation agreed.
"This room feels so good, now," Fr. Graham said. "It's just what we needed."


For more information on Angela Franklin, visit the following links:
Facebook
Twitter
LinkedIn
Instagram

By Ryan Clark, Office of Marketing and Communications