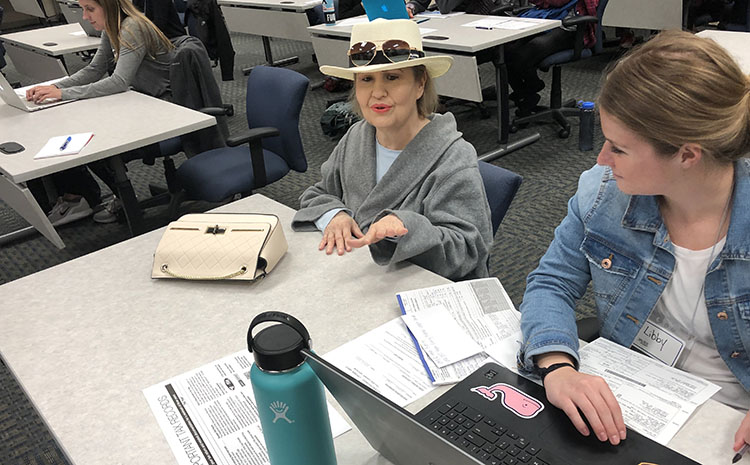 On Tax Deadline Day, Xavier Students Help Locals File
Mar 31, 2019
By Ryan Clark
As the hours ticked down on April 15, Barbara Sloan wanted everyone to know she doesn't normally wait until the last minute to file her taxes. Most years, she'll do it all with a month or more to spare.
But this wasn't most years. And extenuating circumstances — like not having the proper paperwork the first time around — forced the 74-year-old to come back to Xavier and try again.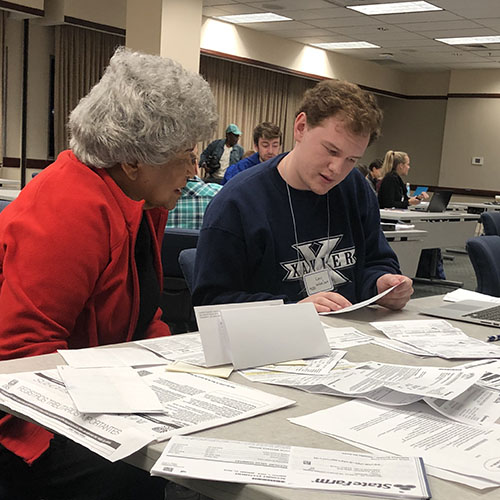 "I had homework," she said, laughing, and held up a pile of forms. "And I had to come back to finish."
She sat in one of the conference rooms in the Cintas Center, where Xavier Associate Professor of Accountancy David Randolph's Volunteer Income Tax Assistance, or VITA, class, meets on Monday nights to help neighborhood residents prepare and file their taxes. Barbara lives nearby, and she was a bit nervous because this Monday was actually Tax Day, meaning she had exactly five hours until her taxes were due.
Luckily, she had help sitting next to her. Xavier senior Libby Grace, an
accounting
major from Cleveland, typed away on her laptop, making sure Barbara got it all filed on time.
For eight weeks, the senior, along with about 20 fellow accouting students, have helped about 300 local residents file their taxes. First, the customers make an appointment. Then, undergraduate students help prepare the taxes, while master's students step in for the final review and approval before electronic filing.
"This is the best kind of experiential learning," Libby said. "We take what we've learned in the classroom and we're able to come out here and really help people while we're learning. We can apply it, and we get to help."
And if any of them have questions along the way, professor Randolph is there with answers. For five years he's been teaching the class, after taking the torch from the originator, recently retired Accounting Professor Priscilla O'Clock, who started the program back in 1995.
"We're part of a national program that the Internal Revenue Service sponsors," Randolph said. "Specifically, we handle taxes for low-income and elderly taxpayers, and we do it free of charge. While the (customers) get something out of it, we know the students do, too."
This was the second year Barbara had brought her taxes to the students. Of course, whether she comes back a third time, she said, hinges on how much money she has coming back.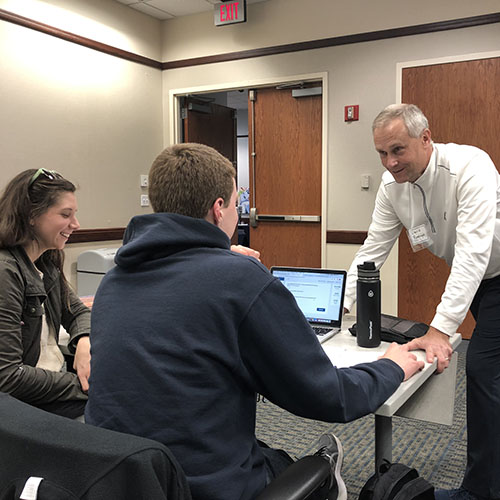 "We'll see how good a job she does," Barbara said, laughing with Libby.
Across the room, at a desk covered in forms, 94-year-old Nancy Moody, of Evanston, waited patiently. She had brought her taxes in for the third year in a row, and from the looks of it, this year's task was pretty tricky.
Lou Whelan, a
master's student
from Cincinnati, said he was ready for it. "I've learned just as much from doing this as I have in my classes," he said. "And we're doing something that matters to people."
Nancy said she appreciates what Xavier does. "It's just a nice community of people," she said. "The students reach out and help us here. They do a lot in the community. It's just a nice place."
Back on the other side of the room, Barbara still hadn't quite learned her fate. Would she have to pay? Would she get a refund? "It's going to be close," Libby said.
Tonya Garnett walked out of the conference room with a lottery-winning smile. "Yeah, I got some money back!" she said.
Tonya is a bit of a campus celebrity. She's one of the most personable cooks in the cafeteria, and she said she always takes advantage of the free tax preparation.
"I just walk across the parking lot and get it done," she said. "I love working here. I have the best job."
Inside the conference room, the clock continued to tick, and with four hours to spare, Barbara got her verdict.
She broke even. No refund, but she didn't have to pay, either.
"I'm happy," she said. "They always do a good job here. I'll definitely be back."