Xavier Grad Knows Just What It's Like to Lose to Jeopardy! Champ
Mar 31, 2019
By Ryan Clark
Xavier graduate Kenny Malone knows exactly what it's like to lose to record-setting "Jeopardy!" champion James Holzhauer.
Malone, a 2007 graduate (BS, science and mathematics) has a rivalry with Holzhauer that's been going on for years. Malone's sister and Holzhauer's brother are married. Over the years, it's been vitally important for Malone to be the coolest uncle to the two nieces and two nephews he and Holzhauer share.
For a while, Malone was winning that game. A correspondent for National Public Radio's Planet Money show in New York City, he has a cool job, and was able to bring the kiddos up to the studio and even put their voices on the radio.
Super cool uncle move, right?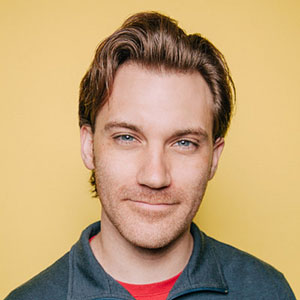 Then it all slipped away. And Malone says he knows just when it happened.
That was April 4, 2019. Holzhauer, who has appeared on game shows and in national quiz competitions, made his first appearance on "Jeopardy!" that day, and won big. But afterward, he gave one of what would become many shout-outs to those nieces and nephews by spelling out their birthdays in the amounts he'd wagered.
"That was it," Malone said, laughing. "That was when I knew I couldn't compete anymore."
And it wasn't too much later that Malone realized he would have to feature Holzhauer — and their uncle rivalry — on his own radio show.
'I wanted to be on the radio'
Malone came to Xavier from Meadville, Pa. ("where the zipper was invented," he says), because he used to visit an uncle who lived in the Cincinnati area many summers, and the two would attend the ATP tennis tournament. One day, his uncle set him up on a college visit to Xavier — and that was all he needed.
"I knew that I would come (to Xavier) — if they would have me," he said.
During his four years he switched from an interest in pre-med to mathematics, and as a senior he thought about going to graduate school in statistics. But his mentor, Joe Wagner, S.J., stepped in.
"He asked me if it was really what I wanted to do," Malone said. "And I said no. I said I really wanted to be on the radio."
But people from Meadville, Pa., don't get on the radio. That was for others, right?
"Fr. Wagner told me no," Malone said. "He said that he knew what kind of student I was, and that he believed in me. He said I could do it."
So Malone took a position with Catholic Volunteers in Miami, Fla. While serving as a volunteer, he called everyone he could think of in the radio business, begging for an apprenticeship. Eventually, someone responded, and he got his foot in the door.
It turned into a job with the NPR station there, which led to more opportunities. In 2017, he landed his dream job with Planet Money in New York.
"As a journalist, I'm a little more comfortable with math," he said. "I can read data and understand what we're talking about. And I work for a show where we tell stories about the economy and the people behind it."
But there was a story he wasn't sure he wanted to tell. "I just don't put myself into stories very often," he said. It was the story of his relative, James Holzhauer, who was on his way to earning almost $2 million on "Jeopardy!" while revolutionizing the game show.
Still, Malone wasn't sure he wanted to do a story about a relative.
"My co-workers convinced me," he said. "I was talking about it so much, they said I finally needed to do the show."
'I'm not the cool uncle anymore'
James Holzhauer is, at this time, the fifth-highest earning competitor ever on "Jeopardy!", with a grand total of just under $2 million.
Now, every night, no matter where they are, Malone will gather with his wife and Facetime with his sister and brother-in-law (who live in Naperville, Ill.) while they watch to see if Holzhauer will survive another episode.
"I'm sure it's just like everyone else in America, yes — we do the same thing," Malone said. "We don't know what will happen or when he will lose. I assume it will happen, but we don't know anything."
On May 10, Malone aired his episode, "How Uncle Jamie Broke Jeopardy," which outlines in detail just how Holzhauer is doing what he's doing.
In the episode, both Malone and Holzhauer explain in gambling terms how he uses Daily Doubles to his advantage — like betting all of his earnings, something other players would have previously thought too intimidating.
Malone learned insider information about "Jeopardy!" like how they actually film five episodes in one day, and that some theorize that the lunch break — which occurs between the taping of the Wednesday show and the Thursday show — could be a letdown for champions, because they may be lethargic after lunch.
"I always knew that he was good with trivia," Malone said. "And when he made it on 'Jeopardy!' I thought he would do well. It's actually going to be hard to go back to regular life whenever this is over. We've had a lot of fun with it."
And, harkening back to his Jesuit background, Malone said he feels sorry sometimes for the competitors.
"I do feel bad for the people competing against him — because those people are me!" Malone said. "I'm not the cool uncle anymore. And I'm not the James of the show. I'm the other people. James has really changed the way we view the show. You like to think that anyone could get up and play and you can't. He's changed it." 
But it made for a wonderful story, he said.
"It's one of my favorite stories I've ever done," Malone said. "I'm so glad I did it."
Top photo credit: Mito Habe-Evans/NPR