YouTube Channel Creates Opportunities for Xavier's Jake Barford
Apr 4, 2019
By Luke Feliciano
Class of 2020
Jake Barford started a YouTube channel three years ago with reasonable expectations, but he never could have forecast how the videos would ultimately vault him into the spotlight as an unheralded internet sensation.
Barford, 21, is a junior Digital Media major at Xavier University and the eMLS Correspondent for FC Cincinnati, Major League Soccer's newest franchise, which began play in March.
---
Barford joined FC Cincinnati as its first-ever eMLS correspondent this season.
---
"Xavier has been extremely helpful to my success on YouTube," said Barford. "Xavier's digital media lab helped me during my freshman and sophomore year, giving me a space to use top-of-the-line equipment while I was still growing my channel. My professor in my video production class helped me get an internship with the Cincinnati Reds, which led to my current role with FC Cincinnati."
Barford assumes the alias, BFordLancer48, to produce a series of YouTube videos focused on the EA Sports FIFA soccer video game franchise, which is released annually each fall.
The videos have triggered a snowball effect. Barford's channel has skyrocketed to more than 210,000 subscribers and more than 60 million total views. He says he owes part of his success to taking an unconventional approach to his videos by "making original and unique content you can't find other places."  
---
Barford's first YouTube video to hit 1 million views previewed FIFA 19 and its "Journey Mode."
---
Last year, Barford received the opportunity of a lifetime—an invitation to attend the FIFA 19 World Premiere Capture Event. He traveled on an all-inclusive excursion to Germany where he obtained unique access to record videos about the new iteration of the game before it was made available to the public.
"The coolest part was probably just meeting other content creators that I've watched for years," Barford said. "Talking to them and networking with those people."
Barford's channel has a significant domestic following, but his online reach also extends well beyond the borders of the United States. He said that roughly 30 percent of his subscribers are from the United Kingdom, a country where soccer reigns supreme. Barford also explained that the majority of his viewers are of the 21-and-under age range.
---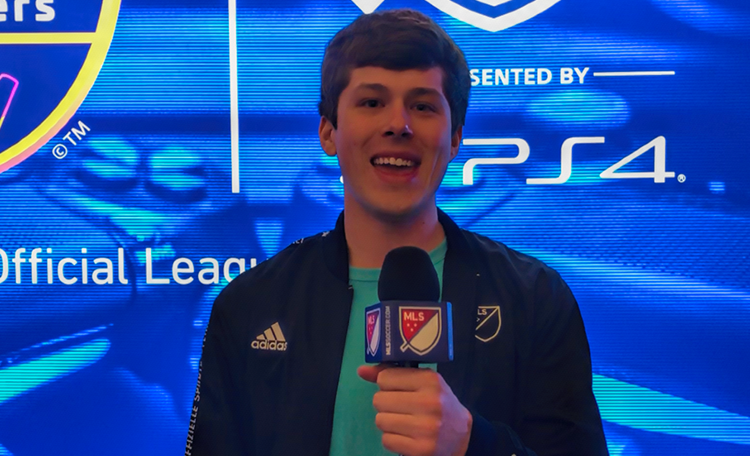 Barford reporting on eMLS for FC Cincinnati this spring.
---
Colin Cooper, another Xavier student who is an avid watcher of Barford's channel, falls into this category.
"His storylines are really unique," Cooper said. "I think one thing he does well is create videos that others aren't creating."
"He's also very consistent with his content and he reaches out to his fans on Twitter and on his channel. It's really fun to watch someone you know be successful on a platform that is hard to be successful at," he added.
Barford captures his live gameplay stream through the Elgato HD 60 device that connects his gaming console to his laptop. Using the device, he records his screen while playing the game.
This helps facilitate the procedure to the final step of using the Final Cut Pro editing software to fine-tune videos before they are uploaded.
Barford mentioned that the editing process for videos can take anywhere from two to three hours before the footage is polished to his exact specifications. Ideally, his target is to post a video per day.
"Every day he works hard playing FIFA and making content for his subscribers," Maddy Largent, a close friend of Barford, said. "You can always find him in his studio."
Barford's studio, located in his house, is souped up with some of the latest recording technologies. For instance, he has a green screen that allows him to superimpose graphics in the background of a video. He also has an enhanced microphone that amplifies his voice when he records voiceovers.
And he's reaping the benefits that come with YouTube stardom. For instance, Barford was gifted a personalized plaque as an achievement for reaching 100,000 subscribers that adorns the wall of his studio.
Barford also receives monetary compensation for his videos through sponsorships and advertisements on his channel. But he doesn't plan on making a living solely from the profit he collects from YouTube.
"[Making YouTube videos] won't ever be a full-time job for me," he said. "I did start it for fun, but now it's getting to the point where I need to provide for myself, so I need to be making money from it. As long as I can do that, I'll stick with it."
---
Barford facing off with some current FC Cincinnati players in a friendly FIFA match.
---
Barford hopes to work in the production and social media fields for a sports team. His job with FC Cincinnati involves the creation of social media content about the team's eMLS player, Gordon Thornsberry, who also goes by the name FCC Fiddle. Barford travels alongside Thornsberry to publish content.
"The position was enticing to me because I love FIFA, soccer and creating content," Barford said. "It was a chance for me to get on-camera experience as well, which is something I want to do in my career path."
The position that Barford now holds is in response to the growing landscape of eSports as a whole.
"I definitely see the future of eSports becoming a big industry," he said. "With so many people playing and watching video games, the sky is the limit."