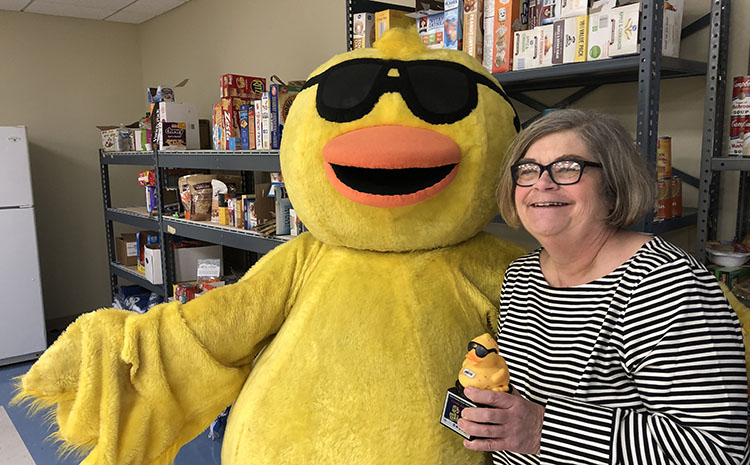 History prof donates $2K Duck prize to The Store
Jan 28, 2019
One year ago, Christine Anderson, associate professor in Xavier's history department, had never heard of a "food desert."
And she didn't know anything about The Store, Xavier's student-run pantry located near The Village gazebo that provides free food, toiletries and supplies to students in need.
"It was one of my own students who taught me," she says.
That student was working on a research project about "food deserts" in Cincinnati, or impoverished areas where it's difficult to find healthy foods, like fresh fruits and vegetables.
She learned that Xavier has its own food pantry, managed by the Student Government Association, and that recent surveys found that 23 percent of Xavier students were "food insecure," meaning they did not have access to enough food for an active, healthy life.
In fact, her own student, who had researched the topic, said he would've taken advantage of The Store had he known about it sooner.
Flash forward a year, and Anderson found herself in a position to help.
In September, Anderson won second place in the 24th Annual Rubber Duck Regatta. That came with a hefty prize — $5,200 in groceries from Kroger for a year at $100 per week.
She knew just what to do. She donated half to Xavier's food bank and half to UC's.
"I've been so fortunate, and my budget is pretty set, so I thought it would make me so happy to give back," Anderson said.
Monday, in front of Xavier officials, as well as those from the Cincinnati Freestore Foodbank, which sponsors the regatta, she presented her $2,600 prize to The Store amid cheers and applause.
"It feels so good to know that students will be helped," Anderson said. "No one should have to come to school hungry."