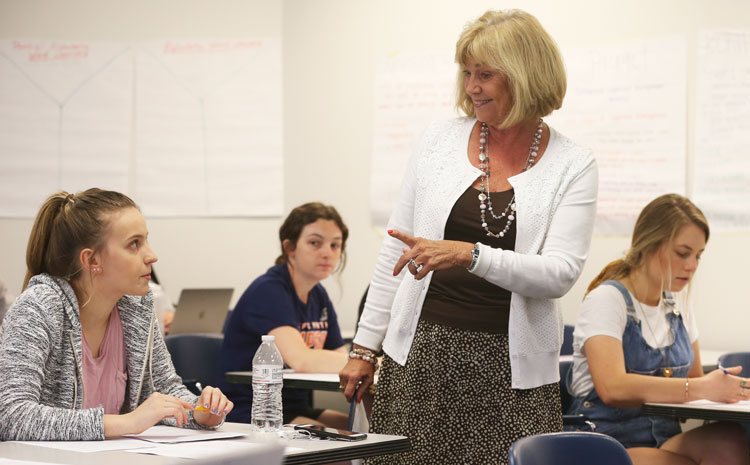 Faculty Spotlight: Sally Barnhart, Teaching Professor
Jul 18, 2019
Reading Camp Director Preparing the Next Generation of Reading Teachers
In 2002, Sally Barnhart was hired at Xavier to teach reading for one year to undergraduate students. When Department of Education Chair Jim Boothe retired 14 years later, he told Barnhart she was "the longest one-year hire ever."
In July 2019, that one-year hire was overseeing the Xavier Summer Reading Camp, a two-week reading tutoring program for grade-school children that serves as an official practicum and three-credit hour course for graduate students studying for their reading endorsement either alone or as part of a master's degree.
It's her favorite job among many at Xavier, because it's the culminating experience for her reading endorsement students. The camp has been serving children and students for over 35 years.
"The state approves the summer camp as the required student-teaching for the endorsement," Barnhart says. "It's unique to bring children to campus. All the things my students have learned, they will use those strategies in the reading camp."
Barnhart's relationship with Xavier blossomed after that first year in many ways. She already had a master's in Early Childhood Education when she was hired, and she added a principal licensure at Xavier. But the feather in her cap was the reading endorsement she also earned while teaching.
It became the ticket to her longevity at Xavier, leading to her promotion as Teaching Professor, teaching reading to both undergraduate and graduate students, and as the Field Placement Coordinator managing the student-teaching experiences for all education students.
Her work with the reading camp, however, actually began the same year she started teaching at Xavier. For two weeks that first summer, Barnhart joined the reading camp team under the leadership of Director Leslie Prosak-Beres.
Two years later, Barnhart became director. Now also a Senior Teaching Professor, Barnhart has her hands full. She and Dora Jefferson-Gaynor, administrative assistant in the Department of Childhood Education and Literacy, spend weeks preparing for camp—assigning graduate reading students to their classrooms, hiring faculty to supervise them, arranging for classroom space at the Cohen Center on campus, admitting the children who are in grades 1-8.
The camp is so popular that it fills up quickly after they begin accepting applications in April. They do no marketing or advertising. It's just word-of-mouth among teachers in the local schools and their students' parents. This year it only took three weeks before all 130 slots were filled. 
Barnhart regrets having to turn families away, but the number of campers is determined by the number of graduate students she has teaching in the camp—22 this year. Cost for the two-week camp is $95, and everyone is asked to pay what they can. Admission is open to anyone.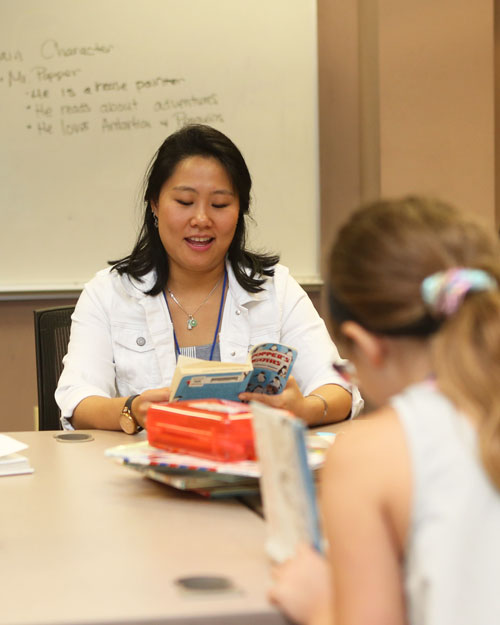 This year's camp—from Monday, July 15, to Friday, July 26—began as it does every year: Children are assessed for their reading skills on the first day and are assigned to a class based on their grade level. There are four to five grad students and a faculty supervisor for each class of about 25 children, so there is a lot of one-on-one support. Each class picks a theme and, from 8:30 a.m.-11:30 a.m., they work on their reading uninterrupted. Each student teacher does a whole group lesson, a small group lesson and an individual lesson and is observed by their supervisors.
Linh Tran, an Early Childhood Education graduate student who is already hired to teach full-time in Fairfield schools in the fall, wrote questions on a white board about a book, Mr. Popper's Penguins, that her small group of fourth grade students were reading. They read each chapter together and then drilled down into the details to help the children understand what they had read.
"Who is the main character?" she asked. "Mr. Popper!" one child said. "What do we know about Mr. Popper?" "He's a house painter." "He loves penguins." "Where does he want to go?" "Antarctica!"
"I really like it," Linh says of the camp. "In the small time we have, we are able to build relationships with the children, and we all try to meet their needs. The beauty is we have more than one teacher in the classroom, so they can be put in small groups so all the children can reach their goal potential."
"You can move mountains with this kind of support," Barnhart says. "I want this to be fun so the children want to come back as a Xavier student. They get a T-shirt, a Xavier lanyard, supplies and a backpack. I meet them at the front door, and the parents just beam."
She's also about teaching the children how to become better readers—it's imperative with the state's Third Grade Reading Guarantee and graduation requirements. Xavier's graduate students help by giving the children new strategies for reading tailored to their individual needs. The most common problem is comprehension.
"Each child should leave with two to three strategies in their toolkit to take back to school," Barnhart says.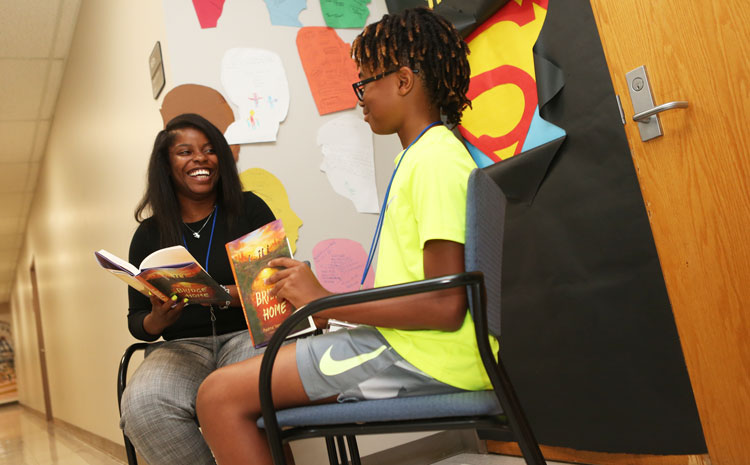 After the children leave each day, Barnhart and the faculty supervisors review with the graduate students where they can improve their teaching techniques. It's a winning strategy all-around: the graduate students become better reading teachers, and the children become better readers.
As more teachers seek the reading endorsement to stand out in the job market, Barnhart takes heart knowing they will need the Reading Camp for their practicum. The fun part of camp, she says, is seeing the grad students become great teachers.
"I see this next generation of teachers and how good they are and it gives me hope for the next group of children coming through," Barnhart says. "Things change so fast with technology and new phones, and I tell them we don't know what the next group of children are going to pursue as a career path, but we are responsible as teachers to give them the skill sets to be ready."
Learn more about the graduate Reading program in the School of Education.