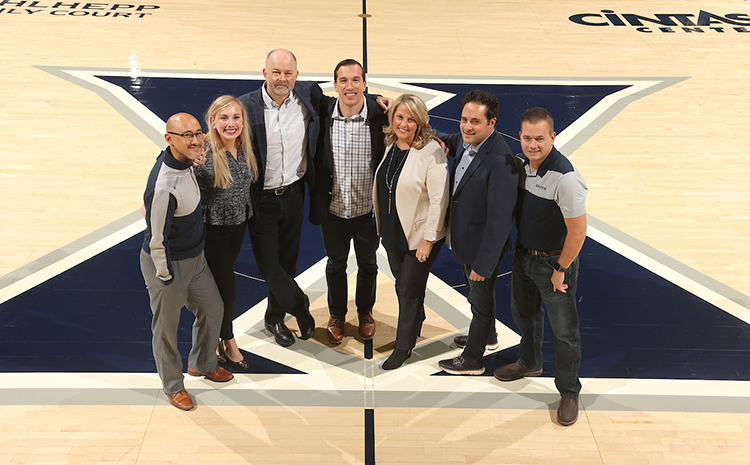 CAPSTONE CAPTURES TALENT OF EMBA STUDENTS
Nov 18, 2019
After Charles Bradley and his colleagues at Fifth Third worked with students from Xavier's Executive MBA program, they only had one question.
"With the quality of the faculty, the quality of the students, and the quality of the experience, why are we not screaming about how amazing this program is?" said the Senior Vice President, Enterprise Program Management Executive at Fifth Third Bank. "We need to tell people on a regional level, of course, but on a national level as well."
And Bradley should know. A 1991 graduate of the Williams College of Business with a degree in Accounting, he serves as the Chair of Dean Tom Hayes' Advisory Board and worked directly with half of the 2019 EMBA students in their capstone course. (Another group worked on a similar project with the local Living Arrangements for the Developmentally Disabled, Inc.). Bradley also interviewed all of the students about their Executive MBA experience.
"These were exceptional students," he said. "Their experience, and the diversity they bring to this is the definition of experiential learning."
The students' task? To help identify whether or not the bank could help people with short-term liquidity needs. One statistic brought up in the class stated that 40 percent of Americans cannot pay for a surprise $400 expense. Is this something that Fifth Third could help solve?
In order to do so, the students had to study the business, as well as the prospective customers, and become knowledgeable about each. After communicating and meeting with Bank executives over the course of six months, the students made a final presentation with recommendations.
"It was very well received by Fifth Third," said Doug MacRae, president of MacRae & Associates, LLC. "The capstone is a great part of the program because you're put to work to do the strategic analysis and think the problem through. It's hands-on, and then you can put your learning into practice."
MacRae also said that while he is not Catholic, he is a supporter of the underlying Jesuit values of the capstone, and the program in general, as well as the peer interaction.
"I probably learned as much from my colleagues as I did from the wonderful courses," he said.
Bradley said the Fifth Third group is ready to partner with the students again.
"Overall, it was a blessing and a privilege to sponsor a team and we are eager to do it again," Bradley said. "In fact, we did a de-brief with the team and they are going to summarize how we can build upon our first endeavor."
Susan Brownknight, CEO of LADD — and a two-time Xavier graduate (Bachelor's in '98, EMBA in '17) — agreed. Students were tasked with developing a new service model for her nonprofit.
"The respect the students showed this agency, as well as the people we support, really goes to show the caliber of this program," she said. "This is very high-level. These are not your typical MBA students, and not your typical program. We would definitely do this again."
— Ryan Clark, Sr. Digital Content Strategist, Xavier