Come Out to the Zoo to Meet Katie Campbell, Fiona
Mar 31, 2019
By Ryan Clark
Katie Campbell says she was planning on going to law school before she ended up at the Cincinnati Zoo and Botanical Gardens.
Funny how things work out, isn't it?
As an undergrad at Xavier, she'd gotten a BA in political science, and she'd taken the LSAT. But in 2009, she got a job as a camp counselor, and she loved teaching so much she decided to switch directions. She instead got a Master's and certification in Early Childhood Education.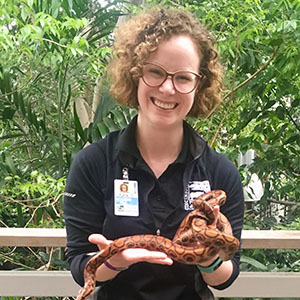 She was on her way. Then, in 2014, the Zoo hired her as a full-time Outreach Instructor. 
"Last year, I was promoted to Zoo On The Move Program Manager," the 30-year-old West Virginia native said. "This means that I supervise the instructors and programs that are off-grounds, including at schools, libraries, and community events."
The Zoo will host Xavier alumni on June 8. Come on out to meet Katie, as well as the Zoo's most famous resident, Fiona the Hippo.
"One of my favorite parts of this journey has been the connections I made at Xavier, from Political Science Professor Mack Mariani celebrating my switch to teaching, to Doctors John Ray and Tim White teaching me to think about how wide the world is and our impact in it, to my friends who are a constant support system," Campbell said. "The Xavier MEd program gave me the knowledge and credentials for a full-time educator position. The professors showed me not only what to teach, but how to teach, while meeting the variable needs of each classroom."
Campbell noted her first supervisors at the Zoo noticed she had Xavier theater experience on her resumé. They were impressed, and thought it could help her in her first role. Now, she's especially glad to see her alma mater come visit where she works.
"They decided to take a chance on me," she said of her employers. "Through my political science classes and theater experience (thanks, Workshop!), I was prepared for public speaking. This was my foot in the door."
OTHER ALUMNI EVENTS:
July 13 — Xavier Day at Kings Island
July 18 — Reds vs. Xavier, Great American Ballpark
Sept 21 — FCC Cincinnati, Nippert Stadium