A New Home for Health Services Administration
Nov 7, 2018
THE NEED: NEW SPACE FOR HEALTH SERVICES ADMINISTRATION
THE SOLUTION: ARLINGHAUS

HEALTH

SERVICES COMMONS
THE COST: $1.5 MILLION
By Michael Shaw
In 1958, Xavier founded a program to offer graduate education in the "new" field of hospital administration. By the time Edward J. Arlinghaus, PhD, became the director in 1966, Xavier's Hospital and Health Administration program was already developing a national reputation for excellence.
Today the renamed Health Services Administration (HSA) graduate program is located within the College of Professional Sciences and has over 1,600 alumni—a number sure to grow as Xavier's new undergraduate degree program contributes to the enrollment of master's degree candidates. A distinguishing characteristic is that it remains one of only seven graduate programs in the country that require a third-year paid administrative residency of all students.
And soon, in the fall of 2019, the program will have a new home in the Health United Building, popularly known as the "HUB." The $42 million, 150,000-square-feet building, now under construction on the east side of Xavier's campus, will be a center of activity related to the health, wellness and learning of students and staff through the inclusion of classrooms, labs and space dedicated to fitness and health.
In addition to HSA, it will house a new recreational center and comprehensive medical clinic and counseling center for students. Other College of Professional Sciences programs to be located in the HUB include the School of Nursing, occupational therapy, radiologic technology and sports studies. It's estimated that up to 25 percent of all students on campus will be in the HUB at any given time.
But more than just a building, it will also be home to the spirit of the Health Services Administration program, which is celebrating its 60th anniversary this year. And it will be the first true home for the program, whose students at both graduate and undergraduate levels will head to the HUB for their classes.
In honor of Arlinghaus, a fundraising campaign was launched this year to raise $1.5 million to name a large gathering space on the fourth floor of the HUB after the beloved, colorful leader.
"On Xavier's campus, we've never had space where we can all congregate and bring all the medical specialties together," said Pamela Coyle-Toerner, Executive Director of TriHealth Physician Practices and a graduate of the Class of 1986. "The Arlinghaus Commons will allow all the health sciences to be in one space."
The Arlinghaus Health Services Commons will be a place for HSA and other students to gather for large group projects or quiet study, but it can also be arranged for social gatherings and signature events, such as small conferences, both inside and outside on a large terrace. 
"With a new home," says program director Sr. Nancy Linenkugel, who earned her degree under Arlinghaus, "MHSA is poised to ensure that top candidates pick our program not only because of our national reputation and legacy but also because of the cutting-edge environment in which we will be preparing health services administration leaders."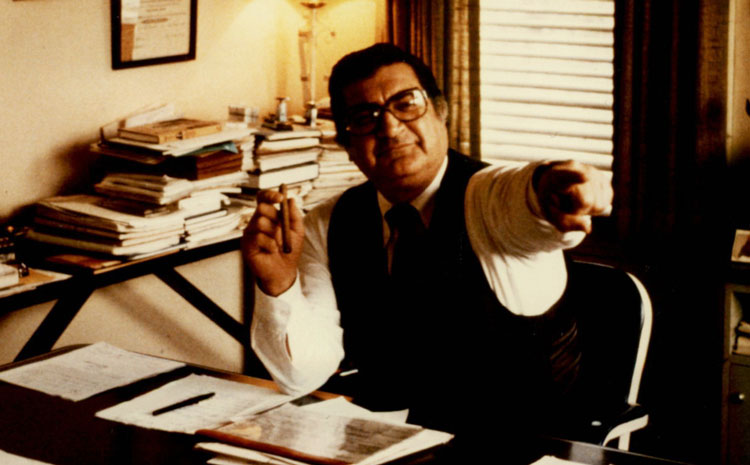 WHAT'S IN A NAME? A LOT WHEN IT'S ARLINGHAUS
No one embodied the Health Services Administration program's commitment to caring, professionalism and competency more than Edward Arlinghaus. For 26 of the program's 60 years, Arlinghaus was its director, shepherding through nearly 50 percent of all graduates until his death in 1992.
Older alumni remember him fondly for his engaging personality and his interest in their success.
"None of us would be doing what we're doing if not for Ed and the program. It's absolutely true," said Barry Cesafsky, President and CEO of CES Partners health-care executive search firm and a graduate of the Class of 1980. "We were a strong, spirited, successful class, and a lot of that was due to Ed. He was a coach and a mentor. He was also a father figure and a disciplinarian at times. He instilled a sense of responsibility. As tough as he was, he had a heart of gold."
Pamela Coyle-Toerner, who graduated in 1986, said Arlinghaus thought of his students as his "kids," no matter their age.
"We weren't allowed to call him Ed. It was always Dr. Arlinghaus until we graduated," she said. "Then Ed became Ed. He shook your hand at graduation, and we were all colleagues. He was very humble, and he would be very grateful for this honor, especially if it was done by 'his ducklings.'"
Arlinghaus was known for insisting on high standards of professionalism, including the requirement that students wear professional attire to class, i.e. suits for all, a standard which remains in place today. The new HUB and its unique space honoring the tradition of HSA education ensure those ideals and standards endure.
"Preserving his legacy in a tangible way in the HUB is not only wonderful respect by Xavier but also a lasting reminder of the ideals that he held for all of us," said former student Sr. Nancy Linenkugel, director of the Health Services Administration program.
Learn more about Health Services Administration at Xavier.
Make a gift at xavier.edu/supportHSA.