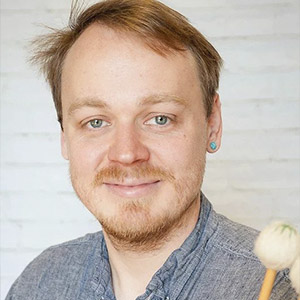 Matthew McAllister
Adjunct Faculty, Drum set & Jazz Combo
Matthew McAllister is a drummer, percussionist, and composer.  Originally from St. Louis, Matthew moved to Cincinnati to attend the University of Cincinnati, College-Conservatory of Music (CCM).  He earned a degree in Jazz Studies for Drums in 2013 and a masters degree in Composition at CCM in 2019.  In 2012, Matthew studied for one semester at the Universidade de Brasília, where he learned about Brazilian music, native percussion instruments, and learned to speak Portuguese.   
Matthew directs two of his own original music projects. His trio, Animal Mother, has recorded three studio albums, toured in over twenty-five cities and opened for acts such as Morris Day & The Time, Boney James, Bob Mould (of Husker Dü), and Kamasi Washington.  Matthew's other group, Tough Friend, is a jazz octet that attempts to bridge the gap between classical chamber music and avant garde jazz, mixed with a rock band aesthetic.
When he isn't writing music for his jazz ensemble, Matthew also enjoys writing music for various classical ensembles.  He has written music for saxophone quartets, brass quintets, string instruments, percussion ensembles, and for classical voice.  
When he is not playing music, Matthew enjoys watching movies, riding his bike, and cooking with his wife.