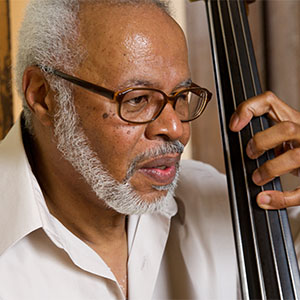 Jim Anderson
Adjunct Faculty, Jazz Guitar, Music Program
Jazz bassist, Jim Anderson, has long been a respected performer and jazz composer.  Born here and growing up in Cincinnati, he began to play the bass in 7th grade.  Realizing his talent and passion for the instrument, his father helped him to finance his first bass, which he purchased at the legendary Bass Viol Shop.  His Uncle Clarence and his dear friend and mentor, Ed Connelly were his encouragement, inspiration, and motivation.  His first job was playing with a quartet on the Johnson Party Boat for a state Representative. 
His jazz experience is world class, having toured with Art Blakey, Ernistine Anderson, Hank Crawford, Nat Adderly, Benny Golson, Slide Hampton, Rufus Reid to name just a few. Locally, Jim has been a co leader of the highly esteemed "Cohesion Jazz Ensemble" and is continually in demand to perform in local and regional groups.  At Cincinnati Playhouse in the Park, he was the Bassist for "Lady Day Sings at the Emerson Bar & Grill"; "Jacques Berille is Alive and Well and Living in Paris"; and "Ain't Misbehavin' " with two separate companies.  He performed with Joshua Redmond at CCM and with Gary Bartz and Lewis Nash at the Dayton  Art Institute.
He is Vice President /Administrator and founding member of  "Jazz Alive", Inc., Adjunct Bass Instructor at Xavier University, and Resident Arts and Humanities Consortium: Instrumental music teacher.