Complete Crosstown Shootout Guide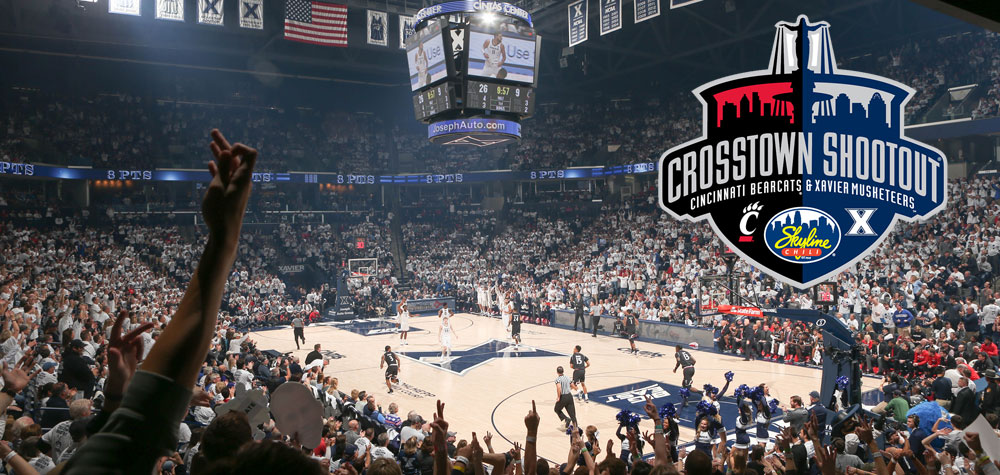 The Skyline Chili Crosstown Shootout is a yearly game between the Xavier Musketeers and the University of Cincinnati Bearcats. The annual game is one of the biggest and most intense college rivalries in college basketball, combining more than 50 years of history with Cincinnati's two D1 college basketball teams.
Next Year's Game
When is the Next Crosstown Shootout?
The 2023 game will be hosted at the Cintas Center on Saturday, Dec. 9 at 6:30 p.m.
When Are Tickets Available for the 2023 game?
For information about tickets, contact the Xavier Athletics Ticket Office.
Where to Watch in 2023?
Find information on the 2023-24 Men's Basketball Schedule on GoXavier.com
Will there be any official game watch parties for Xavier alumni?
Yes, game watch parties will be happening across the United States. Check the Alumni Center Crosstown Shootout Event page for more details as dates are announced. 
History and Highlights
How long have Xavier and UC been playing in the Crosstown Shootout?
The  history of the  Crosstown Shootout dates back to 1928, when the University of  Cincinnati helped St. Xavier College dedicate its brand new, $350,000 Schmidt Fieldhouse, which had a capacity of 4,500. Xavier won the game, 29-25, and the two teams didn't meet again until the 1942-43 season, which many feel is the official start of the annualized rivalry.
Who won the last Crosstown Shootout?
The 2022-23 game was won by Xavier, 80-77, at the the Fifth Third Arena.
Who has won more games overall?
Cincinnati leads the overall series 51-38.
Which team has the largest margin of victory?
Xavier, which won by 26 points (88-62) in the 1957 game at Cincinnati Gardens.
What are some other memorable games from the Crosstown Shootout?
February 3, 2004 – Xavier guard Lionel Chalmers hit the go-ahead shot with 27 seconds left as Xavier upset No. 10 Cincinnati 71-69 at Cintas Center. The Musketeers came into the game as heavy underdogs with a 10-9 overall record, but the win would galvanize the team as XU went on to make its first-ever NCAA Tournament Elite Eight run in March.
November 26, 1996 – Lenny Brown sank a running jumper in the lane to stun No. 1 Cincinnati at the buzzer, 71-69. The play prompted longtime broadcaster Andy MacWilliams to exclaim one of the most well-known calls in Xavier basketball history, "The UC Bearcats are No. 1 in the country, No. 2 in their own city!"
December 18, 1999 – Three years after Lenny Brown shocked UC, Kevin Frey scored on a breakaway layup with 12 seconds left and Xavier hung on for another upset win over Kenyon Martin and the No. 1 ranked Bearcats, 66-64.
March 4, 1964 – Xavier's star guard, Steve Thomas, had one of the great games in shootout history, scoring a rivalry record 45 points in an eventual 94-92 loss.
January 31, 1990 – Xavier spoiled the Crosstown Shootout debut of UC head coach Bob Huggins as Jamal Walker buried a 3-pointer with seven seconds to go, giving the Musketeers a 90-88 win in overtime.
January 19, 1994 – In a nationally-ranked matchup, No. 22 Xavier got the best of No. 19 Cincinnati 82-76 in overtime. Following the game, television cameras caught UC head coach Bob Huggins refusing to shake hands afterward with XU coach Pete Gillen – another memorable and heated moment in a rivalry full of them.  
March 5, 1968 – Xavier backup guard John Zeides made a jump shot from the foul line with six seconds left, leading XU to a 72-71 win over UC and snapping a 12-game losing streak in the series.  
December 13, 2009 – The only double overtime game in Crosstown Shootout history saw Xavier defeat No. 19 Cincinnati, 83-79. Jason Love hit the game-winning free throws with 9.8 seconds left on the clock.
December 14, 2000 – With 35 seconds left in the game and Xavier trailing, Lloyd Price stole the ball from UC star Steve Logan and drove for a lay-in to help XU to a 69-67 win over No. 17 Cincinnati.
February 18, 2015 – Xavier led by 12 at halftime, but Cincinnati roared back to take a late lead. Senior guard Dee Davis hit a clutch 3-pointer with 52 seconds left and Trevon Bluiett knocked down a pair of free throws in the closing seconds to give XU a 59-57 victory.
January 26, 2017 – Junior Trevon Bluiett had one of the all-time great games in the rivalry, sinking his first 10 shots en route to a career-high 40 points. Despite the outburst, No. 22 Xavier fell to No. 19 Cincinnati in an 86-78 road game.
Past Scores
| Year | Winner | Score | Location | Game # |
| --- | --- | --- | --- | --- |
| 2022-23 | Xavier | 80-77 | Fifth Third Arena | 90 |
| 2021-22 | Xavier | 83-63 | Cintas Center | 89 |
| 2020-21 | Xavier | 77-69 | Fifth Third Arena | 88 |
| 2019-20 | Xavier | 73-66 | Cintas Center | 87 |
| 2018–19 | Cincinnati | 62-47 | Fifth Third Arena | 86 |
| 2017-18 | Xavier | 89-76 | Cintas Center | 85 |
| 2016-17 | Cincinnati | 86-78 | Fifth Third Arena | 84 |
| 2015-16 | Xavier | 65-55 | Cintas Center | 83 |
| 2014-15 | Xavier | 59-57 | Fifth Third Arena | 82 |
| 2013-14 | Xavier | 64-47 | U.S. Bank Arena | 81 |
| 2012-13 | Cincinnati | 60-45 | U.S. Bank Arena | 80 |
| 2011-12 | Xavier | 76-53 | Cintas Center | 79 |
| 2010-11 | Cincinnati | 66-46 | Fifth Third Arena | 78 |
| 2009-10 | Xavier | 83-79 | Cintas Center | 77 |
| 2008 - 09 | Xavier | 76-66 | Fifth Third Arena | 76 |
| 2007- 08 | Xavier | 64-59 | Cintas Center | 75 |
| 2006- 07 | Cincinnati | 67-55 | Fifth Third Arena | 74 |
| 2005- 06 | Xavier | 73-71 | Cintas Center | 73 |
| 2004- 05 | Cincinnati | 65-54 | Fifth Third Arena | 72 |
| 2003- 04 | Xavier | 71-69 | Cintas Center | 71 |
| 2002 -03 | Xavier | 50-44 | Fifth Third Arena | 70 |
| 2001- 02 | Cincinnati | 75-55 | Cintas Center | 69 |
| 2000- 01 | Xavier | 69-67 | Fifth Third Arena | 68 |
| 1999-00 | Xavier | 66-64 | Cincinnati Gardens | 67 |
| 1998-99 | Cincinnati | 87-77 | Fifth Third Arena | 66 |
| 1997-98 | Xavier | 88-68 | Cincinnati Gardens | 65 |
| 1996-97 | Xavier | 71-69 | Fifth Third Arena | 64 |
| 1995-96 | Cincinnati | 99-90 | Cincinnati Gardens | 63 |
| 1994-95 | Cincinnati | 87-80 | Fifth Third Arena | 62 |
| 1993-94 | Xavier | 82-76 | Cincinnati Gardens | 61 |
| 1992-93 | Cincinnati | 78-67 | Fifth Third Arena | 60 |
| 1991-92 | Cincinnati | 93-75 | Cincinnati Gardens | 59 |
| 1990-91 | Cincinnati | 69-56 | Fifth Third Arena | 58 |
| 1989-90 | Xavier | 90-88 | Cincinnati Gardens | 57 |
| 1988-89 | Cincinnati | 86-76 | Cincinnati Gardens | 56 |
| 1987-88 | Xavier | 98-80 | Cincinnati Gardens | 55 |
| 1986-87 | Cincinnati | 75-73 | Riverfront Coliseum | 54 |
| 1985-86 | Xavier | 80-76 | Cincinnati Gardens | 53 |
| 1984-85 | Xavier | 55-52 | Riverfront Coliseum | 52 |
| 1983-84 | Xavier | 72-63 | Cincinnati Gardens | 51 |
| 1982-83 | Cincinnati | 73-58 | Riverfront Coliseum | 50 |
| 1981-82 | Xavier | 51-51 | Riverfront Coliseum | 49 |
| 1980-81 | Cincinnati | 79-72 | Riverfront Coliseum | 48 |
| 1979-80 | Xavier | 77-69 | Riverfront Coliseum | 47 |
| 1978-79 | Cincinnati | 60-58 | Riverfront Coliseum | 46 |
| 1977-78 | Cincinnati | 59-54 | Riverfront Coliseum | 45 |
| 1976-77 | Cincinnati | 77-68 | Riverfront Coliseum | 44 |
| 1975-76 | Cincinnati | 81-74 | Riverfront Coliseum | 43 |
| 1974-75 | Cincinnati | 66-57 | Cincinnati Gardens | 42 |
| 1973-74 | Cincinnati | 78-68 | Cincinnati Gardens | 41 |
| 1972-73 | Cincinnati | 78-68 | Cincinnati Gardens | 40 |
| 1971-72 | Cincinnati | 76-71 | Cincinnati Gardens | 39 |
| 1970-71 | Xavier | 66-65 | Cincinnati Gardens | 38 |
| 1969-70 | Cincinnati | 85-72 | Cincinnati Gardens | 37 |
| 1968-69 | Cincinnati | 52-50 | Cincinnati Gardens | 36 |
| 1967-68 | Xavier | 72-71 | Cincinnati Gardens | 35 |
| 1966-67 | Cincinnati | 79-69 | Cincinnati Gardens | 34 |
| 1965-66 | Cincinnati | 67-62 | Cincinnati Gardens | 33 |
| 1964-65 | Cincinnati | 102-72 | Cincinnati Gardens | 32 |
| 1963-64 | Cincinnati | 94-92 | Cincinnati Gardens | 31 |
| 1962-63 | Cincinnati | 72-61 | Cincinnati Gardens | 30 |
| 1961-62 | Cincinnati | 61-58 | Cincinnati Gardens | 29 |
| 1960-61 | Cincinnati | 89-53 | Cincinnati Gardens | 28 |
| 1959-60 | Cincinnati | 85-68 | Cincinnati Gardens | 27 |
| 1958-59 | Cincinnati | 92-66 | Cincinnati Gardens | 26 |
| 1957-58 | Cincinnati | 80-68 | Cincinnati Gardens | 25 |
| 1957-58 | Cincinnati | 79-68 | Cincinnati Gardens | 24 |
| 1956-57 | Cincinnati | 69-57 | Armory Fieldhouse | 23 |
| 1956-57 | Xavier | 86-62 | Cincinnati Gardens | 22 |
| 1955-56 | Xavier | 79-72 | Armory Fieldhouse | 21 |
| 1955-56 | Cincinnati | 71-66 | Cincinnati Gardens | 20 |
| 1954-55 | Cincinnati | 70-69 | Armory Fieldhouse | 19 |
| 1954-55 | Xavier | 67-64 | Cincinnati Gardens | 18 |
| 1953-54 | Cincinnati | 81-76 | Cincinnati Gardens | 17 |
| 1953-54 | Cincinnati | 77-58 | Cincinnati Gardens | 16 |
| 1952-53 | Xavier | 70-68 | Cincinnati Gardens | 15 |
| 1952-53 | Xavier | 81-78 | Cincinnati Gardens | 14 |
| 1951-52 | Cincinnati | 68-63 | Cincinnati Gardens | 13 |
| 1951-52 | Xavier | 77-70 | Cincinnati Gardens | 12 |
| 1950-51 | Cincinnati | 81-66 | Cincinnati Gardens | 11 |
| 1950-51 | Cincinnati | 83-70 | Cincinnati Gardens | 10 |
| 1949-50 | Cincinnati | 59-48 | Cincinnati Gardens | 9 |
| 1949-50 | Xavier | 54-53 | Cincinnati Gardens | 8 |
| 1948-49 | Cincinnati | 57-46 | Cincinnati Gardens | 7 |
| 1948-49 | Xavier | 71-64 | Schmidt Field House | 6 |
| 1947-48 | Cincinnati | 52-45 | Schmidt Field House | 5 |
| 1946-47 | Cincinnati | 76-51 | Schmidt Field House | 4 |
| 1945-46 | Cincinnati | 53-39 | Schmidt Field House | 3 |
| 1942-43 | Xavier | 51-37 | Schmidt Field House | 2 |
| 1927-28 | Xavier | 29-25 | Schmidt Field House | 1 |