Faculty Spotlight: Lisa Jutte, Athletic Training
Nov 1, 2018
Immersed in the culture of Australian sport
Lisa Jutte is fascinated by therapeutic modalities—techniques to improve athletic flexibility like cupping and foam rolling. She also loves Australia. So it's no stretch to understand her interest in taking Xavier students "down under" to learn about different approaches to healing and staying fit.
"My goal is to gain more information about the therapies involved in the healing process of orthopedic injuries of active people and athletes," Jutte says. "Those involved in athletic training, sports medicine, performance, health and fitness, and physical therapy are interested in these modalities."
Taking students to far-flung lands is also a great way to gain experience in international travel and learning about new cultures. Sure there are plenty of opportunities to pat a wallaby and shake hands with a kangaroo, but this trip packs in a lot more learning about Australia than most Americans get from a meal at Outback Steakhouse or a reshowing of "Crocodile Dundee."
Jutte, Associate Professor in the Department of Sport Studies, teaches Exercise Science to undergraduates and master's classes to Athletic Training students. She also leads the program in Australia with Sport Management professor Linda Schoenstedt.
Together, they take students interested in working in the sport industry—as fitness professionals, coaches, athletic trainers or corporate managers—to learn about Olympic training, sports injury treatment and the Australian sport industry. And they learn about popular Australian sports like cricket, rugby and surfing by actually doing them.
"I want students to go abroad so they understand other health-care systems, other sports and injuries in other countries," Jutte says. "In Australia they have surfing and surfing injuries, like bruises and contusions. They need a lot of flexibility. Cricket is another sport we don't have in the U.S. They use a softball style pitch and have shoulder injuries."
Jutte started the program after coming to Xavier in 2011 from Ball State, where she had set up a study abroad program in Lennox Head in New South Wales on Australia's east coast. Jutte set up a similar program at Xavier, taking students in 2013, 2015 and 2017.
They stay at a government camp in Lennox Head for the first part of the trip and take surfing lessons at the beach nearby, watch a rugby game and visit a physiotherapy clinic. They also go down the coast to Sydney, where they visit Olympic Park and the Blue Mountains and attend lectures in sport management. And of course, they visit the Sydney Opera House.
In Canberra, they tour the Olympic Training Center, hear lectures from clinicians for Olympic athletes and attend programs at the Australian Institute of Sport. In Melbourne, they tour the University of Melbourne Centre for Health, Exercise, and Sports Medicine.
"We studied their health care system, which is socialized medicine and has direct access to their PTs and exercise physiologists," Jutte says. "They get to see that different culture around sports. For example they don't have the same athletic scholarship system in Australia. They play for club teams, not for universities."
Jutte is planning the fourth trip for the summer of 2019 and is exploring adding a visit to Townsville in the north, where Study Abroad students from Xavier take classes at James Cook University. Jutte's students would interact with faculty and students from James Cook, study aboriginal culture and maybe visit the Great Barrier Reef nearby.
The trip takes about 23 days in late May and early June—the beginning of winter in Australia. The program includes a 3-credit hour course. Until the 2017 trip, students majoring in Athletic Training were eligible, but now that Athletic Training is a master's program, students in the new Exercise Science major are eligible for the trip, as well as Sport Management majors.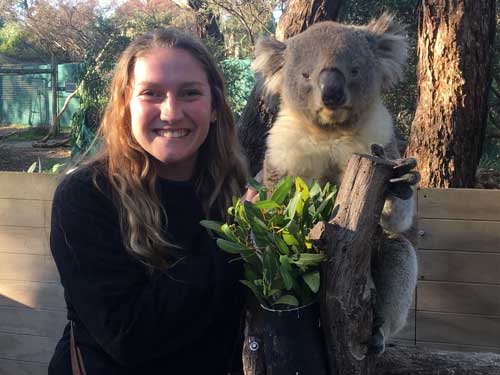 "The trip is more experiential," Jutte says. "The next trip will be aimed at Exercise Science students and the course will be International Exercise Science, similar to the prior course but more broad-based, and it will include performance fitness and health." And surely some therapeutic techniques.
Learn more about Exercise Science and Athletic Training at Xavier.
READ THE BLOG FROM THE 2017 STUDY ABROAD PROGRAM IN AUSTRALIA.
Feature Image: Lisa Jutte, far left, and students surfing in New South Wales.
By France Sloat, Managing Editor, Office of Marketing and Communications