Alumni Spotlight: Andrew Hermann
Oct 21, 2018
Andrew Hermann was not a coffee drinker until about a year ago. Now the Xavier grad enjoys a cup every afternoon-just one cup-but it's a very special brew, a delicate light roast made of the best Arabica beans grown by a co-op of 15 farmers at the highest elevations in the Dominican Republic.
In fact, the beans that go into his coffee grinder for his daily cup of Joe are grown specifically for a company he founded while he was a student at Xavier. In return, Hermann pays the farmers a fair wage-five times what most coffee farmers there are paid-because he wants to help them improve their lives for the better.
Hermann named his company Better World Beans.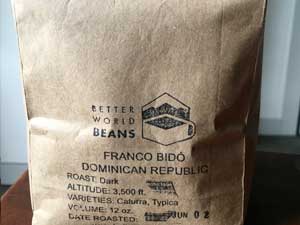 "They are doing better," Hermann says. "One of our farmers has even invested some of their increased capital into a little coffee tree nursery, so they are breeding more to increase production for him and his neighbors."
Hermann founded his company with the support of the entrepreneurship program in the Williams College of Business. But the idea for it was germinating long before he got to Xavier.
Hermann was 15 when he made his first trip to the Dominican Republic with his high school, Seattle Prep, and the non-profit Education Across Borders to help build houses in the small mountain village of Franco Bidó. He enjoyed the construction work, but it was the people and their culture that got under his skin.
"I fell in love with the place, the people, the culture," Hermann says. "I kept going back every chance I had."
By the time he enrolled at Xavier in 2012, he'd been to "the DR" at least five times and has returned every year since for a total of about 20 trips.
Over the years, his love for the people turned into concern for their welfare. Growing coffee and other cash crops is about the only way to make a living, but they're paid poverty wages for their product.
Hermann began searching for a way to help. He signed up for the Philosophy, Politics and the Public major because he was interested in the interplay of economics and political systems and their effect on populations. He was a Community Engaged Fellow, which allowed him to satisfy his desire to help others. But he also discovered the sustainability major-Land, Farming and Community-and signed up for it, too.
He learned a lot from his courses.
"I realized you can change the economics of a community by creating a farming middle class," he says. "I'm trying to promote specialty crops like coffee for communities that are trying to scrape by with low-value crops like corn instead of specializing and making relationships with consumers, and I'm trying to be that bridge for the farmers."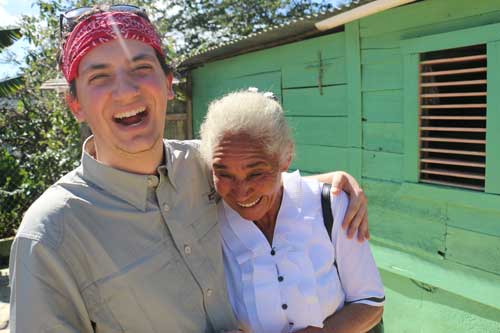 He became friends with one Dominican family in particular. Felicia Puntiel, her son, Cristian, and her grandchildren are like a second family to Hermann. Together they farm about 25 acres entirely cultivated with Arabica coffee plants.
This high-elevation specialty coffee is considered among the best because the beans take longer to ripen, giving the chemicals in the beans more time to develop peak flavor.
Growing coffee is labor intensive. It takes three to four years for the plants to produce fruit. The beans are hand-picked several times a year when they reach a deep red wine color.
Small-scale farmers like those in the Dominican Republic are paid poorly because, without a contractual arrangement with a steady buyer, they must sell to the highest bidder, resulting in prices as low as 80 cents a pound.
"Part of it is corporations pressuring farmers to reduce the price of coffee, and the ones who get hurt are the small-scale farmers," he says. "It made an impression on me seeing a community that was struggling and feeling I had some responsibility to do something about it."
But Hermann knew he couldn't do it by himself. At Xavier, he found support from a couple of different sources, including the Sedler Family Center for Entrepreneurship and Innovation and its former assistant director, Owen Raisch. Together, they created a business plan for his business, which included contracting with a Cincinnati coffee roaster to roast the beans for Hermann. He also researched the Fair Trade movement and the Specialty Coffee movement, which promote living wages and sustainable practices for member companies.
The first beans arrived in the U.S. in January 2016. Now Hermann is selling Better World Beans to local coffee shops, churches and others from his web site at betterworldbeans.com.
"I didn't really have much of a plan, to be honest. I just had this idea to help this community and I started talking to people and got connected with the entrepreneurship folks and started writing the plan," he says.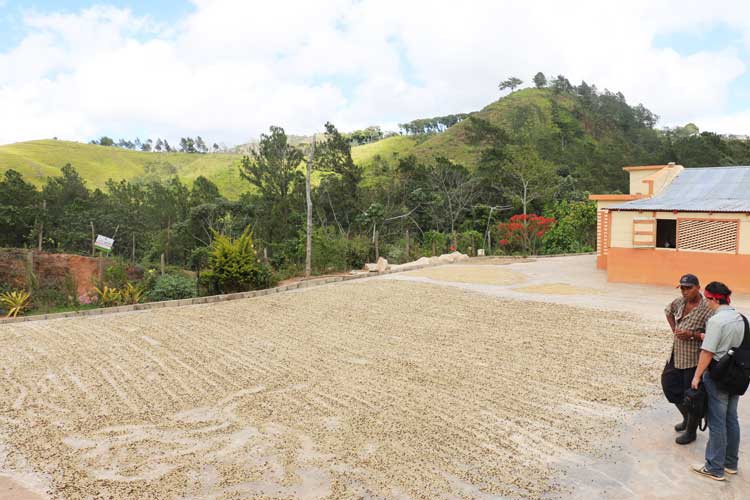 Hermann is able to pay the farmers around $4.20 a pound because he's eliminated all middle men. He actually sat the farmers down face-to-face and asked them what they thought a fair price would be. They chose a little over $4 a pound-significantly more than if they just took their coffee to market.
But that means he's doing all the work-negotiating contracts with them, arranging for packaging and shipping, delivering it to the local roaster, and marketing and selling it himself.
It's a lot of work and a sizable personal investment, but he says it's paying off.
"The morale seems higher, and people are excited when they talk about coffee and what I'm doing," he says. "They are thankful for the relationship I've built with them and for the company."
He plans to continue to grow the business and is already looking for new specialty crops to sell, such as the moringa plant.
"I'm trying to show you can take care of people and be good to the environment and good for business and that this is a replicable model for other companies," he says. "As long as people look to us as a justice model business, then we've succeeded."
Learn more about Entrepreneurial Studies in the Williams College of Business, and Better World Beans.