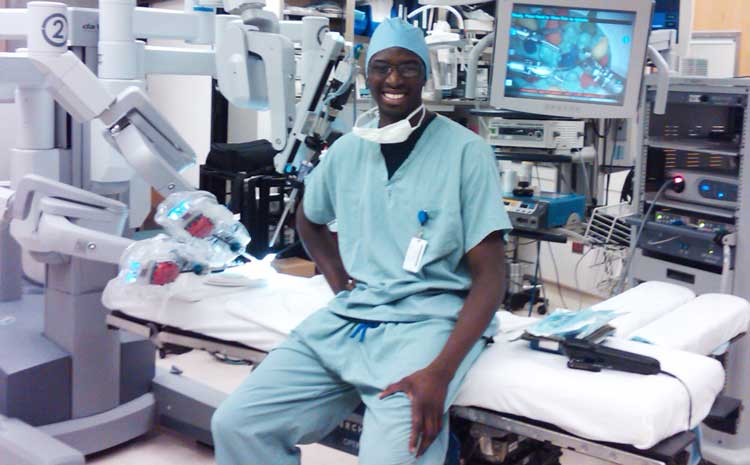 Adeleke Oni: From Chemistry Major to ER Doc
Dec 1, 2018
At a hospital for children in Cincinnati, a tall, slim young man approached the expansive building and stepped inside. It was his first day as a volunteer in the Bone Marrow Transplant Department, but he knew inside it would not be his last. A lover of science and math, Adeleke Oni knew when he volunteered that helping others through medicine was what he wanted to do with his life.
"I really wanted to save a life," Oni said.
Now a physician with Wake Forest Medical Center in Greensboro, N.C., Oni helps save lives every day. He's come a long way since his days of volunteering at Cincinnati Children's Hospital.
His career began on Xavier's campus where he majored in chemistry, but it had its origins in his Nigerian family's emphasis on the value of education. Since childhood, he always had a fascination with science and mathematics, and his parents encouraged him to explore his interests.
When it was time to choose a college, Oni, who's from Atlanta, didn't know anything about Xavier or Cincinnati. He had plenty of other choices, but Xavier just seemed to stick out.
"The name sounded cool to me," he said.
But when he came to visit campus, he was completely sold. What helped solidify his decision was Destination X, a program that allows minority students to stay overnight on campus and experience being a college student.
During his freshman year, he had no idea what he wanted to do or what his major would be and was undecided throughout that entire year-until he took organic chemistry the following summer. He fell in love with chemistry.
"Chemistry teaches you patience while learning and developing your skills," Oni says.
His experience was made all the better by his Chemistry professor, Richard Mullins, PhD, who spotted Oni's talent for science. "Dr. Mullins in the chemistry department really took my intellectual maturity to the next level," Oni says.
That year, he also joined Alpha Phi Alpha, a historically black fraternity founded in 1906 at Cornell University. The fraternity's high standards of personal and professional behavior and achievement appealed to Oni and is something he and his fraternity brothers are proud to carry with them into their professional lives-including his world of medicine.
Then, as a sophomore, he started dating fellow pre-med student Keyona Gullett. They had met during their first week as freshmen and got married last year-seven years after graduating together in 2008.
Oni went to the University of Tennessee College of Medicine in Memphis, graduating in 2012. He did his residency in emergency medicine at University of Maryland Medical System Hospital in Baltimore, where he was brought face to face with the violence of urban medicine.
Now at Wake Forest's Moses Cone and Wesley Long Hospitals in Greensboro, N.C., Oni works night shifts as an emergency room physician, handling a range of medical emergencies including the traumatic results of the same kind of violence he'd faced in Baltimore. The work is challenging but rewarding, he says.
"The most rewarding moments for me are the life or death situations where I can say, if I and this ED team were not here, then this patient would have died tonight, but because we are here, we literally made a difference in the patient's life and their family's," Oni says. "Those situations include heart attacks, car accidents, gun shot wounds and stabbing victims, and severe infections with sepsis, just to name a few."
Oni and Gullett have a lot to share beyond their marriage and professions-she's working in Henderson, N.C., as a family medicine physician. They also share a common affection for their experience as Xavier students. For Oni, it's where he became an Alpha, met his wife and got the mentorship and preparation he needed to get into medical school and on with his life.
"Xavier impacted me the most with all of the opportunities it affords its students," Oni says. "I felt like I could tackle anything with the education and growth I achieved at Xavier. I was class president of my medical school for all four years, but there is no way I could have balanced that with my rigorous medical school curriculum without the skills I learned at Xavier of life balance, personal responsibility, high standards of achievement, and always putting your best foot forward."
By Kaelan Doolan, Class of '18