Alumni Spotlight: Kelsey Minix
Dec 1, 2018
Shortly after graduating last May with a Health Services Administration degree, Kelsey Minix found herself in Belize, Central America, working as a public health worker. She welcomed the chance to use her degree to help others. But the position and the people she met while living in Punta Gorda led her in a surprising direction-helping stop domestic abuse.
"I was counseling patients on hypertension, diabetes, family planning, contraception options, oral hygiene and the Zika virus," she says. "I was also involved with the Belizean Ministry of Health, which allowed me to educate at schools and health fairs. One day we tested water in the villages for bacteria and chlorine levels."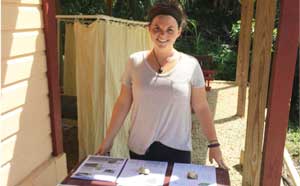 Her Xavier degree had helped her land a summer internship in the Public Health Scholars Program at Columbia University, which led to her position with Hillside Healthcare International, a clinic that provides free health care and education for the people of Belize.
After witnessing women being abused, she decided to do something about it. So she came up with an idea to start a women's group. She built a curriculum around topics including self-esteem and confidence, family planning, nutrition, depression and anxiety, stress, leadership, parenting methods and abuse.
"Because domestic violence is a very taboo topic in their culture, it was not something I could advertise to the women," she says.
Several women showed up at the first meeting, and Minix helped them start six different women's groups in their villages. "I wanted to focus on the aspects that may lead to or be a result of domestic violence. My hopes were that if something was going on at home, these topics would allow them to talk about it and eventually seek help."
All that would take time, and Minix was there for only two months. So she found two Peace Corps volunteers who agreed to help her start her initiative and carry on after she left.
"I wanted to create a sustainable program that could thrive after I was gone, and these ladies are there for one to two years, ensuring the program for at least that long," Minix says.
"When I left Belize, I wasn't sure of what would come from the program, but I did know that I laid the base, provided materials and hopefully stirred the will to make a difference in the Belizean women's lives. I left the program in trusted hands."