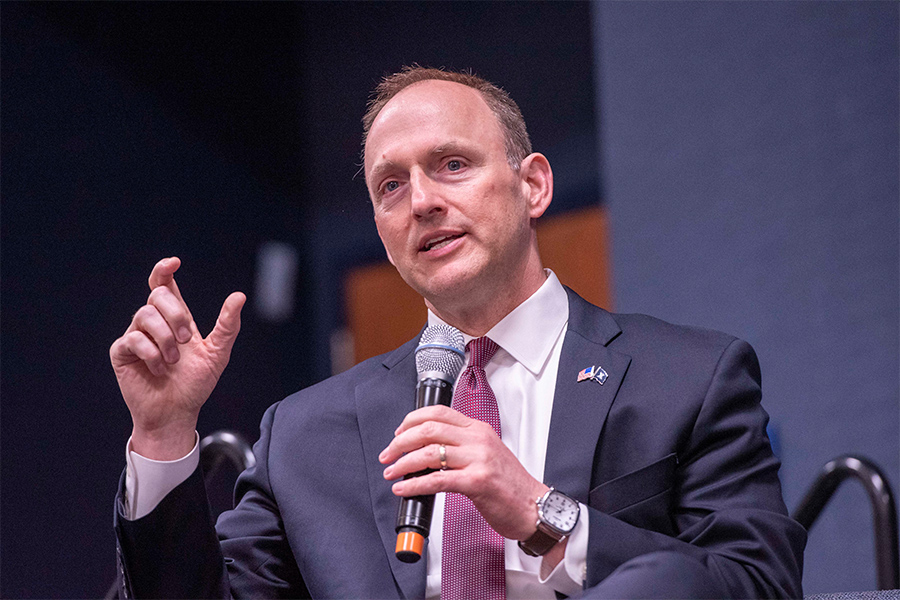 Xavier Vice President Greg Christopher Discusses March Madness, State of Athletics
Mar 24, 2023
Xavier University Vice President for Administration and Director of Athletics Greg Christopher has seen many March runs since coming to Xavier University.
He first arrived in Cincinnati in 2013 while the Musketeers were preparing to make the leap to the BIG EAST Conference, which has undoubtedly brought a new level of excitement and visibility to campus.
In the last decade, he has accomplished much for the institution but this year has been particularly memorable.
Almost exactly a year ago last week, Christopher made the hire for Sean Miller to return to Xavier as head men's basketball coach – a bold decision that has, ultimately, resulted in Xavier preparing to take the court in the NCAA Tournament Sweet 16 this weekend.
He has also found himself in the news lately as Xavier explores a possible resurrection of a football program, which hasn't existed at the University since 1973. Amidst all of the excitement around basketball, he has also overseen the addition of a new sport this year – women's lacrosse – bringing Xavier's total of Division I sports teams to 19.
Learn more about Christopher's perspective on what March means to Xavier, the state of the men's basketball program and where things are heading long-term for Xavier Athletics in this Q&A:
---

We've been here before, but what does it mean to be back on this stage at the NCAA Tournament with a Sweet 16 berth and a chance to go even deeper?
It's a great stage, and that's a good word for it. It's terrific for the University because basketball – I often say this – is the front porch of the institution. It's not the most important thing we do, but it might be the most visible thing we do. The visibility this weekend brings is something Xavier can't really buy in the marketplace.
And the other thing that doesn't get talked about as much is that basketball is a rallying point and a community point for all of us. Whether it's New York, or Greensboro, or now Kansas City it's bringing together thousands of people in each city – let alone the house parties and watch parties going on everywhere else in the country.
It's such a great thing to bring Xavier Nation together like this.
And it only gets amplified as you go on... so what would it mean for us to go even deeper?
So that's a weekend we've never touched, unfortunately, here at Xavier. It's ultimately our biggest goal, to get to the third weekend and the Final Four. One of these years we're going to break down that door.
But there's no doubt that there are plenty of precedents if you look around the country and at universities that have reached the Final Four – it can be part of a catalyst, along with many other things, that can literally change your university.
We've kind of flipped the script in the past calendar year. What does it mean to be here almost exactly one year after a head coaching change? And what have been some of your favorite moments this season?
This program was, over the last four years, good but not great. We just couldn't quite get over the hump, so to speak.
Sean [Miller] with a couple of new players, and certainly the core group from last year, I feel so happy for them because they've worked really hard to get to this point. It's exciting to know we're right on the cusp of getting where we want to be.
To have a great season like we did, the tournament is almost a different animal and so much goes into it – but it's certainly a lot of fun.
What stands out to me about this year is, you know, it's really tough to win on the road in college basketball. And this team has been particularly well-suited to win on the road for some reason.
Maybe it's that the core group is older and more mature and coaching probably fits into that, but boy has this team been successful in dealing with adversity on the road and having a backbone. We've been able to win some really memorable and great road games this year.
With three teams in the Sweet 16, what is the state of the BIG EAST Conference? It has certainly become a special conference since realignment. How do we feel about our affiliation now after 10 years?
Well, the BIG EAST has certainly had a week. You talk about three teams in the second weekend, and if the tumblers fall just right we could all wind up in the Final Four. And with two big coaching changes, we've certainly dominated the news coverage in a lot of ways this week and that's good for the league.
We already know we have, statistically, the second-best basketball conference in the country and it's an elite conference with elite competition. The regular season 'death march' that you have to get through, it's proven itself out now in the postseason with what you see happening.
Then you throw in the coaching dominos moving different ways and the league, frankly, just got better over the last 48 hours or so. But we'll worry about that in November.
How many times have you been to the NCAA Tournament and what's your favorite part of all of this?
I worked in business and media before getting into college athletics, but we had a lot of success at Purdue on the women's basketball side. We never made it to the Final Four on the men's side, but I was fortunate enough to be there when we won a national championship with Carolyn Peck.
At Bowling Green, the men were in it a couple of times and the women were in it regularly and made it to the Sweet 16 one year.
There have certainly been some nice runs here as well. It never gets old.
For those of us who work in the department, you see how hard it is, and you can't take it for granted. You see how much effort goes into getting to those 20-plus wins that can get you into the tournament. I'm not sure everyone appreciates what a hard journey it is just to get into the NCAA Tournament.
It's so different from any other sport with the stage you're given and then how ruthless it can be when you lose.
What is a typical day like for you on the road?
On game day, it's rare that I'm needed. Let's just say, if I'm needed, something is wrong and it's so rare that something goes wrong.
So much of what I do is a mixture of external-facing things, whether it's dinner with alumni and donors or going to a pregame event.
From a work standpoint, sometimes I can be more productive than being in the office. I can be on phone calls and Zooms without some of the normal 'interruptions' throughout the day.
Otherwise, I get to live vicariously through our student-athletes and our coaches and I get to watch more of the games, frankly, than I do at home. At Cintas Center, I think many people know, I just roam around.
For road games, I often park myself and actually get to watch basketball.
From an athletic department standpoint, where are we and how do we feel about where things are moving at Xavier? What would you want someone to know who might not be following Xavier Athletics as closely as some of our biggest fans?
You know, this is a fun time to be at Xavier. As we head into the next strategic plan that Dr. Hanycz has built, there is a lot of conversation around a lot of initiatives across the University – but also specific to athletics.
There's no doubt that you feel like basketball is on track and you feel as good about the future as you can sitting in the Sweet 16.
As far as everything else within athletics, it's been fun having kind of the novelty of a new team with women's lacrosse. It's been wonderful to watch that go, really, from a memo and a conversation to [head coach] Meg Decker and a team that's been winning. That's been fun.
The other item that gets a lot of public attention has been our exploration, tied back to what I alluded to with the strategic plan, with the possibility of football. I keep saying it's a 'definite maybe' but it would be a lot of fun to give it a try.
There's a reality that we don't have a field or a stadium, so we are having private conversations about possibly funding a stadium.
The other thing is, and probably the only negative that people throw at me, is some feel like football would take resources away from other things at the University. It's actually the opposite. The only reason we're talking about football is it might add resources to both the University and the athletic department.
The model we're looking at is similar to the Pioneer Football League, which is really about enrollment growth. That means revenue growth, which would help the University, but also our other 19 sports for sure.