Xavier's Inaugural Women's Lacrosse Team Makes History On-and-Off the Field
Mar 30, 2023
With its inaugural season underway, Xavier's women's lacrosse program is proving to be a strong fit for the university.
"Xavier is one of those places that once you find out about it, you can't stay away. It has strong community, quality athletics, and high academics. It has people who care about you as a person. And one thing big for me, it supports women in athletics," said Xavier Women's Lacrosse Head Coach Meg Decker.
Decker, who joined Xavier from Hartford, where she was also the first women's lacrosse head coach in Hartford's program history, knows how difficult it can be for women's athletics to garner support.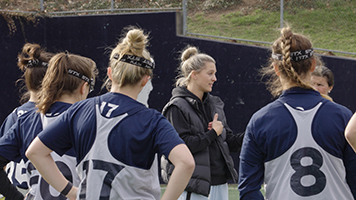 "Working in sports is tough as a woman, no matter how you spin it. Even with the best people in the world around you, it's a hard industry to operate in. To be successful, you have to have people who are aware of that and are doing something about it," she said.
In 2013, Xavier's athletic department began developing a Title IX strategy to make it stand out. When the department learned Xavier's current undergraduate enrollment was 57 percent female, it became evident that the proportion of male and female athletes needed to reflect the student body.
After looking at all the opportunities available in NCAA women's sports, the athletic department quickly settled on lacrosse and set the teams's first season for the 2022-23 academic year.
"Lacrosse is one of the fastest growing sports in the country," said Decker, who has played since her freshman year of high school. "It has a high retention and graduation rate, and young women who are dedicated to their academics as much as they are to their athletics and community. It's a perfect match for Xavier."
Coach Decker and her staff have crafted a young, self-sustaining program that Xavier will get to watch grow on and off the field.
"Over the next couple of years, Xavier will meet the women a part of our program and they will be more than just history makers on the field," she said. "What they want to do when they graduate is just as powerful as what they do on the field. We have future attorneys, doctors, business professionals, teachers, psychologists, and more. We have women who want to use the tools they learn in lacrosse to make an impact on the world."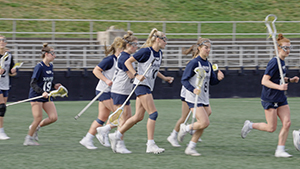 Several players have already begun applying what they've learned in lacrosse outside the game. When freshman midfielder Gianna Cua is not playing lacrosse she's talking health habits with family, friends, and teammates.
"I'm very passionate about nutrition, especially for athletes, because a big part of being a good athlete is staying properly fueled," said Cua. "A lot of girls struggle with knowing what they need so, I love spreading awareness about nutrition in sports."
Her teammate, junior and midfielder Sawyer Walker, plans to leverage the bonds she has made in lacrosse in her future field of sociology.
"I'm very passionate about my relationships with people," Walker said, "I think building relationships allows you to make network connections. I feel the relationships I've made with these girls on the team 20 years down the road, can be leveraged to help so many people in our community."
Decker agrees with her players.
"When we talk about industries that women are less involved in, all our players are ready to break down barriers. They're doing that now on the field, and I believe they will do it one day off the field as well, she said. "That's why I coach. By the time they leave, they'll have an entire army supporting them, not just their teammates, but the entire Xavier community behind them as well."