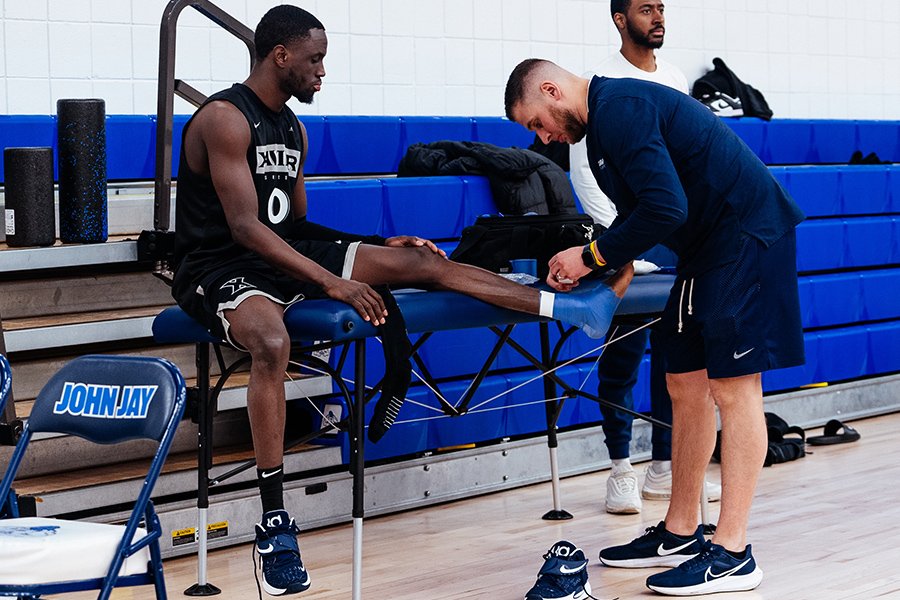 Connor Barnes ('12) living out dream in first season as Xavier men's basketball athletic trainer
Mar 9, 2023
Xavier men's basketball is back in the national rankings and heading for more postseason basketball this March with many new faces around the program, including Connor Barnes ('12), who is in his first season as the team's athletic trainer.
A key part of the "team behind the team," Barnes lends his expertise, gained through the Xavier athletic training program, to help keep the Musketeers in fighting shape. From his student days to a dream opportunity this year, it all adds up to a unique and ongoing Xavier experience.
Learn more about Barnes' professional journey, his time as a student and his experiences working with several different teams during his young career in this Q&A:
You grew up in the St. Louis area. How did you first come to find out about Xavier and make the decision to come here?
Both of my parents are from the Cincinnati area. My mom grew up on the east side and my dad grew up in northern Kentucky. I had a couple of cousins that went to Xavier and family ties to the area, so it was just a place I knew I had to check out when we did the college tour during my senior year of high school.
When I stepped foot on campus, it just felt like home. It felt like there was already a connection. I remember my senior year of high school when I got the letter in the mail that I was accepted, my aunt was in town and had taped it to the front door before I even got home. Once I saw that, there were just no other thoughts. It was just where I was going to go.
I was kind of lucky to know what I wanted from a college. I knew I wanted a smaller college and that I wanted to be in Division l athletics and I knew I wanted to be in the athletic training program.
On the other side of the coin, I knew I still wanted to play hockey and I wasn't quite ready to give that up. I had also gone to a club hockey game when I was on a visit to campus and loved what I saw. It was just kind of the perfect fit in terms of academics, student life, size, the location. It checked every box.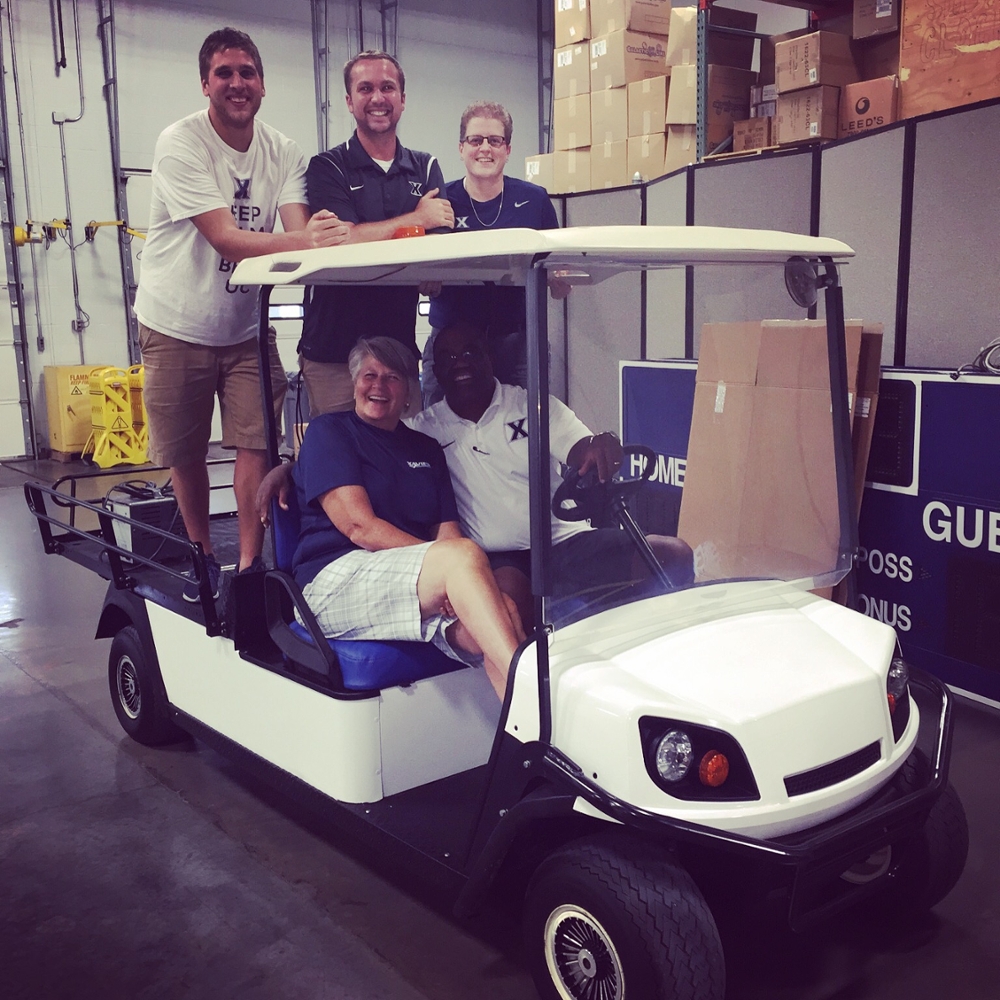 What is your first memory of Xavier basketball and just knowing you were into it in a big way?
The 2008 NCAA Tournament was when we beat West Virginia to go to the Elite Eight. It was my senior year of high school. I had already been accepted and planned on attending. I rallied all my friends on spring break to watch the game, and that was before I knew who Sean Miller was or the history of Bob Huggins at Cincinnati.
All I knew was that Xavier won and that was awesome. From that game on, I was just hooked.
Who made an impact on you when you were a student and helped get you where you are now on your career journey?
Really, anybody involved with the athletic training program. Tina Davlin-Pater is still the program director and had a huge impact on my life. Mike Mulcahey, who was the men's basketball athletic trainer when I was in college, was probably my biggest mentor and champion. He was one of the first people I called when I got this opportunity and we've had similar paths — both being Xavier graduates and working our way up to that was a dream realized, I think, for both of us.
There were so many other professors, not even in the athletic training program. I had an English professor, Kelly Austin, during my freshman year that I always talk about. She would take us outside when it was nice out — just little things like that, which matter a lot.
I was admitted to the hospital during my sophomore year, during the H1N1 pandemic, and everyone thought I had it, but it ended up being a reaction to a vaccine. There was a person who came over to the hospital every day to check on me. That's Xavier.
Was there anything about the AT program at Xavier that you think sets you up to have success, especially in the area you were focused in?
Yeah, I think the area we're in, there's a lot of opportunity. Not every athletic trainer wants to be a Division l athletic trainer, or a high school trainer for that matter. Just having a variety of experiences.
Tina knew how much hockey meant to me and worked to get me an opportunity with the Cincinnati Cyclones, so I spent my senior year with them and I know we still send students over there, but I believe I was one of the first ones just because I had such a passion for the game. For her to help me get that opportunity was just a dream come true.
What was it that sparked your interest in the athletic training field to begin with?
It was in high school. I always tell this story. My high school athletic trainer came into class my sophomore year to tell us about a new course he was starting and I needed a physical education credit, so I decided to take it. There was a small group of us who really just took to him, he was such a great guy, and by the spring of my junior year, I was his little shadow out there covering some sports with him.
And, you know, after that it's the cliché of "the rest is history."
What's your favorite part of the job?
The relationships. You look at athletic trainers and different roles with similar skill sets. If you go work in a doctor's office, you see somebody every couple of weeks while they are injured. I think athletic training is unique because you build relationships day-to-day with the athletes. It really makes caring for them so much easier because they learn to trust you.
There's also nothing better than seeing somebody who has dealt with the lowest of lows with an injury and watching them get back out and do what they love to do.
You're not looking for them to thank you or get any praise for that, really, but just knowing that you played a small role in that is really special. We don't like to take any credit because we don't do the work. We give them the keys, but they have to drive the car.
Seeing them succeed and building the relationships, getting invited to weddings, and watching student-athletes become husbands and wives and parents is the thing that's maybe even more fun than watching them get back to playing sports. Watching them succeed after the ball stops bouncing is a lot of fun.
We're a small footnote in that, but you get to carry a lot of that with you and it makes the hard days a little bit easier.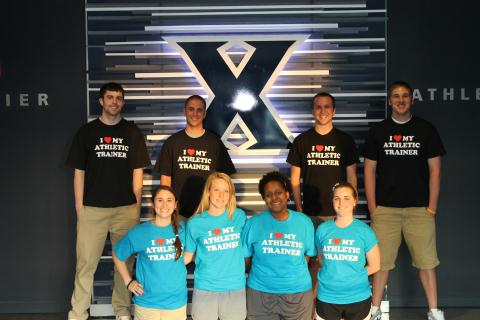 What's something that is maybe less attractive or you think anybody considering an athletic training career should be aware of before getting started?
It's a grind. It's an irregular schedule and you sometimes have to deal with last-minute schedule changes and travel delays. You know, when you're in season, it's a seven-day-a-week job.
You really have to be able to adjust on the fly and wear many hats. It's hard work, but it's so rewarding.
What would be your advice to someone considering your career path and just starting out?
Connect. Make relationships with anybody you get to meet in the profession. Meet as many people as you can and get as much information as you can.
And then try different things. When I was in grad school, I knew I wanted to do intercollegiate athletics and I didn't get that assignment. I was at Terre Haute North High School for two years and I loved every second of it, but I knew long-term I wanted to be in the college environment. But I'm so glad I got that experience because I got to see a different side of it.
Just because something isn't what you think you want to do, don't be afraid to take that experience on because you never know. You may end up loving it or you may end up reinforcing what you already know.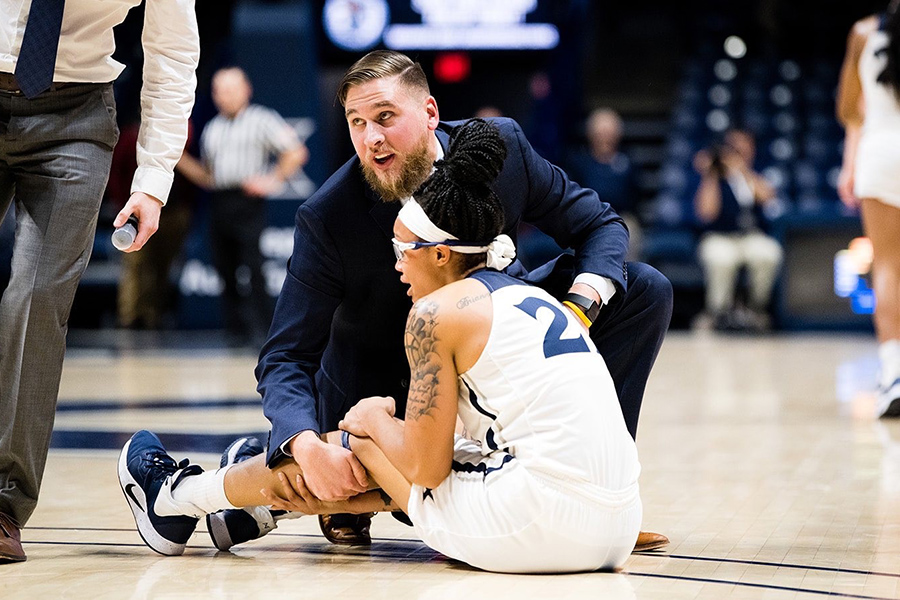 Walk me through your journey and the steps along the way that got you to where you are today?
When I was a student at Xavier, I worked with a lot of different teams. I did men's soccer, volleyball and track and field. I worked with the Madeira High School football team, the Cincinnati Cyclones and then my senior year I was the student trainer for women's basketball. I think, being around basketball as a senior, I got to see the inside of it a bit more and you get a little more responsibility. I think that's when I really fell in love with that aspect of the job.
Then I went off to Indiana State for two years and spent time at Terre Haute North High School with boys and girls soccer. We all helped out with football a little bit and I also did wrestling and baseball. Initially, I wanted to be a minor league athletic trainer and work my way up to the St. Louis Cardinals someday. Those are the kinds of jobs I was applying to after grad school.
Obviously, that didn't work out, but I went to our national conference that year looking for a job and heard about an opening at Xavier. I expressed interest at that time to [former Xavier athletic trainer] Julie Bertsch and got to chat with them there. It was really kismet.
My girlfriend at the time, now my wife, was living in Rochester, New York, at the time, and my plan was for Xavier to be a stop gap until I could move to be with her. And then I was promoted to full time after we had a couple people take new opportunities. I did my first three years primarily with men's soccer and baseball and then, after that, five years with the women's basketball team. I've also worked with our track and cross country programs.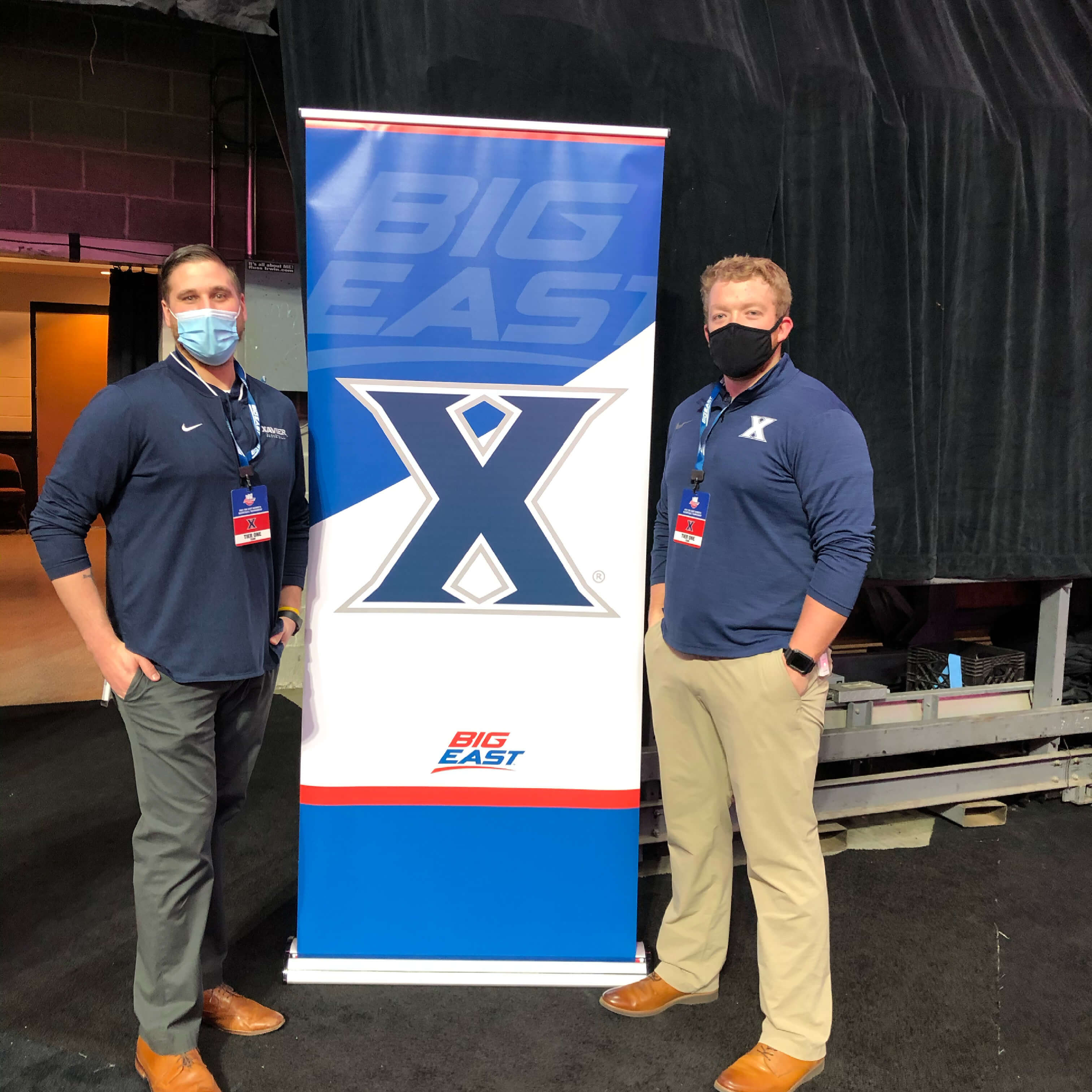 What have been some of the highlights of your Xavier career so far?
You can't really beat your first-ever job out of grad school, going to the Sweet 16 like we did with men's soccer in 2014. The coldest I've ever been in that game against Creighton and that run was a lot of fun. I think the best memory from that year was beating Indiana on their field with all the rain and mud. It was great. That was a great day.
The 2016 BIG EAST Baseball Championship was a lot of fun. Going to the regionals with that great group of guys. We beat Vanderbilt under some tough circumstances with them losing a teammate.
Women's basketball, I really got to see how that world operates and we had some big wins over the years — some Crosstown Shootout wins, which were awesome. Unfortunately, no postseason runs but always just great people. Watching the track and field championships, I've been a few times, but seeing someone like Rachel Butler — who had her soccer career cut short — go and run on the biggest stage.
Building those relationships and seeing people achieve goals is always fun.
Knowing this was a goal you've been working towards; did you have some kind of "Welcome to the Show" kind of moment or anything like that?
Honestly, I think about the first game and it was a game of gratitude. I don't know about a moment, but it was really a game of gratitude for my mentors, my co-workers, my parents, family, my wife, my kids. For them to all take in that scene.
It was just really cool. It's fun to see dreams actualized. You work hard, sometimes you feel like you'll never get there — and then, you do.
Then you get a few minutes into the game and it's just another game. I got a little emotional during the national anthem. You're looking around, you're seeing 10,000-plus people. My family had bought 20 tickets and they're all standing behind me. It was pretty cool how much it meant, not just for me, but for others too.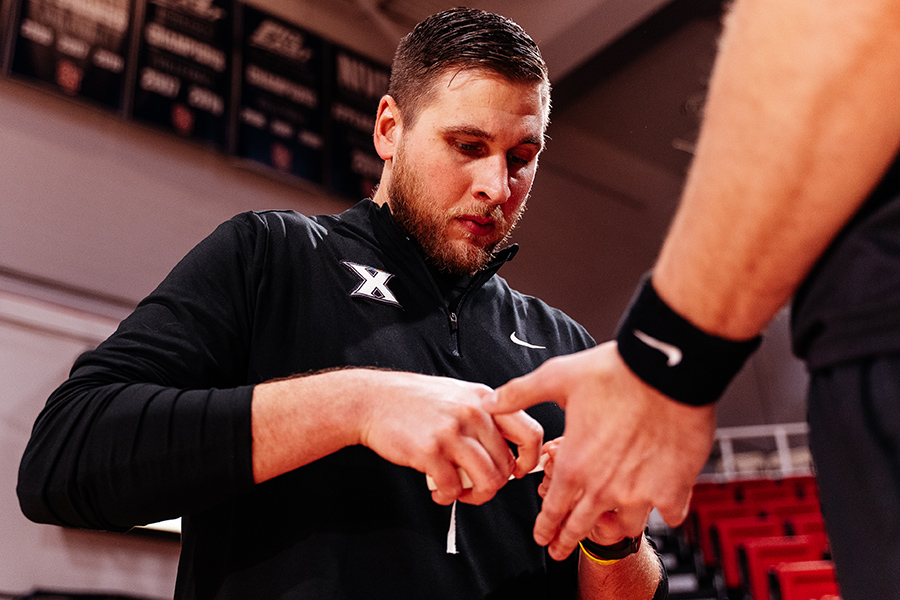 What is it about Xavier that was a differentiator in your life?
The people care. You know, everyone wants to see you succeed. They want you to do great things in your field, in your life, personal life, whatever it is.
Fr. Graham, to me, was just the epitome of Xavier. You may not know these people, but they want you to do well and we all followed his charge at graduation: "Go forth and set the world on fire."
I'm biased, but there's a certain pride in wearing an "X" on your shirt. When I walk in public and I wear this, I feel like this is good and I represent something larger than myself.
If you could say anything to college Connor that you think you've maybe figured out about life, what would it be?
Don't wait. I had a preceptor at Madeira. One day I texted her and told her I had a big hockey game and couldn't make it to a football game, you know, "Is that okay?" She replied back something like, "You'll cover plenty of games in your career, go do what you want to do right now."
So I think, for students, if you want to go study abroad, go study abroad because you might never get that opportunity again.
In 2019, my wife and I went to Ireland to celebrate our one-year anniversary and we talked about pushing it to 2020 at some point. I'm glad we didn't ... because the world shut down. When you have an opportunity to do something, take that opportunity because you just never know if it's going to come again.