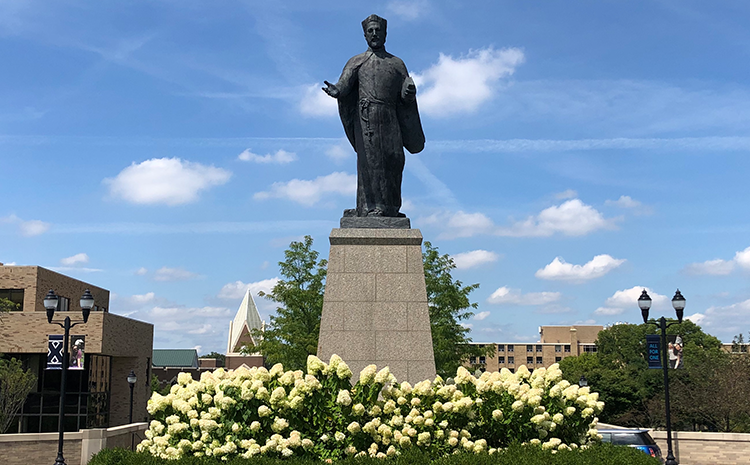 2022 World Kindness Day at Xavier University
Nov 11, 2022
In honor of World Kindness Day, Xavier sat down with a few of our student organizations that have a strong community presence and value service rooted in justice and love.
Abby White, Take It On
Abby (left) is a senior from Holland, Michigan, studying philosophy, politics, and the public along with communications.
Can you give an overview of Take It On?
Take It On is the University initiative to encourage dialogue, voting, and conversation. We offer the opportunity for students, staff, and faculty to engage in conversations that a lot of times are only had in a partisan type of way. We also encourage student voting.
What community service does Take it On do?
We have partnerships with community organizations. One of them right now that we've been working with is the Greater Cincinnati Voter Collaborative. We've been helping them plan rides to the polls for people that don't have access or opportunity to get to [there], we've been providing resources and opportunities for them to share on social media, and just helping people get educated.
Why is community engagement so important to you?
It's really important because we don't want to be an isolated group. We want to connect to the people around us in the Cincinnati area, to give back to the community that we live in, and have students have that opportunity. I think it's a really valuable lesson for students to learn that civic engagement doesn't just start and end when you're in college.
What does kindness mean to you?
It seems like everyone always thinks of treating people the way that you'd want to be treated, but I think it goes a step farther than that and that's extending love and grace and compassion to people. Offering the opportunity in this space to get to know them — not just saying hi to people, like actually wanting to engage with people, take the time to learn about them, [and] have them learn about you.
Alex Truitt, Delta Sigma Pi
Alex (back row, left) is a sophomore from St. Louis, Missouri double majoring in finance and PPP, and is currently the vice president of community service.
What is Delta Sigma Pi?
It's a fraternity here at Xavier for business students who are motivated and want to find a welcoming group of business students who foster another sense of community on campus.
I decided to join Delta Sigma Pi because of the community that they offered as a first-year student. I was really looking to get involved somewhere in the business school, and Delta Sig seemed like a welcoming environment and like the place to be if you were wanting to join people that wanted to go the extra mile.
Can you talk about Delta Sigma Pi's volunteer work?
One of Delta Sig's four pillars is service, so community service and [giving] back to our Xavier community or greater Cincinnati community is really important for us as a fraternity. Xavier provides a lot of good opportunities for us to give back with Community Action Day, but there are also plenty of other service opportunities that we as a fraternity have explored, like Mathew 25 Ministries, which is a great resource for marginalized families and people throughout Cincinnati. We usually do about five to six events every semester.
What does kindness mean to you?
I think kindness is doing certain acts for others when they either least expect it, or most need it. An act of kindness is an act of providing hope for others.
Emerson Pulone, 4 Paws for Ability
Emerson is a nursing major originally from California who has been in 4 Paws for Ability since her first year at Xavier. She started her time in this club as a sitter and is now a primary dog handler and the current social media chair for the club.
What does 4 Paws do?
We train service dogs to help kids and veterans. We have 13 different types of service dogs.
How did you get involved working with 4 Paws?
During COVID, I was a sitter [a sitter has the dogs for a couple hours or a day] and now I am a primary, when the dogs are with you 24/7.
I train the dogs with certain commands, and the big thing in their first year is socialization and getting them acclimated with everyone.
How does 4Paws help the Xavier community and our broader community?
I joined this club to help the greater good and help veterans and kids in need. We are a nonprofit and the only organization that does not have an age requirement to [receive] a service dog.
Dogs boost your serotonin and make you happy. [4Paws] spreads kindness and positivity, and happiness with these dogs. [If you see] one of our dogs around campus, we want people to come up and pet them, because we are spreading love and kindness. Our dogs are here to help others — they make a world of difference.