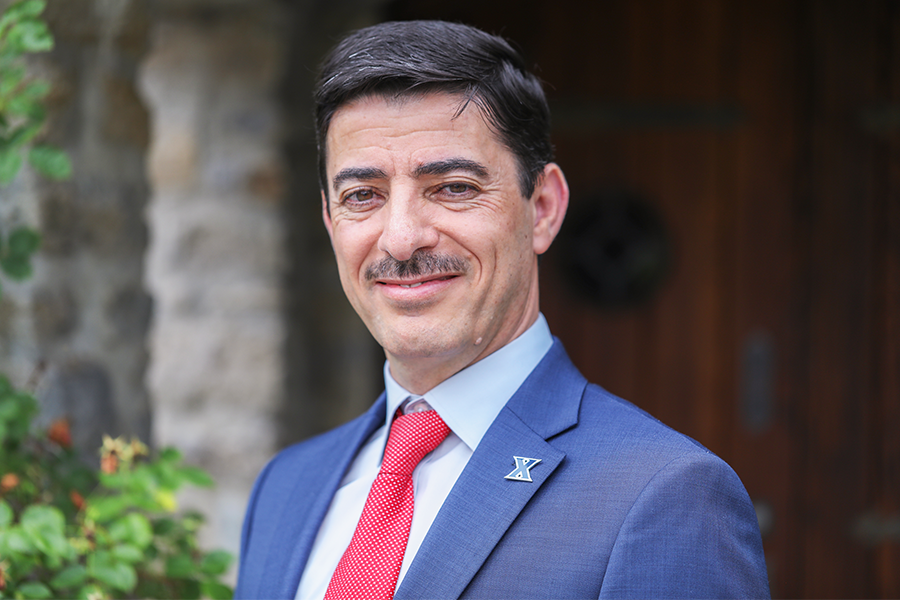 Six questions with Nezam Al-Nsair, founding dean of Xavier's College of Nursing
Jul 22, 2022
As the nation grapples with an urgent need for more nurses, a new face is leading the growth of Xavier University's College of Nursing. 
In June, Xavier welcomed Nezam Al-Nsair, PhD, as the founding dean of the College of Nursing, established in 2019 as the University's fourth college. He leads a program that has grown significantly since its inception. Xavier first offered nursing as an academic discipline in 1981 – today, it's the University's most popular undergraduate major. 
Al-Nsair's leadership, professional, and teaching experience spans more than 20 years, including the development and growth of nursing programs across several higher education institutions. During that period, he was instrumental in the development and accreditation of several traditional undergraduate, completion, accelerated, graduate and online programs.  
Al-Nsair served for several years as a bedside nurse in acute care settings. Before joining Xavier, he was the founding dean of the Myers School of Nursing & Health Professions at York College of Pennsylvania. 
Read Al-Nsair's Q&A with Xavier's Office of Marketing and Communications to learn more about the University's newest dean and his plans for the College of Nursing. 
What attracted you to Xavier?
I went to the University of Cincinnati and lived in the Cincinnati area for about 10 years. While I lived here, I always heard about Xavier's great reputation as an institution with excellence in teaching. That's stuck in my mind.
When this opportunity came as a founding dean, I was really excited, because I believed that this would be a great fit for me to be back in an area and with an institution that's highly regarded in the region, and had an excellent nursing program and had excellence in teaching. I was drawn to an institution that is mission-driven and values-based. My values and my beliefs align with the campus identity and values.
The Ignatian values align with my personal values as well as the values of the nursing profession. In particular, 
cura personalis

 fits very well with the person I am and the profession. This is the core value of nursing, and this is the core value of the institution. That was incredibly attractive for me, too, to have values that align very well with who I am and the profession I represent.



How do you think your experience as a founding dean will inform your actions and strategies at Xavier? 



I had the fortunate opportunity to serve as the founding Dean at York College of Pennsylvania for the School of Nursing and Health Sciences. Nursing was one of the largest majors there, but I oversaw other health programs as well in that role.

 



There's no doubt my previous experience as a founding dean will influence my role at Xavier University. It will help me to shape the future direction of the College of Nursing. There are a few important takeaways from my experience.





One is having an execution plan. As a team, we need to work with faculty on setting the future strategy for the College, but it's very important to have an execution plan.





The second is to clearly communicate the expectations to all stakeholders – students, faculty, staff, and the community.





The third thing I think is very important is to empower ownership, especially for key goals and milestones, and to follow up on the execution of the plan.



What are some of your high-level goals for the College of Nursing? 



I think the core of what all of us do – faculty, staff, and administrators – is to serve our students within the core values of the institution. Our number one goal is that we're all here to serve our students and support their professional growth and the profession of nursing. That's always going to have to be in the back of our minds.





I would like to work with faculty and staff to ensure that we provide a rich and rewarding learning experience for our students. One of the things we can do to achieve that is to work with our student nursing organization. I'd like to engage with students to help the organization become visible and engaged. I think there's room for us to work together to make them more visible and influential.





I would like to explore the possibility for growth and expansion for the college, especially with the adult learners or graduate programs. I think there's room for us to assess the market need, and how can we be part of the workforce development for our community and our community partners? We should do needs assessments and explore what else can we do to serve our communities on a local, regional and national level in terms of new graduate programs, building on existing programs, certificates, or micro-credentialing.





It's also very important for us in the College, to achieve these high-level goals, to expand our resources, look for ways to optimize the current resources that we have, but also expand by acquiring additional resources through grants and scholarships that would support the student learning, support faculty development, but also that would increase and enhance the diversity and inclusiveness attempts within the College.



What would you like students to know about you and your expectations for the college in the years to come? 



As I mentioned before, we must always remind ourselves and our students that we're here to serve them and provide them with rich and valuable experience so they are prepared to become professionals that can face the challenges of a complex health system and their community's needs.



I'm a student-centered person, so a lot of what I like to plan with faculty will circle around, "How can we enrich their learning experience?" Providing resources and enriching their learning experience while at the same time challenging the students so they are prepared to become competent professionals.  



Whether we're looking at curriculum assessments, professional development, community partnerships, or resources, it all circles around our students as a core value for us.

 

Do you see certain trends in health and higher education you think our community should be aware of? 

Health care is becoming increasingly complex. Our patients are becoming more and more savvy and educated about their personal health. That puts maybe more challenge on nurses to be prepared to provide care for patients that might have more questions than they're used to.

We want to prepare competent nurses to care for the whole person in a complex, high-acuity environment. Our graduates will be able to use technology in a meaningful way to deliver high-touch care – cura personalis.



In addition, a lot of health care facilities are investing more in the area of population health, home health, and ambulatory care. These are practice areas that should be considered in addition to the traditional acute, in-hospital care.




Tell us a bit about yourself outside of work. How do you like to spend your free time?  



Family is very important to me. I like to spend most of my free time with my family – my wife and my kids. We try to do a lot of things together.





I like gardening. I'd like to move into a house where I can have a garden and plant vegetables with my kids. I think it's a good way to relax. It's very healthy; it's nurturing.





I also like hiking. Cincinnati has a very good park system, and I like to explore these parks because I like the outdoors a lot, and my wife and kids do as well. We like to spend time going to the parks to hike and do outdoor activities.





When we spend time at home, one of the things I like to do is let my kids pick a show or a movie and we'll watch it together.

 



And fortunately, I still have a few friends in the Cincinnati area, so I'd like to be able to hang out with old friends.