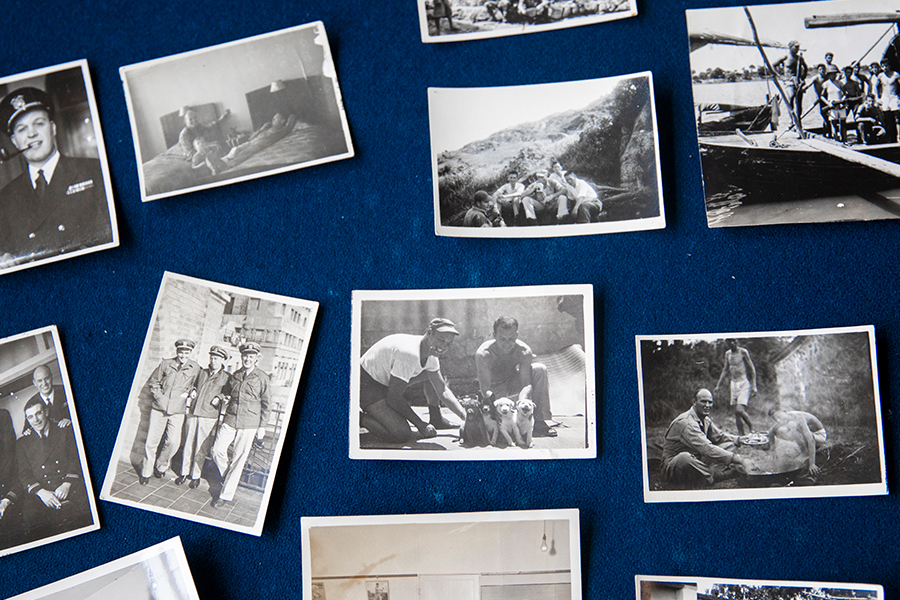 Cincinnati Enquirer Reporter Adam Baum Discusses Feature on Xavier's Phil Bucklew
Nov 10, 2022
In honor of Veterans Day, Xavier's Office of Marketing and Communications sat down with Cincinnati Enquirer reporter Adam Baum to discuss the process behind delivering the epic story about Captain Phil H. Bucklew ('36), a man who represents a direct link between Xavier University and the creation of the elite U.S. Navy SEALs.

Over a year of research and work went into this in-depth feature story about Bucklew's life. It was ultimately featured in the Cincinnati Enquirer as well as several other local, regional, and national Gannett publications to commemorate the observance of Memorial Day this past spring.
Hear more about this unbelievable story in the short video below and read more in the ensuing Q&A:
Tell us a little bit about yourself, your role at the Cincinnati Enquirer and what you've learned about Xavier.
Coincidentally, I graduated from UC and now I cover Xavier Athletics for the Cincinnati Enquirer. This is going to be my fifth season. I primarily cover men's basketball, but I try to cover other sports, too, especially when they're successful or something interesting happens. So I love it.
What I've really learned about Xavier is, you know, my experience with UC was that I enjoyed that experience. I could see why people cared about the university the way that they did. And now covering Xavier, I've gotten to see the other side. I get to see why people care about Xavier the way that they do. So it's been really cool that there's this mammoth rivalry here in the city of Cincinnati and I've gotten to be on both sides of it, which has been interesting.
This is a remarkable story and a mammoth project you took on in addition to your day-to-day coverage responsibilities for Xavier basketball. What was the spark that got this project going for you?
Matt Jennings, if you've read the story, you know the story starts with him and I wouldn't probably be here without him. He is currently Assistant Athletic Director for Strength and Conditioning, but at the time that I first started covering Xavier, Matt was the head strength and conditioning coach for the men's basketball team.
I've written stories about him. I've interviewed him, I've interviewed his parents, and I spend a lot of time in the Cintas Center just waiting for practice or working on stories. And I'm a big reader. Matt also likes to read, so we sort of bonded over that. And a lot of times he'd see me reading a book or we'd talk about, 'Hey, what are you reading right now?' And one night Matt called me and said, 'Hey, look, I got a story idea for you. I'm not sure what it is exactly, but I figured I should sort of rope you in, you know, this is what you do.'
And he told me about Phil Bucklew, and the conversation wasn't all that long. It was maybe a 10-minute phone call and he told me he'd love to show me some more information that he'd gathered.
That sort of got the ball rolling and piqued my interest enough just to hear him and his excitement for it.
And how did you pull this off on top of your other responsibilities at the Enquirer?
It was a wreck. Honestly, it was, because I try to explain this to people but for about five or six months out of the year, my life is pretty crazy, you know? I'm up at Xavier every day. I'm going to every game, I'm traveling to and from every game, I'm writing, I'm working on something every day during the season. So during the season, it was really challenging.
I would carve out 30 minutes a day that I'm going to devote to Phil Bucklew. When I'm flying to Providence or I'm flying to Chicago or Milwaukee, I'm going to work on this on the plane. I had to really downsize it in my head because I think there was a point there in the process of working on this where it was like it became really big in my head.
I felt the importance of it, and that sort of weighed on me a little bit. One of the things I found really useful, was sort of downsizing it in my head and saying, 'You know what? I can't think about how big this is.'
I had to think about it piece-by-piece, brick-by-brick, if you will. It was a challenge.
One of the more rewarding things was seeing the finished product and knowing I could take the stack of papers that had been sitting on my desk for over a year and sort of move them somewhere else. That was a nice feeling.
Once you determined to do the story, how did you go about researching this? The level of detail is extraordinary.
For as much work as Matt did and as much as he teed this up for me, there was so much more I found during the process. Bucklew gave nine interviews with the U.S. Naval Historian, and that was compiled in a text that's over 400 pages long.
It's him answering questions about his entire life, about his naval service, his entire military career. The level of detail that Phil Bucklew remembered about his life is kind of astounding. That really plays out throughout the entire interview transcript, all nine interviews.
I remember I was talking to an editor about this, and I said, 'I've never done anything like this.' I'd never taken on a story of this size and this scope that requires this much research and this much fact-checking and this many interviews. I think I gave myself a year. I was like, 'I want to do this in a year.' It ended up being longer than that. But I had no idea how much I was allowed to write.
Normally a story that I write at the Enquirer is between 500-1,000 words, and the 1,000 words you might get might ruffle some feathers because that's even a little bit on the longer side. The first draft that I found of this story was over 9,000 words, and we ended up having to cut it down to around 6,000, which I think was the finished product.
It's by far the longest thing I've ever written. But when we first started, I had no idea where it was going to go or where it was going to take me, how long it was going to take me. It was all conjecture, honestly.
With all the detail and so many amazing stories you found, what didn't make the final cut that really stood out to you?
One of the more interesting things that you find out very quickly from Bucklew is that when he was in high school, he essentially lied about his age to join the Navy Reserves. His reason for doing so was they got paid like $1.20 per drill or something like that.
So he lies about his age and joins the Navy Reserves. He's in high school and I believe it was in 1930 that the Ohio Penitentiary Fire happened. Over 300 people died in this fire. The Navy comes and knocks on his door, his family's home, and says, 'We need you to report to this fire.' He got pulled out of high school for a month to help clean up after the fire.
What ended up happening was that was really his first experience with mortality and being around something destructive and death. I think that was a transformative experience for a young man. You can imagine being in high school and having to deal with something like that.
You know, if I really wracked my brain and went through the entire oral history again, there are probably 20 or 25 moments that I would want to revisit that I feel left a little to be desired about who he was.
Much is made about Bucklew's military exploits, but what did you find out about Bucklew the athlete?
He grew up watching Ohio State football practice and was just inundated with it, and he wanted to play at Ohio State. They told him, 'We'd like you to go play somewhere else and mature and kind of get bigger.' And it just so happened that Xavier swooped in. Clem Crowe was the name of the coach at the time. He invited him down here to train and it went well, and he played here for four years. 
I know that he eventually did get that growth spurt. He came down to Xavier and I think he filled out. Then it was really interesting because he had opportunities to play professional football.
I reported in my story that Bucklew played for the Bengals because he did play for the Bengals. But the Cincinnati Bengals, as we know them today, were not formed until much later, I think in the 1960s or 70s. But there was an offshoot version of the Bengals here in Cincinnati in the late 30s, and I got multiple emails from people that were like, 'How did he play for the Bengals when they weren't a franchise yet?'
There was a version of the Bengals in the 1930s that he played for. He loved football. Football was the very first thing that he was truly passionate about. And the thing about Buckelew is when he decided to stop playing, he got roped into starting a professional football team out of Columbus.
He spoke about a story I remember that he had been roped into this not necessarily by choice. They asked him to go try to secure funding to start this team, and he goes off and he's talking to people, influential people, trying to raise the money for this team. Then he comes home, and there's a story in the newspaper that this team is going to happen and it's going to be coached by Phil Bucklew.
He kind of got his hand forced into coaching this team. But that team is the team that he had out in Los Angeles that was playing in front of a crowd of 17,000 people when they announced over the loudspeaker during the game that the United States was going to war. After that game, they went to the bar and they were drinking and they all decided to join and enlist the next day.
He loved football, and football led him on an interesting journey in and of itself, and football ultimately led him into military service, if you think about it. It's pretty cool how his life worked out the way that it did. But from what I could tell and from talking to people who played for him at Columbia, he was a very intense coach. A big guy with a bald head who I believe was an interior lineman. If you know anything about linemen, they're a fiery bunch.
What lesson(s) did you take from the story?
I think the thing that stuck with me the most was his willingness to be a part of something that was so new. I mean, the military wasn't new, but what he sort of dipped his toes into and made a career out of was a branch that was new called the Amphibious Commandos.
It was, 'Hey, go out and do it.' Learn how to do it. Learn by trying. Learn by failing. I think that that's a lesson that is important for everyone in their life. Here's this thing where, not only is your life going to be on the line, but you're essentially learning as you go and just going out and doing something that's really difficult that you're maybe unfamiliar with. And at no point along the way did Bucklew talk about thinking of giving up.
He just continued to push through all these boundaries that everyone in their ordinary daily life sort of runs up against, and he was able to overcome that.
I also think he just cared so much about the other people that he was with, that it made it easy for him to sign up and keep going back and keep taking on new challenges. There's a lesson in there for all of us, I think. It's that Bucklew, I think, cared more about the mission and more about the other people that were on those missions than he ultimately cared about himself.
What did you come to know about the Xavier Veteran and Military Family Center through this project?
I learned how important the whole process is of identifying veterans and taking care of their kids and families. They very much care about everything that they're doing in that building.
Honestly, one of my more memorable experiences since I started covering Xavier was the first time I went into the Veterans Center and just looked around and saw all the stuff that they have in there.
It was really impressive, and the fact is that they want to do this because they care as much as they do, that they want this to succeed and they want this to be something that propels them forward so that they can continue to do more and more for people who served.
What type of feedback did you get on the story when it was published?
The feedback was awesome and the response was overwhelming. I never set out to write something for that reason, but to know that people in this town, and far and wide, were floored because I think everyone had the same reaction that I initially had.
And their reaction is, 'Why don't we know who this guy is? Why am I just now learning this? I feel like I should have known this a long time ago.'
That reaction was pretty cool because it felt like that's essentially what my job is in a lot of ways. It's that I get to find stories. And I didn't necessarily find this. I can't take credit for finding it, but I got to execute it, which I think is really cool.
It was also one of those things where I remember when Matt first told me about this and I thought about it, and I thought about it, and I thought about it. It's this weird occurrence where it's like, 'If you don't do this, you're going to regret it.' And I knew it was going to be a lot of work, but the response really made it worthwhile.
To honor Cpt. Bucklew's life and legacy, the Xavier Veteran and Military Family Center has set a goal to raise funds over the next several years to both rename the center in Bucklew's honor and also to allow the center to operate in perpetuity. Learn more about the project and give to the cause.