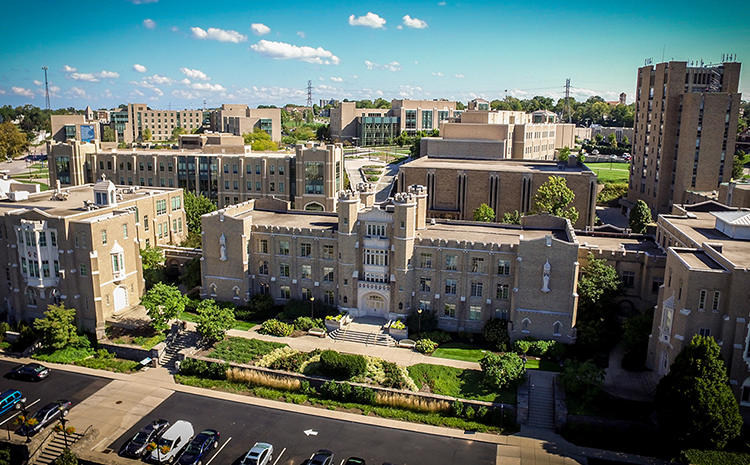 XUPD Uses Anti-Racism Action Plan to Recognize Current Problems, Identify and Own Actions for Improvement
Jun 30, 2021
This story was produced in collaboration with the Office of Institutional Diversity and Inclusion, the Center for Diversity and Inclusion and the Office of Marketing and Communications.
---
On Jan. 30, 2021, Xavier University Police Department (XUPD) received reports regarding vandalism to a Black Lives Matter sign outside of Bellarmine Chapel on campus. The sign was destroyed, and other areas of campus were vandalized with stickers advocating for a white nationalist hate group.
Then, the following April, the Black Lives Matter sign in front of Bellarmine Chapel was destroyed for the second time and racist propaganda stickers were placed throughout campus.
The two occurrences of vandalism, happening within a few months of each other, left many members of the Xavier community asking what Xavier University and XUPD had done to prevent them from happening in the first place. This was not the first time Xavier students, specifically students of color and other underrepresented student populations, had felt unprotected by XUPD and the Xavier community in general. Critiques included excessive questioning of students of color, a lack of security cameras throughout campus and a general inaction from the University in regards to past racist incidents on campus.
Following the first incident, XUPD removed the propaganda and determined that the individuals who vandalized campus were not Xavier students or in any way connected to the University. Security camera footage obtained after the second incident shows two individuals (believed to have committed the vandalizations) entering campus and exiting after approximately 15 minutes.
XUPD is continuing to follow up leads as to the identity of the individuals and has been actively partnering with the FBI Joint Terrorism Task Force and Safe Cincinnati to share intelligence and monitor the activities from white nationalist hate groups (both the group that is believed to have vandalized Xavier's campus and other known white national hate groups). They are also utilizing resources from the Southern Poverty Law Center to research information and track incidents nationally. The group XUPD believes to have vandalized Xavier's campus is known for sharing propaganda throughout university campuses.
During the months leading up to the racist acts of vandalism on campus, XUPD Chief Robert Warfel, alongside other XUPD officers, had been working closely with XU's President's Diversity and Inclusion Action and Advisory Council (PDIAAC) and others in the Cincinnati community to research and develop ways to focus specifically on anti-racism efforts as it relates to campus safety and policing as part of the University's Anti-Racist Action Plan.
The Anti-Racist Action Plan was the response of the Xavier community after the murder of George Floyd and other violence against people of color at the hands of police beginning in spring 2020. The ongoing social unrest across the country and rising student activism on campus highlighted the need for a more focused approach to anti-racism efforts at an institutional level.
One of its 12 main points specifically highlights a need to ensure campus police activities and policies are anti-racist.
Since the Action Plan was introduced to the Xavier community in Fall 2020, XUPD has been increasing their partnerships with student groups, including Alpha Phi Alpha, Alpha Kappa Alpha and the Black Student Association, to engage underrepresented students in outreach and collaboration. They also have been working directly with Xavier's Student Government Association executive board and collaborating on programming, panel discussions and question and answer sessions. 
"Our relationships with student groups have been a good opportunity for officers to listen to student perspectives, particularly students of color, and to hear about their experiences with law enforcement and XUPD," says Chief Warfel. "And it's also a good opportunity for students to get to know us."
Additionally, all XUPD officers have engaged in an 8-hour implicit bias awareness training titled How Can We Be the Best of Humanity Today: A Case Study for Law Enforcement. This training was created by Chief Warfel in collaboration with the Mayerson Academy and the Holocaust and Humanity Center. The training is now being used by other police departments, including Norwood Police Department.
"We developed the training to help officers better understand their own individual biases and why there is a chasm in our society between minority populations and law enforcement," says Chief Warfel. "The training shows law enforcement's historical relationship to social justice issues and helps us reflect on how we are viewed and what our role is, current and historical, in the community."
XUPD was also accredited by the Ohio Police Collaborative in 2020, a 12-person panel of law enforcement experts and community leaders from throughout the state, with established reformed standards for use of force including use of deadly force and agency employee recruitment and hiring guiding law enforcement agencies in Ohio. They are also participating with other AJCU Public Safety departments in monthly meetings and working through the Reimagining Public Safety Series: Re-envision Policing On and Beyond Campus public safety webinar series. Additionally, XUPD will be certified in the nationally recognized Active Bystandership for Law Enforcement (ABLE) by the end of summer 2021.
For the upcoming year, XUPD plans to continue deepening the relationships and understanding between officers and students, increasing officers' awareness and education and developing more ways to work toward becoming an anti-racist institution.