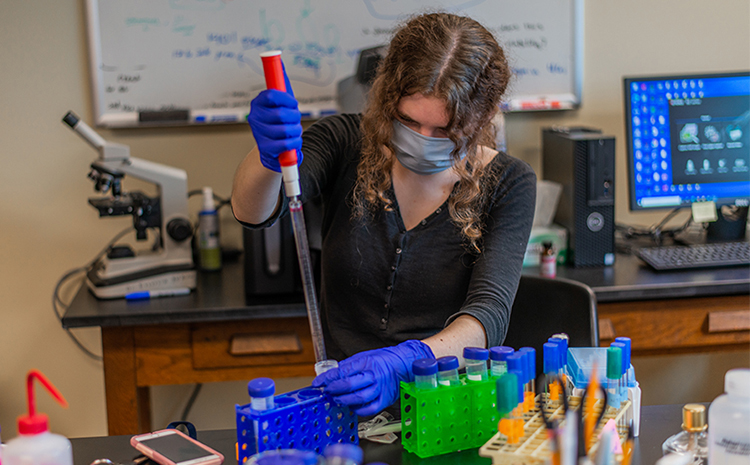 Xavier professor collaborates with students to conduct cancer research
Nov 15, 2021
Last fall, the College of Arts and Sciences welcomed Dr. Wilber Escorcia, assistant professor, to the Department of Biology. Escorcia came to Xavier with a passion for teaching and an extensive background in research, specifically molecular biology, from the University of Southern California.
Escorcia shared that Xavier's focus on excellent teaching initially drew him to the university. Once he began in fall of 2020, he hit the ground running. In addition to teaching sections of Genetics and General Biology, he has brought several students under his wing to explore the extensive opportunities available for undergraduate research in his field.
Martin Vo, a senior studying Biomedical Sciences, shared that he first learned of Escorcia's lab through a class in which Escorcia was his professor. Martin, who hopes to pursue a career as a pediatrician, explained, "What excites me most about this work is how much freedom I have in regard to the lab and what I can do to apply my knowledge to real world problems."
Escorcia's lab researches the DGAT2 gene, which Escorcia describes as "the economist of the cell." This gene tells cells to store fat because hard times could be around the corner. However, scientists also see this gene mutated in multiple human cancers.
This research all relates to what happens to people as they age. Various health-related issues that people usually experience when they are older are starting to be felt by younger generations much earlier in life. As Escorcia shares, "This research is very much (conducted) in accordance with the passion of understanding how these impacts are affecting our society in real time."
As Hayley Barta, another senior in Escorcia's lab studying Biomedical Science, explains, "Our goal is to uncover the mechanisms behind the link between lipid metabolism and cancer. We want to gain a better understanding of how cancer cells manipulate lipid metabolic genes to provide abundant building blocks for their rapid proliferation. This could help with cancer therapy development."
Meghan Graber, a Biology student hoping to pursue a PhD in the field, further highlights what is so exciting about their work. "There are still a lot of holes in our knowledge about the connections between lipid regulation, DNA damage, and cancer metabolism, and the idea that the work we do in our lab helps shed light on these questions is really exciting."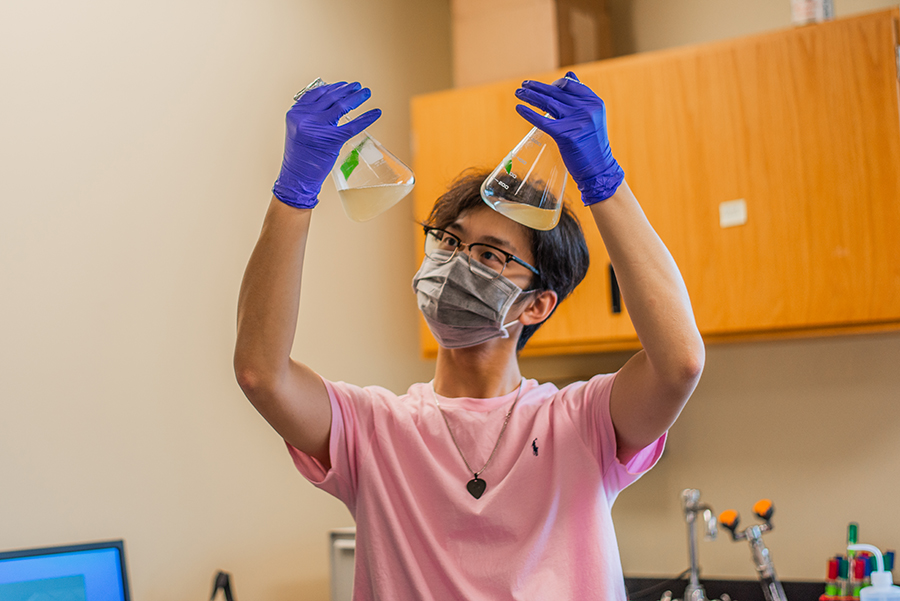 With the support of the John and Sarah Lechleiter Endowment for the Sciences and the generosity of those who gave to the College of Arts and Sciences or Undergraduate Research via March Gladness, students conduct research in Escorcia's lab using state-of-the-art equipment. They have already published some of their results. Through research, Escorcia and his students have already discovered the ways in which one mutation of the DGAT2 gene can result in certain types of brain cancer.
View the research article published by Dr. Escorcia and his student researchers

What does it mean to publish research, and how common is it for undergraduate students to have this opportunity?  As Escorcia explains, "Publishing is really important for the development of young researchers because they get to make contributions to a field. The ability for undergraduate students to contribute to the field at such an early point, despite their limited time and skills, really encourages them to keep pushing forward. They also give back to the communities that benefit from the research they produce. Not all undergraduate students in STEM fields are given these types of opportunities, so it's a very big deal."
Escorcia's research students, a group of seniors who have worked with him through the pandemic, have learned through experience the highs and lows of scientific research. According to Escorcia, one of the most difficult things related to research is the amount of failure researchers experience. It takes a lot of time and effort, Escorcia notes, to discover how something such as the DGAT2 gene impacts the human body. There is not always a linear path to the answers. However, Escorcia encourages his students to continue asking questions, stating that one of his main goals in leading his student research team is to "help them think like scientists."
When asked about their experiences in the lab, each student highlights the ways in which Escorcia's leadership has allowed them to not only learn new realms of science, but to explore questions that they developed while participating in the research. "This level of freedom allows me to stretch out my potential even further and lets me enjoy my work with him in the lab," Martin Vo shared.