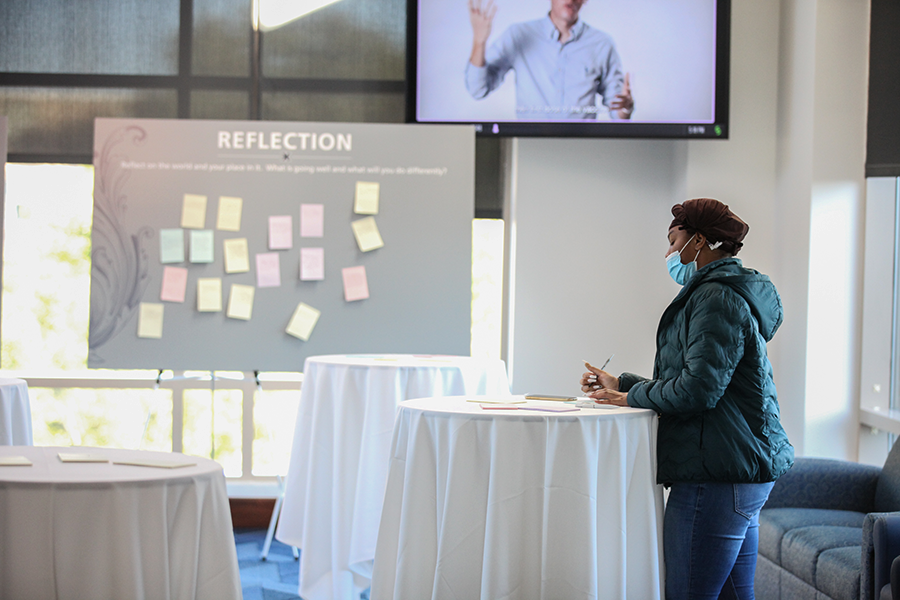 Students Meet President Hanycz, Consider Calling at Campus Reception
Oct 27, 2021
Xavier students gathered Tuesday to meet the University's president while discerning their vocation, purpose and future during a campus reception, part of Inaugural Week.

Ahead of her Inauguration on Thursday, Xavier President Colleen Hanycz, PhD, took time to mingle with students and encouraged them to think about their calling in life while enjoying the reception, held at the Gallagher Student Center.

"We often hear of the concept of vocation. This is your response to a call that is bigger than you, a call to use your gifts and your strengths and to make the world better through your service, your creativity and your leadership," Hanycz said as she addressed attendees. "When we talk about our vocation in life, the idea is that it is not about just me. It is very much about others and about making the world around us better."

Following Hanycz's introduction, students scattered across three stations, each of which featured two of the six core University values for participants to consider:
Solidarity and Service, which invite us to walk alongside our companions and invest our lives into the well-being of others, particularly those who suffer injustice.
 Cura Personalis and Magis, which call us to recognize the uniqueness and wholeness of each person and to consider the "universal good" when making decisions.
 
Reflection and Discernment, which invite us to pause and consider our place within the world around us and to be open to God's spirit while considering our feelings and rational when making decisions.


Students were encouraged to write out their commitments to upholding each of these principles and place them on poster boards representing each value located across the three stations.
First-year Xavier student Gabby Naylor said she was excited to meet Xavier's first woman president as part of the reception. Additionally, Naylor enjoyed reading other students' pledges, which filled the six poster boards by the event's end.
"It's just nice to see other people on the same page as you and to see other people's opinions on how they feel about the University's values," Naylor said.
Hanycz's official installation as Xavier's 35th President will take place Thursday at 1:30 p.m. at Cintas Center Arena. 
Read more about Inaugural Week.
David Hamilton Public Relations and Communications Specialist Xavier University Office of Marketing and Communications