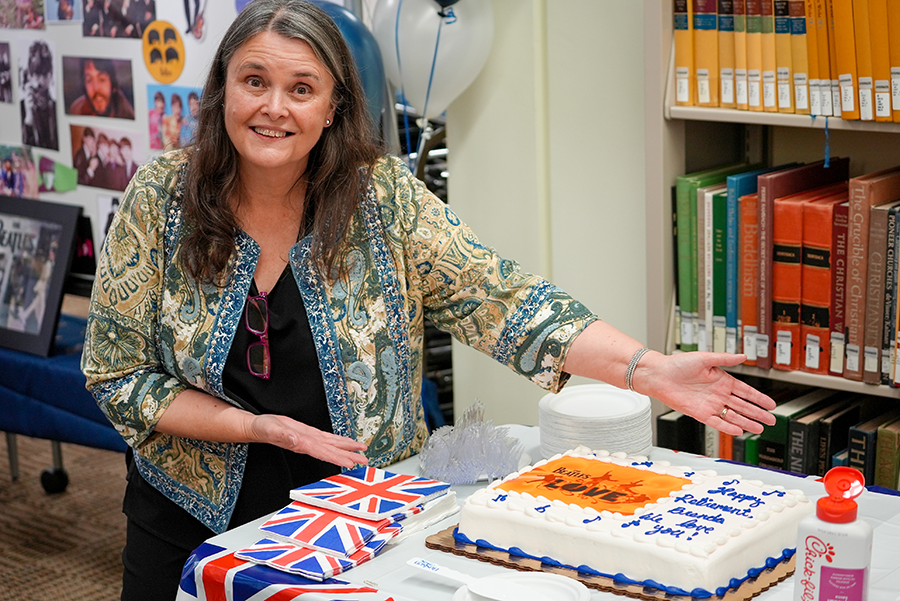 Levya-Gardner Reflects on 29 Years at Xavier
Nov 24, 2021
Dr. Brenda Levya-Gardner's first interaction with Xavier University didn't quite go as she had hoped.
In 1992, she joined members of a search committee for dinner at The Mike Fink boat restaurant in Covington as part of her job interview to become director of Xavier's new Human Resources Development (HRD) program. Unfortunately, the riverfront venue was less than ideal for Levya-Gardner.
"I mean, I look at water, and I get seasick," Levya-Gardner said, recounting her abrupt mid-meal departure and the puzzled looks of her interviewers.
Fortunately, the rest of the interview process went much better, and nearly three decades later, friends and colleagues would share a good laugh while this story was told during Levya-Gardner's retirement party, held on Nov. 16 at Xavier's McDonald Library.
Throughout the Beatles-themed celebration, many in attendance effused praise for Levya-Gardner's fun-loving attitude, commitment to her students and unwavering support for those around her.
Among the speakers was Sharon Korth, who worked alongside Levya-Gardner throughout the entirety of the HRD program. Perhaps the best evidence of the duo's special bond is the portmanteau "Sharenda," a name people use to this day when referring to them both. 
"I have been so fortunate – as my grandmother would say, 'I thank my lucky stars' – to know Brenda as a colleague, a boss and, most importantly, as a friend," Korth said.
Before forming all these special relationships at Xavier, Levya-Gardner spent 10 years at the University of Missouri-Columbia, where she served as director of graduate studies and earned her PhD in higher and adult education. While she loved her time at Mizzou, Levya-Gardner wanted a more student-focused experience, something she came to love about Xavier.
"The smaller, faith-based, values-based institution with a student focus – that's what drew me here, and that's what kept me here all these years," Levya-Gardner said.
The two-year HRD graduate program, which Levya-Gardner oversaw from its inception until its final cohort graduated in 2020, was designed with working adults in mind. Students would come to Xavier's campus one weekend per month for 21 weekends, spending Friday nights, all of Saturday and Sunday mornings on campus.
This format could be exhausting, Levya-Gardner admitted, especially toward the beginning of the program, considering the need to build the curriculum from scratch. But it also allowed her to make the type of impact and personal connections with her students that she desired.
In addition to her longtime leadership of the HRD program, Levya-Gardner also became the first full-time dean of the University's Graduate School, a title she held for two years leading up to her retirement. She offered a natural fit for the role, given her passion for finding new ways to improve Xavier's graduate education offerings.
Reflecting on her 29 years at Xavier, Levya-Gardner said she always aimed to serve as a voice for Xavier's graduate students, which currently make up roughly one-quarter of the University's total enrollment.
"I hope that I brought an awareness of graduate students, their different learning needs and the ways that we can serve adults differently, perhaps, than we serve undergraduates," Levya Gardner said.
As for what the University did for her, she said it gave her a sense of "home" like she could have never imagined before she decided to take that interview back in 1992.
"Xavier helped me become who I am. It gave me a sense of community and purpose that I don't think I could have had anywhere else. I have nothing but fond memories – tired memories, sometimes – but fond memories of my time here." 
David HamiltonPublic Relations and Communications SpecialistXavier University Office of Marketing and Communications